Hollywood Echoes with a Legendary Duo
As the glitz and glam of Hollywood can attest, few duos make as significant a ripple in the entertainment pond as the pairing of Amber Heard and Nicolas Cage did in 2011. When these two monumental stars, whose names were resonating throughout Tinseltown, teamed up for an action crime thriller, fans and critics alike braced themselves for a cinematic spectacle.
The Maestro Behind the Lens: Patrick Lussier
Patrick Lussier, the brains behind such hits as My Bloody Valentine, Terminator Genisys, and Dracula 2000, took the helm for this project. But Lussier's talents weren't confined just to direction; he also showcased his screenwriting skills, collaborating with Todd Farmer to craft a story that would captivate audiences worldwide.
An Ensemble Cast of Powerhouses
Beyond the dynamic duo of Heard and Cage, Drive Angry boasted a cast teeming with talent. Names like William Fichtner, who brilliantly portrayed The Accountant, Billy Burke as Jonah King, David Morse stepping into the shoes of Webster, and Charlotte Ross dazzling as Candy, completed the stellar ensemble, ensuring that every scene pulsated with dramatic prowess.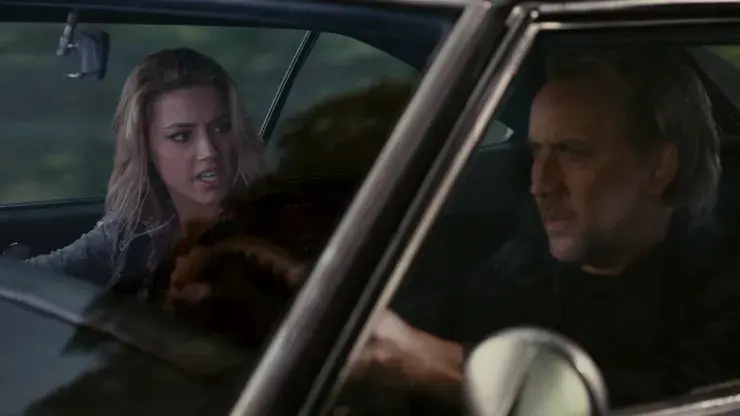 Dive into "Drive Angry": A Classic Reborn on Peacock
Fast-forward a decade, and Drive Angry isn't merely a relic of the past. This 2011 sensation is experiencing a renaissance on one of the hottest streaming platforms – Peacock. And why not? Its intriguing storyline remains as captivating as ever.
The narrative thrusts us into the fiery world of Milton, a ruthless criminal condemned to the fiery pits of Hell for his misdeeds. But when a cult brutally murders his daughter and snatches away his baby grandson, Milton's paternal instincts surge, leading him to escape his hellish prison. His mission? A rescue, a redemption, and perhaps, a semblance of retribution. Alongside him, a defiant waitress lends him her boyfriend's red car, fueling their high-octane quest.
Conclusion
Drive Angry stands as a testament to the magic that ensues when a potent mix of Hollywood heavyweights, an adept director, and a riveting story come together. As it finds new life on Peacock, a new generation can now revel in the thrills, chases, and unmatched chemistry of Amber Heard and Nicolas Cage. And for those who have seen it before, there's never been a better time to drive down this memory lane.