Pet owners would do anything to make their pets happy.
Pets become a part of the family in a blink of an eye. It feels like a part of you is suffering when they are sad or hurt. You would try to make them feel better. Sometimes, the roles get reversed where we have to take care of our pets because they deserve it the most. A family decided to take care of their dog-like their baby after he had 2 strokes, and treat him in a way that he heals as soon as possible.
Spike, a 14-year-old English springer spaniel, is in the healing process from his second stroke and we will meet him in this article. Spike is unable to climb the stairs that would lead to his parent's room due to his age and weak body. The family is devastated by the dog's condition and tries their best to make him feel better. This story will surely make you smile. Don't forget to grab a box of tissue because we won't be responsible for any tears.
Here's Spike, the 14-year-old English springer spaniel.
He has suffered two strokes and is slowly recovering.
Isn't he gorgeous?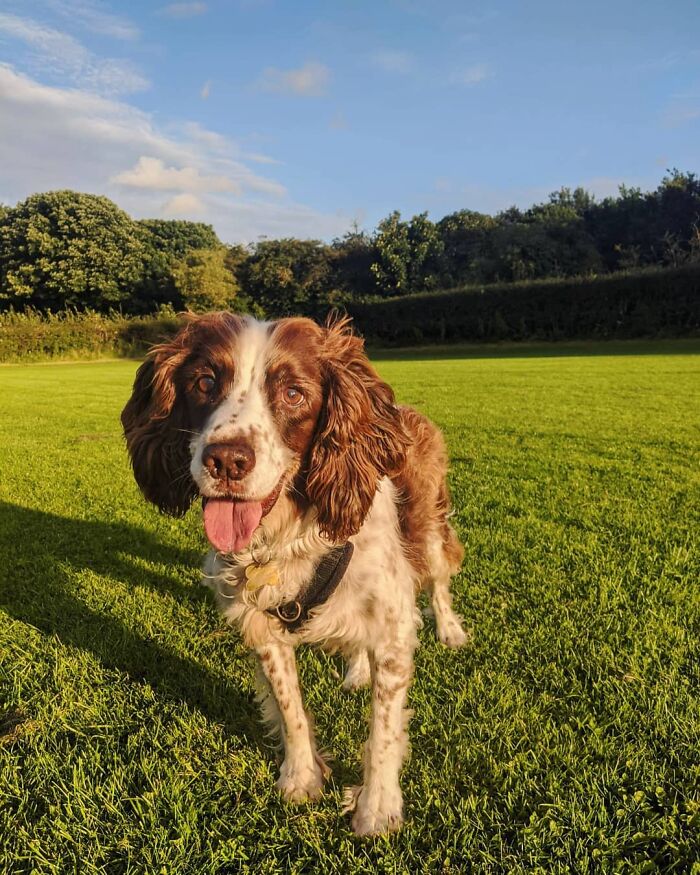 During an interview with Spike's owners, they told "We got Spike when he was 5 from a rescue (Dogs Trust) around a year after losing our old dog (also a rescue that my parents found abandoned as a puppy). Spike had several homes before us and we can't understand how anyone could give him up, but we're very glad he made his way to us,"
The furball's owners are even more discouraged because he can't climb the stairs anymore. It's not a good sight to see him grow old and weak. "He has always slept on the bed upstairs, so when the stairs became too dangerous for him it was an immediate transition to sleeping downstairs," the owner explained to us.
Spike is having difficulties climbing stairs despite having a picture of him during his healing process.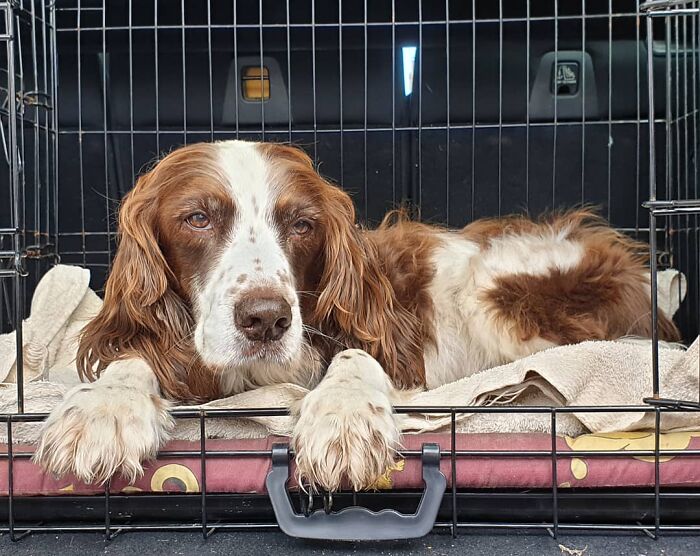 Spike having fun in the hills.
"He is very much an old man now, especially after his second stroke, so spends most of his time snoozing in the day and cuddling up with his people as much as possible," Spike's owner told us. "He's a very cheeky chappy too and thinks everything we have is for sharing—personal space, beds, food, and any drink that foolishly gets left on the floor from tea to wine—we have to keep a very close eye on him!"
After Spike had his second stroke, his owners had to pick and carry him around the house. He was determined to get better as soon as possible. Spike was weak enough to not be able to walk all the way upstairs to his parent's bedroom, where he would usually sleep.
The family is taking care of Spike.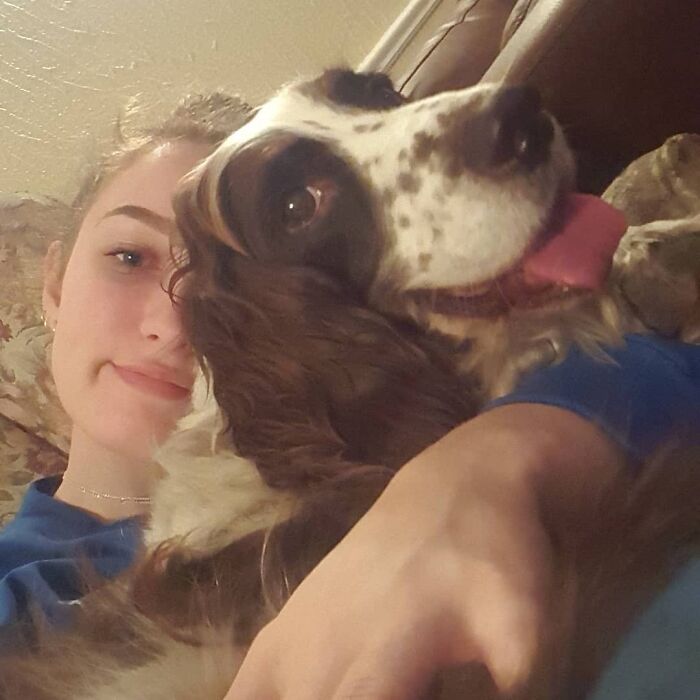 THE BEST THING YOU'LL SEE ON THE INTERNET TODAY!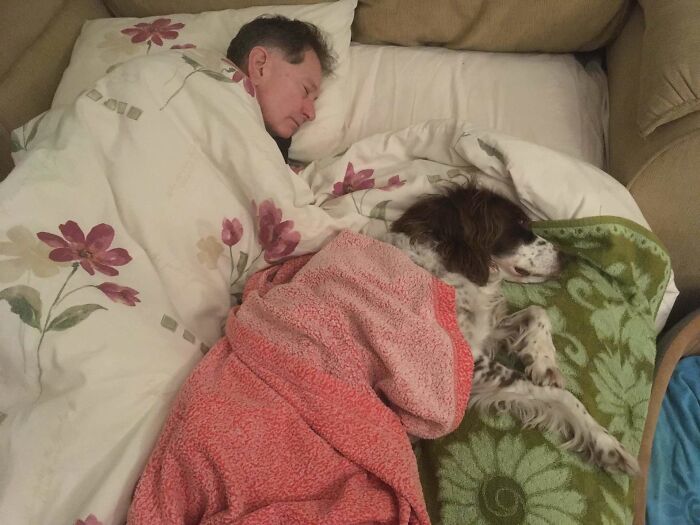 To make Spike the dog happy, his owners decided to sleep on the couch with him on alternate days so he doesn't feel lonely or jump the gate. He will not feel isolated from the rest of the family if he has a company with him.
"We know when he has got tired of watching TV when he gets up and goes to the other room to see if his bed has been put down for him! He takes himself off to bed when he's had enough and gets comfy cozy," the owner of the doggy told us. "He always makes a big fuss when whoever is sleeping downstairs gets in and grumbles at having to share the space, but once you're in he snuggles up and especially loves to cuddle in the morning with his head on the pillow."
Wholesome sight!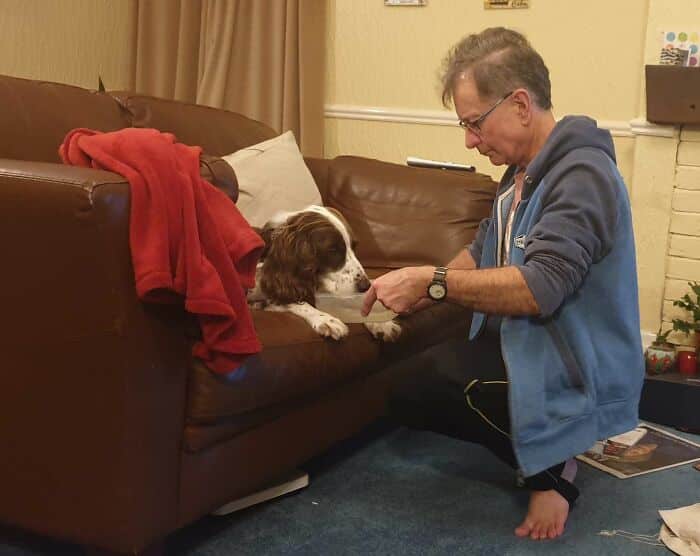 Spike's favorite is nap time!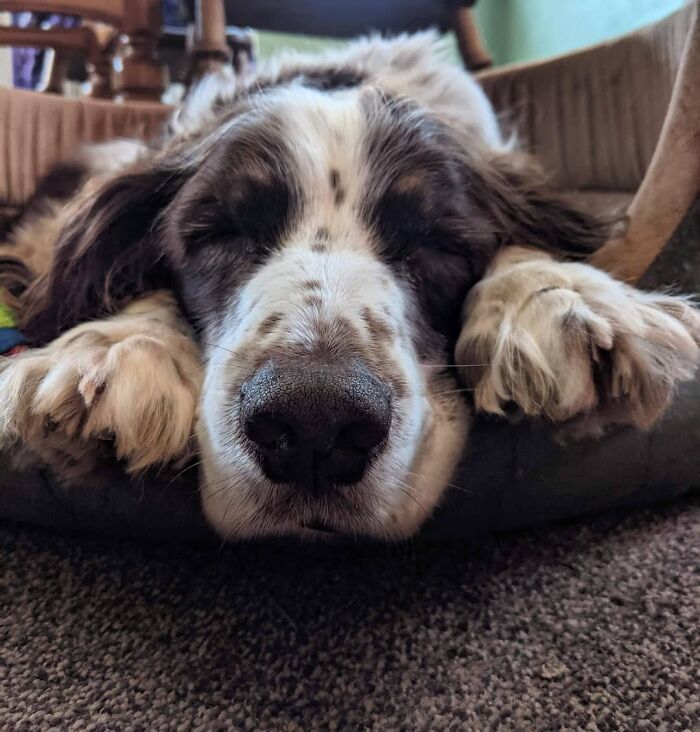 According to his owner, the dog shares a special bond with his dad. "They're absolutely inseparable. My dad calls him 'old bean' and they're always chatting away," the owner told. "My dad will also bring Spike his water and food to the sofa and feed him by hand to make sure he gets his medicines and keeps his strength up."
"We love our old boy so much and are so glad to have him in our lives"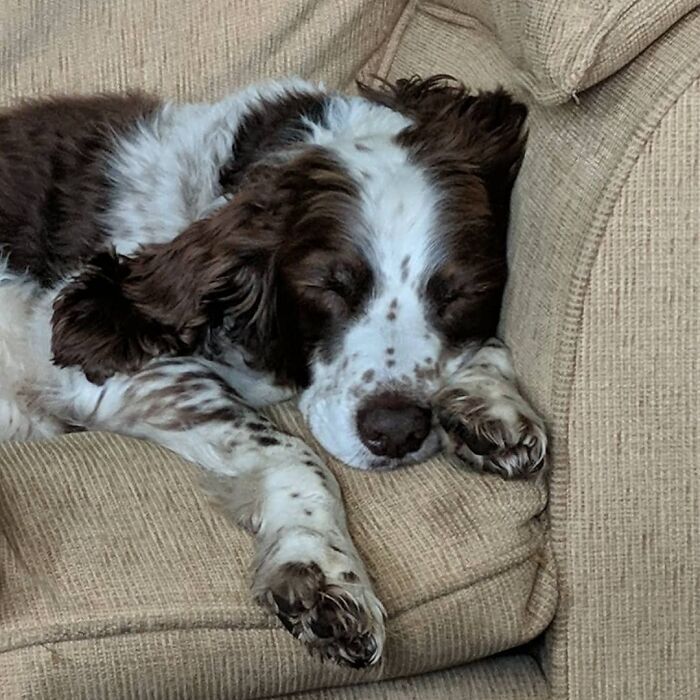 Our day gets better when we look at his face.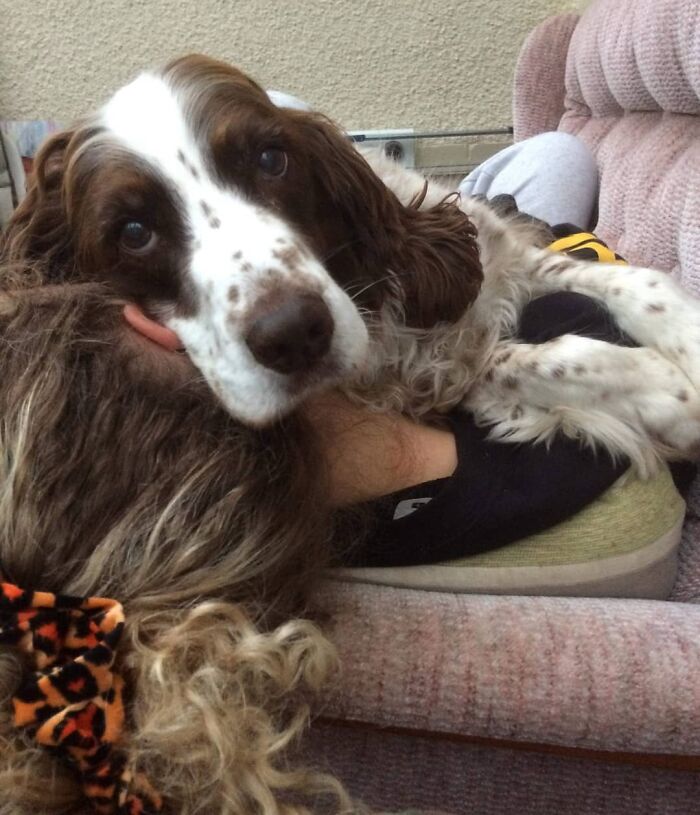 The owners love their dog and are willing to do anything to make him happy. "We love our old boy so much and are so glad to have him in our lives," Spike's owners told. "Hopefully, we have made up for his not-so-good start in life by providing all the love in the world." If you want to see more of Spike's pictures, make sure to follow him on Instagram.
The story received a lot of attention and here are some of the comments from people.







We are at the end of the article and hope you like it. It can be difficult to keep pets, but if you care for them with love, it won't be hard. Pets have the ability to instantly change our moods, which is rare for anyone else to do. Do not forget to use the comment section if you want to share your thoughts on the story.