In Kazakhstan, a bungee jump instructor was given a prison term after a woman sadly died after falling 100 feet in front of her husband.
On October 10, 2021, instructor Alexander Muznikas, 33, was found guilty of the death of Yevgenia Leontyeva, 33, during a ropes course in the Kazakh city of Karaganda.
Muznikas, who was condemned for providing services that did not adhere to safety standards and causing death by negligence, asserted his innocence in response to the prosecution's charges.
EKaraganza.kz, a Russian-language news website, reported that Muznikas claimed he had never planned to harm anyone and surely didn't believe he was to blame for Leontyeva's passing.
É morta mentre il marito la filmava mentre faceva bungee jumping in Kazakistan. Yevgenia Leontyeva, 33enne madre di tre figli, voleva vivere un'esperienza da brividi.
#Bungeejumping #Karaganda #Kazakistan #YevgeniaLeontyeva #3agostohttps://t.co/rQgfTY3wEp pic.twitter.com/sLfyDVEMiI

— Giuseppe D'Alto – Notizie Audaci (@giuseppe_alto) August 3, 2022
Leontyeva is shown in the terrifying footage plunging from the rooftop, crashing to the ground, and then slamming into an iron fence.
Her rope was attached to a crossline that was meant to stop her fall and keep her hovering above the ground, but it was either unfastened or was unable to support her.
Yevgenia appeared scared before the jump, and witnesses at the site claimed they overheard Muznikas pleading with her to continue, according to the Daily Mail.
According to the New York Post, Muznikas also criticized the fact that he was the only defendant facing prosecution for her death despite the fact that he claimed there were other workers present that day.
Alexander Tkachenko, Leontyeva's husband, gave an emotional account of seeing her fall to her death.
Tkachenko can be heard saying "I love you" to his wife in Russian in the disturbing video just before her body hits the ground, which is followed by shouts from frightened onlookers.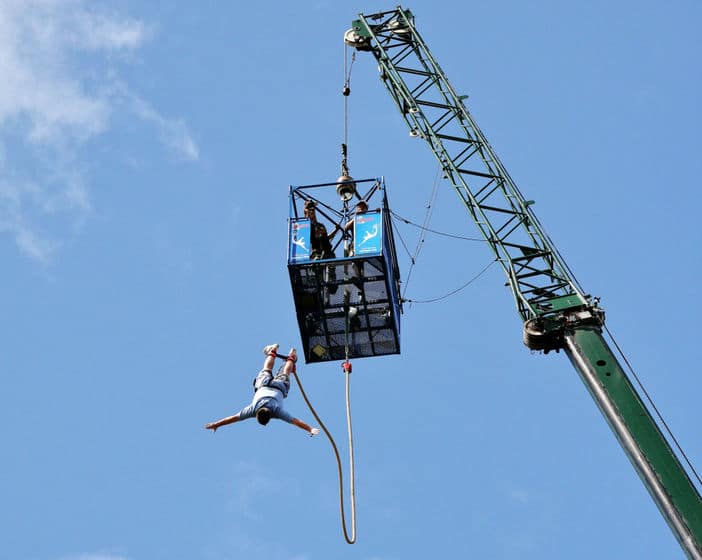 Leontyeva died as a result of several fractured bones on her right side of the body, a severe skull fracture, brain damage, and other ailments. Despite being taken for a medical emergency, she passed away from her wounds.
Speaking outside the courthouse, the widower argued that the staff members who ran the rope-jumping venue were to blame for his wife's passing.
Leontyeva is survived by her husband and their three sons, who range in age from 8 to 12 and include one that they adopted when a relative passed away.