Have you heard of the popular Facebook group called "My house, not my cat"? Well, the active members of this group have made it quite popular. And now, people from all over the world are sharing pictures that portray the theme of this group. 
Continue scrolling to meet the intruders!
This Is My Garden. These Were Not My Cats. But They Are Now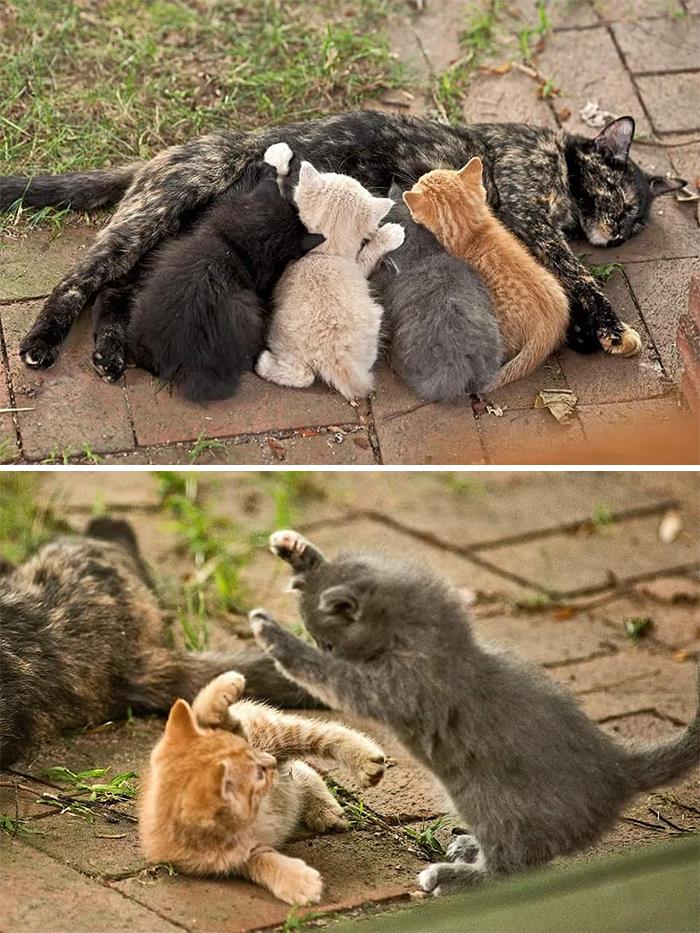 Mamala, the tortie, hung around for years bringing various kittens into the yard to show them off and have a quick meal, then scurry away. We could admire them from afar, but could never touch her. Finally she brought these 4 beauties to us and decided to stay in the yard. One cold snowy winter day, she and the kids walked through our slider into our bedroom and two years later she's still with us with two of the babies. All are now spayed and neutered. Two found homes elsewhere. After living rough and being almost continuously pregnant for years she's decided she never wants to go outside again. Never once has she asked to.
This Is Loader (Freeloader) He Showed Up One Day. No Chip, No Owner. He Cried And Cried Until We Let Him In. He's The Bestest Boy
Early This Morning… I Hear Crying. I Get Up And Start Looking For My Cat
Maybe she fell behind something??? Then… I realize my cat is asleep on the daybed. ??? I open the front door… and this little thing looks up at me. Is this how you get a new cat? I'm 50 and single… is my cat sending out invitations ???
My House, Not My Cat. It's The Cat Of Our Neighbor, She Told Us That The Cat Is Wild And She's No Longer Welcome In Her House
I feel pretty sad about it, maybe we made her wild but she actually became pretty soft with some patience and care in this house. Oh and she walk around with toys.
Two Months Ago A Stray Cat Adopted Us, One Month Ago We Adopted A Dog. This Afternoon A Random Cat Appears At The Back Door, "Hey, Is This Where Everyone's Getting Fed?"
Not My House. But That's My Cat
The Red One Isn't Mine
I Hope This Counts
I rented a house for a few nights, this beautiful cottage in the country. When I woke up the first morning I walked into the kitchen, sun slanting in, open up the door to let the morning in, and I thought to myself "the only thing missing is a cat".
I turn around and this absolute legend bulldozed around the cottage and then promptly decided to show us who the boss was.
My House, Not My Cat
I recently moved to a new house. About a week or so of living here I was coming home from the grocery store so I propped the door open so I could carry in my groceries. As I was heading back outside I noticed a kitty run into my house so I got my last bags and took them to the kitchen quick and went to see where the cat went. I found him like this (the first pic) in my living room. So I gave him some pets and then ended up like this (2nd pic) for the next hour. He's so sweet. He kept coming over every day to watch tv on my lap and then going to the door to leave when he was ready. He was wearing a collar but it had no tags so I decided to write a little note and attach it to the collar. I asked if he had a home and what his name was. The very next day he returned with a note back saying his name was Finn and his address which was 4 houses down & also a phone number saying to text if I wanted to so I did. We were texting about the cat on and off all day and then we came to realize that we actually knew each other from high school. Which I thought was hilarious. Anyways, I now share custody of Finn and he is just the sweetest boy and I look forward to seeing him every day!
So A Month Or So Ago, My Cat Apollo Carried Home A Little Stray Kitten Who Was Definitely Not Ours! We Chalked It Up To A Serendipitous Moment And Welcomed Her Into Our Family

My House, Not My Cat… Not My Ducks Either
My Fireplace, My House, Not My Cat
This Is Not My Cat
I was upstairs in the office (/play room) working away and heard cat feet on the stairs. Door opens, I'm expecting my black and white cat Bowler to come in, and instead this looks in at me.
Not My Cat, Became My Cat After A Severe Ear Infection,and I Felt Bad For Him. Picture After I Spent A Boatload Of Money, And Finally Decided To Neuter Him, No Cone Of Shame, Equaled The Plate Of Shame…
Hobocat, Pork Chops, And Friends
So those that have been following me and Hobo Cat… Hobo Cat now has brought a friend along …. who i have named Pork Chop…. Pork Chop is also not my cat… not quite as feral as Hobo Cat. But they eat together… Only arrive at night Never see them during the day… Pork Chop came late yesterday and brought a possum along which was eating next to Pork Chop… Hobo Cat sometimes arrives with a deer, which I posted pics of.. Some strangeness going on Opossum, raccoons, and Mr Fox now come as well
This Is Tupac, My Neighbor's Cat
Tupac is very mean but decided he liked my house better a few months ago. Now I text the owners if he is here too long, they bring him home, and he comes back in a few days. But this time, he's in my piano
My Baby, My Pram But 100% Not My Cat. Not Quite In My House But Was Still A Surprise For Sure
This Tiny Guy Showed Up In My Loft On The Full Snow Moon In February After I Had Left The Patio Door Open Accidentally
He has a wonky eye, but it doesn't bother him.
He never left, despite our efforts to find his home. Now he lives inside with us and eats fancy cat food and sleeps in my daughter's bed…meet Sage!
Picture It: Early Morning In Nw Georgia. My Husband Wakes Up To Go To The Bathroom And As He Walks Down The Hallway He Hears A Little "Mew" And He Thinks, "What The Heck?"
Picture it: early morning in NW Georgia. My husband wakes up to go to the bathroom and as he walks down the hallway he hears a little "mew" and he thinks, "what the heck?" And walks into the kitchen only to see a Smudge of something on the floor. Upon closer inspection he finds a kitten and now everyone is awake. We took him to the vet the very next day and learned he is a boy and between 6-8 weeks old. We named him Smudge. He was scared and shook a lot because we aren't a quiet group but now he is living his best life and is as happy as any kitten can be. Before we decided to keep him this was definitely my house not my cat. ETA: This is what we think happened! We think he came in through the attic. The long story is a couple days before he showed up my husband came inside after smoking a cigarette and told me he saw this cat carrying a tiny gray kitten in its mouth and that it jumped onto our roof. Then one morning shortly after this gray kitten shows up in our kitchen so pretty sure it's the same one. We think it came in through the attic, but we are only guessing. We have checked and there is no mama cat to be found and there are no other kittens either. So we decided to keep him.
A Few Weeks Ago This Was Not My Cat. But Then She Walked Her Butt Into Our Home And Now I Guess She's My Cat?! She's Also Full Of Kittens
My Car, Not My Void
Climbed into the car when we pulled up, walked straight across my husband's lap and cuddled up to me. Suckled on my cardigan while making biscuits on my neck. Such a beautiful kitty. I did not want to let him go!
My House, Not My Cat… But He Very Much Wants To Be, Judging By How Many Windows We've Seen His Face In
Finn Is My Messenger Kitty With Whom I Wrote The Note On His Collar After He Snuck In My House While I Was Carrying In Groceries & Then Just Kept Coming Back
I got a note back the next day with a phone number!!! ( I thought that was so neat) After speaking to his owner I found out he was jealous of their new kitty and not doing well at home. With permission from his owner he now lives with me! He does go visit his old home from time to time but lives with us now! His owner said he just wants him to be happy and that seems to be with us ( which I do feel bad about but he assures me it's ok) I just love him sooo much! He even guards our toddler and alerts me when she's crying & plays with her outside by racing her down the yard and back. He even gets in her way when she goes into spots in the yard where she could fall! He's just the sweetest boy!
My Tortie (Baby Fuzz) Has Full On Tortitude. She Doesn't Let Me Touch Her, She Refuses Pets. I Have Never Held Her In The 3 Years Ive Had Her
My ex mother in law texts me a picture of her carrying my cat around and said "baby fuzz won't leave me alone, she's making me carry her around the house" I'm thinking what voodoo has this woman put on my cat??? As you can see by this cats face, she's sick of everyone's shit. So I have to investigate. Sure enough, baby fuzz let's me pic her up, love on her, and im in heaven. After a whole day of everyone gushing over how sweet baby fuzz has became and we don't know why, the REAL baby fuzz decides to show up. YALL! WE CARRIED A CAT AROUND ALL DAY THAT WASNT EVEN MINE!!! PIC IN COMMENTS OF THE FUZZ & THE INTRUDER SIDE BY SIDE
Minding My Own Business Trying To Read My Book At My Mum's House. Not My Cat, Or Hers For That Matter
My House, My Table, My Box. Not My Cat…
I Have Two Stray Babies That I've Been Feeding And Petting And One Of Them Just Had Babies
Bought A New House. This Is My First Neighbor To Welcome Me
Not My Cat
Look What My Dog Found In The Backyard Today
I heard him crying for the last couple of days in another neighbors yard, but when my dog heard him in my yard today, my dog claimed him as his own (We live in a town FULL of stray cats). I'm guessing he's about 5-7 weeks old, if that (he only has 4 canine teeth). I gave him a good bath and spent almost 2 hours picking fleas off of him with tweezers, and we gave him some kitten replacement milk. As you can see, he is happy as can be asleep in a blanket now. I'm not sure how to explain this little guy to my boyfriend when he gets back to town tomorrow, but it was his dogs fault
This Is My Porch, Not My Cat
This Is Our Little Cat Family That Happened Because We Had Been Feeding This Sweet Homeless Tuxedo Who Decided To Come Inside Our House And Have Her Babies
She is so sweet,we named her Candy. We decided to keep all four of them and I'm so thankful we did. Since the babies were born during the pandemic,we named the twin girls Faith and Hope. Their big brother's name is Finn. They have brought so much joy to our lives!
My House, Not My… Cat?
For those of you who remember my post about the sweet nebelung kitty that was coming around our backyard – well, she turned out to be a he named Bodhi, who's mom let's him explore quite a bit. He comes by for breakfast every morning, and I just assumed that the empty bowl meant he was eating well. Turns out this little dude has been coming around for Bodhi's leftovers. The audacity!
Mr Fluffy Bum, My Name For Not My Cat
Surprised me today when I went to water some plants. Didn't stop him from going right back to sleep in the sink!
The Renegade Rapscallion, The Carousing Casanova, The Heartthrob Heartbreaker, The Serenading Scallawag, "Sinnry," Has Been Fixed. And Is Now Doing Yoga In The Living Room