Zac Efron will play the role of the notorious killer in Extremely Wicked, Shockingly Evil and Vile. The first trailer of a new movie about Ted Bundy, a serial killer, was released. Some viewers are not happy with its tone and they are criticising the movie for it.
The movie is set to premiere at the Sundance Film Festival. Joe Berlinger has directed the film.
He has also helmed "Conversations with a Killer: The Ted Bundy Tapes" which is a new documentary on Netflix. The series is very disturbing as it features real conversations between Bundy and a journalist. The series is set at the time when Bundy was on death row. You can watch the series on Netflix now.
However, the feature film shares the story of Bundy from his girlfriend's perspective. Bundy beguiled Elizabeth Kloepfer (Lily Collins) with his charm. In the trailer, Bundy confesses to the violent and horrific murders of around thirty women.
There are also flashes of violence in the trailer where Ted Bundy is seen attacking a woman using a crowbar and punches another one. The soundtrack of the trailer is pounding with electric guitar riffs. According to some people, the soundtrack of the trailer was somewhat odd.
Zac Efron as Ted Bundy
It may sound quite odd that the role of a serial killer is played by Zac Efron, the Hollywood heartthrob. The true story of the serial killer, Ted Bundy is even more horrifying than the one which is depicted in the movie.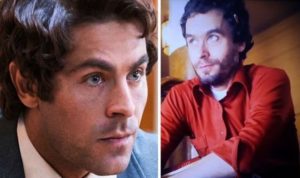 In the movie, Bundy is featured as truly charismatic, charming and attractive. Even though he was the prime suspect and managed to escape through the jail, women easily fell for him.
They were heartbroken when he died in the electric chair at Florida State Prison on 24 January 1989.