YouTuber Adin Ross is raising eyebrows after he asked to join Jake Paul and Andrew Tate for a "threesome sparring" session. During an online live stream, YouTuber and boxer Jake Paul spoke with controversial internet figure Andrew Tate who is currently under house arrest.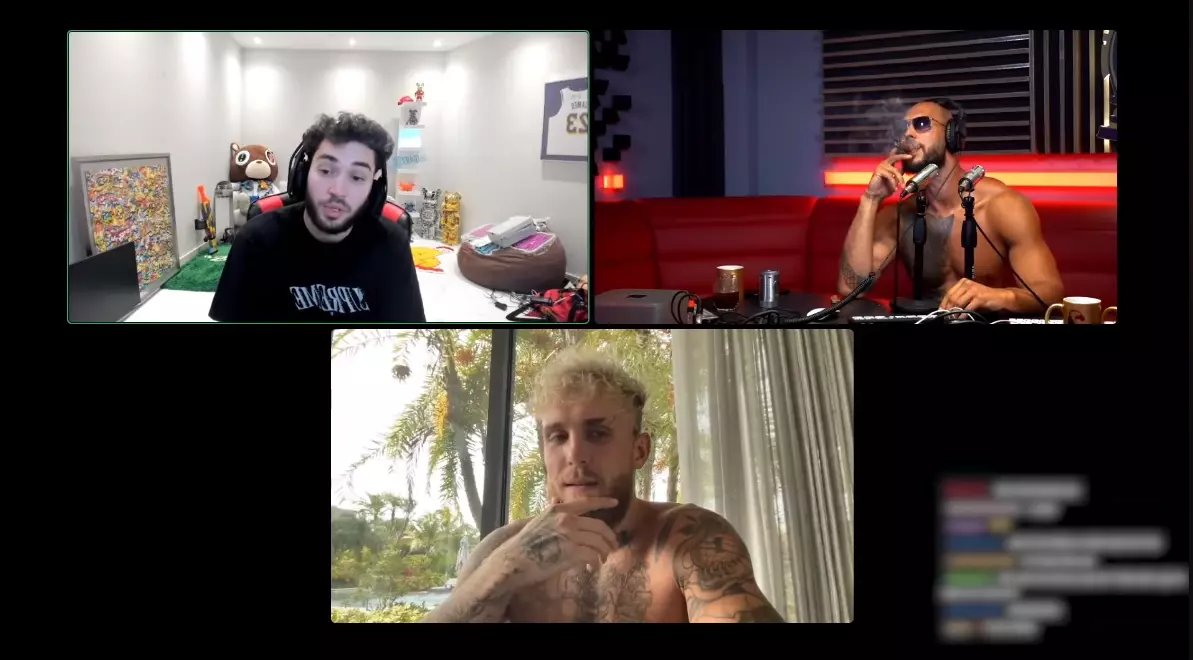 Adin Ross Proposes A Three-Way-Spar With Jake Paul & Andrew Tate
On a recent YouTube live stream that was hosted by Adin Ross, Jake Paul and Andrew Tate discussed the boxing scene and training. Despite being put under house arrest and awaiting trial for rape, human trafficking, and criminal gangs, Andrew Tate was quite relaxed on his live stream. The three internet-famed men talked about boxing, training, and fitness until Ross brought up an interesting proposition.
Tate extended a sparring offer to Paul asking the undefeated boxer to fly to Romania for his next training session. He suggested-
"You know what we should do, Jake? While you're next training, I know you're only 18 days away from the fight. But the next time you're training and you want some sparring, fly to Romania, and we'll spar and we'll film it, and we'll decide if we want to release it or not afterwards. But I have no problem; we can have a sparring match anytime; that's easy."
Paul, who is not one to shy away from a challenge agreed by adding a condition.
"I'm down for that, but we can't release it for free. It's like giving the people what they want for nothing. That's kinda crazy."
Soon after the agreement between Jake Paul and Andrew Tate was finalised, Adin Ross chimed in with his rather odd proposal. Ross offered to have a "threesome spar" between the three of them which left both Paul and Tate amused.
"Let's do it, let's do it! Hey Jake, let's go to Romania; we'll go 50-50 on the jet, and I'll spar. We could do a threesome spar. I'm with it."
You can watch the full clip below-
https://youtu.be/EvElwjNyxBc?t=4988
The clip has since created a buzz online among fans who can't stop trolling Adin Ross for his "threesome" sparring comment. There are also many Jake Paul and Andrew Tate fans who are now looking forward to a potential face-off between the two internet sensations.
For now, Jake Paul is set to face UFC veteran Nate Diaz in a UFC grudge match. The match will be held on August 5, 2023, at the American Dallas Centre in Dallas, Texas.