A 7-year-old girl named Amelia Anisovych earlier went viral for singing the hit Disney song from a bomb shelter in Kyiv.
 She went viral, singing the inspiring lyrics in Ukrainian from the song in Disney's hit film Frozen.
She has single-handedly lifted the spirits of thousands of viewers.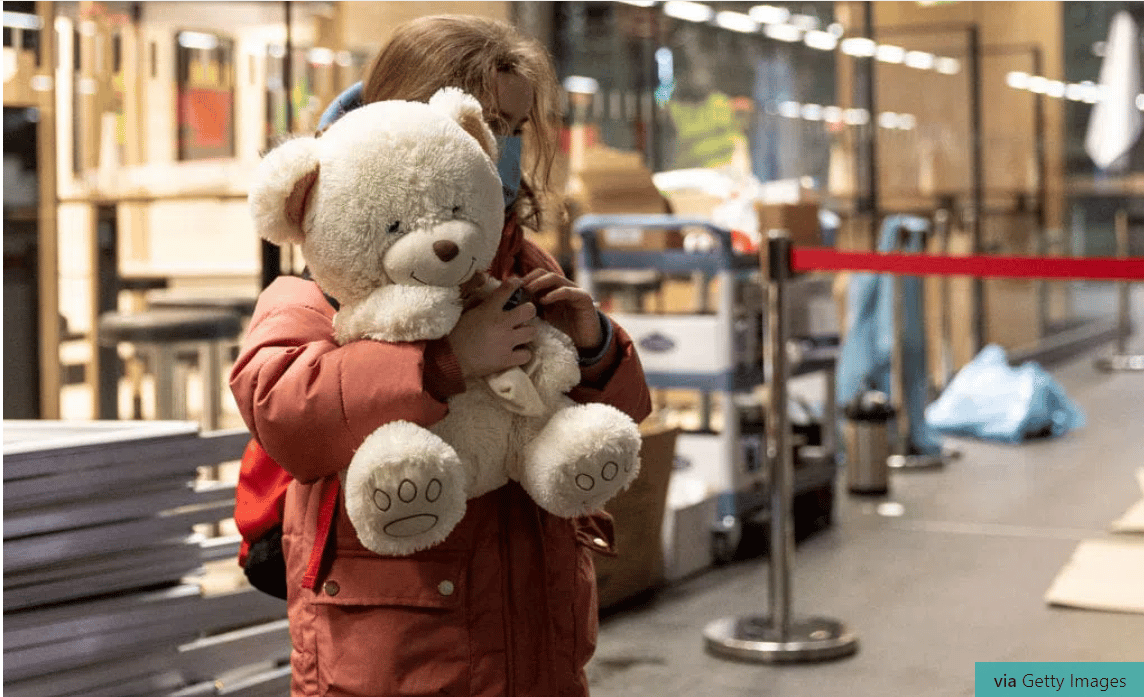 Scroll on to watch for yourself…
Russia has launched a full-scale invasion of Ukraine.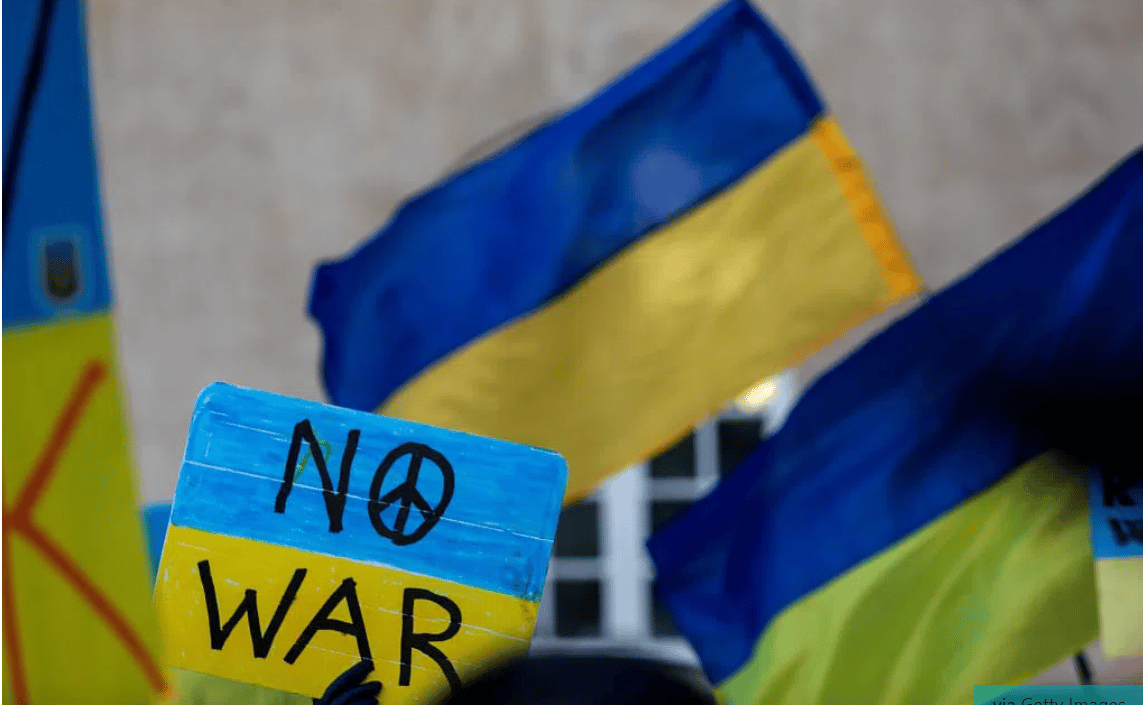 Russia's President Vladimir Putin approves 'special military operation' in the country in a pre-dawn televised address on 24 February.
Putin claimed during his address that the operation was in response to threats from Ukraine.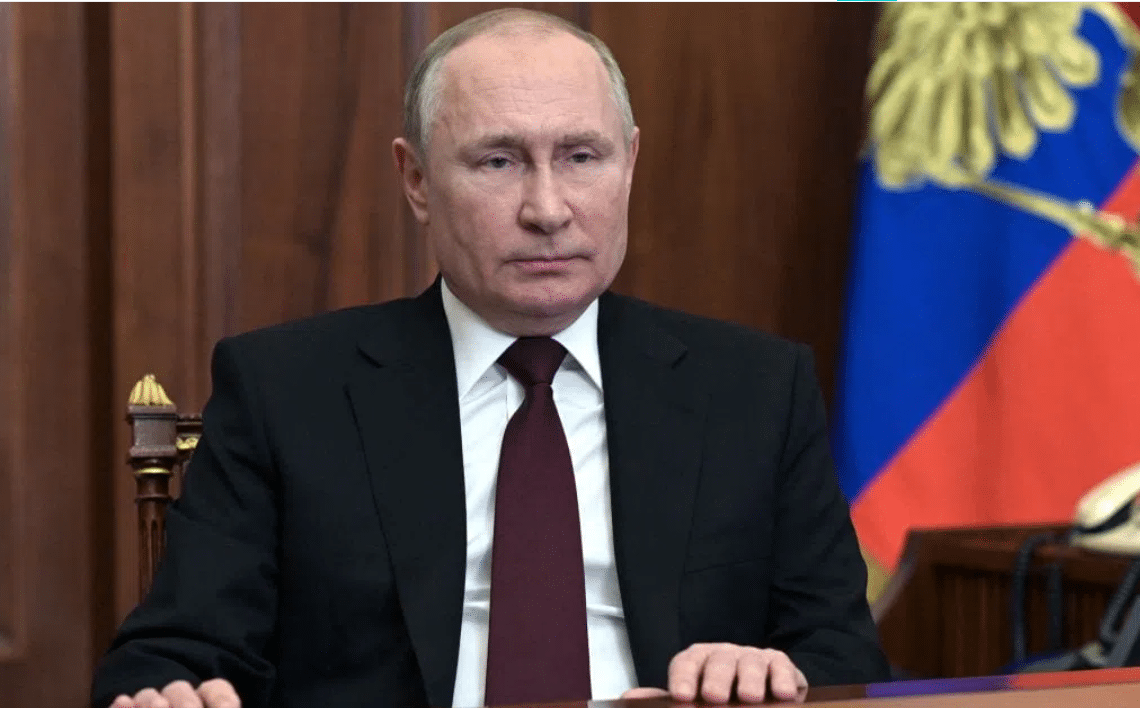 He claimed that Russia had been made to feel they could not be "safe, develop and exist," the BBC reports.
In his speech, Putin also issued a stark warning against interfering with other countries.
He said that any attempts to interfere with the operation will lead to "consequences they have never seen."
Shortly after Putin's early morning televised address, explosions were reportedly heard in several of Ukraine's major cities such as Kharkiv, Kramatorsk, Mariupol, as well as the capital Kyiv.
My neighbourhood in Kyiv. Just received the video:#Ukraine #UkraineInvasion pic.twitter.com/xVO8N7LTJR

— Alexander Khrebet/Олександр Хребет (@AlexKhrebet) February 24, 2022
As troops entered Ukraine Airports and military bases are said to have been the first to be hit.

Following Putin's televised address, many Ukrainian citizens prepared to flee and queues began to form at gas stations, pharmacies, banks, and grocery stores.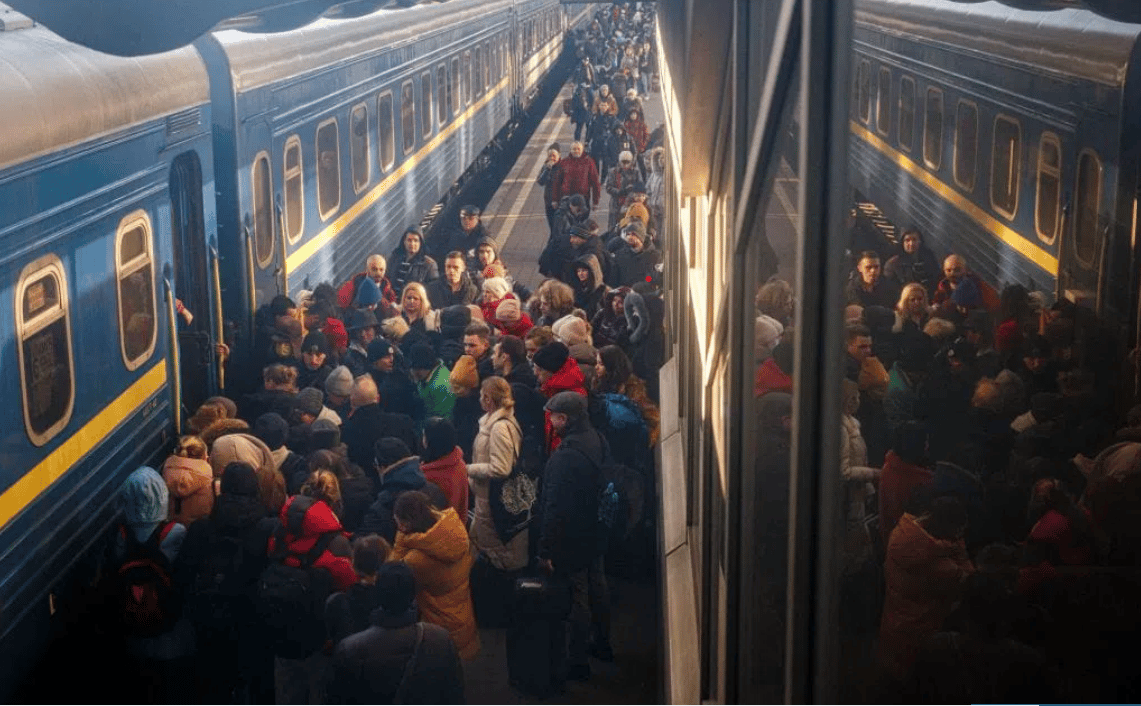 While others made preparations to fight back against the invasion.
Ukrainian president Volodymyr Zelensky urged citizens to stay at home as martial law was introduced.
Russia treacherously attacked our state in the morning, as Nazi Germany did in #2WW years. As of today, our countries are on different sides of world history. 🇷🇺 has embarked on a path of evil, but 🇺🇦 is defending itself & won't give up its freedom no matter what Moscow thinks.

— Володимир Зеленський (@ZelenskyyUa) February 24, 2022
In a post on Twitter, Zelensky wrote: "Russia treacherously attacked our state in the morning, as Nazi Germany did in #2WW years. As of today, our countries are on different sides of world history. has embarked on a path of evil, but is defending itself & won't give up its freedom no matter what Moscow thinks."
From the start of the invasion, Zelenskyy, who has received praise from around the world, said that he is "going to defend our nation."
In a new video on Feb. 26, Ukrainian President Volodymyr Zelensky pushes back on what he says is misinformation: "We aren't going to lay down our arms. We are going to defend our nation." pic.twitter.com/rjUxneRyUh

— The Washington Post (@washingtonpost) February 26, 2022
Zelenskyy has stayed in Ukraine to fight against the invasion despite receiving threats to his life.
Many neighboring countries have opened their borders to fleeing Ukrainian citizens.
Купянск, Харьковская область. Люди с голыми руками бросились на машину с российским военными, которую те отобрали у мирных жителей pic.twitter.com/hJXG57tAw2

— Георгий Албуров (@alburov) March 1, 2022
The likes of Poland, Romania, Slovakia, Hungary, and Moldova have opened their borders.
The BBC reports that the UN said on February 28th that more than 500,000 Ukrainians had entered neighboring countries.
People of the World…Reporting from the Ukraine border! This is one of the places @WCKitchen has hot meals. It is below freezing tonight & I am meeting so many refugees, families who are escaping & don't know what's next…We will do our best not to let them down! #ChefsForUkraine pic.twitter.com/YiEemUfLlC

— José Andrés (@chefjoseandres) February 28, 2022
According to i News, it comes as the likes of Poland has opened its borders to fleeing Ukrainian citizens, even to those without valid passports.
Some of those fleeing the country is said to have had to wait for days to cross at some border points.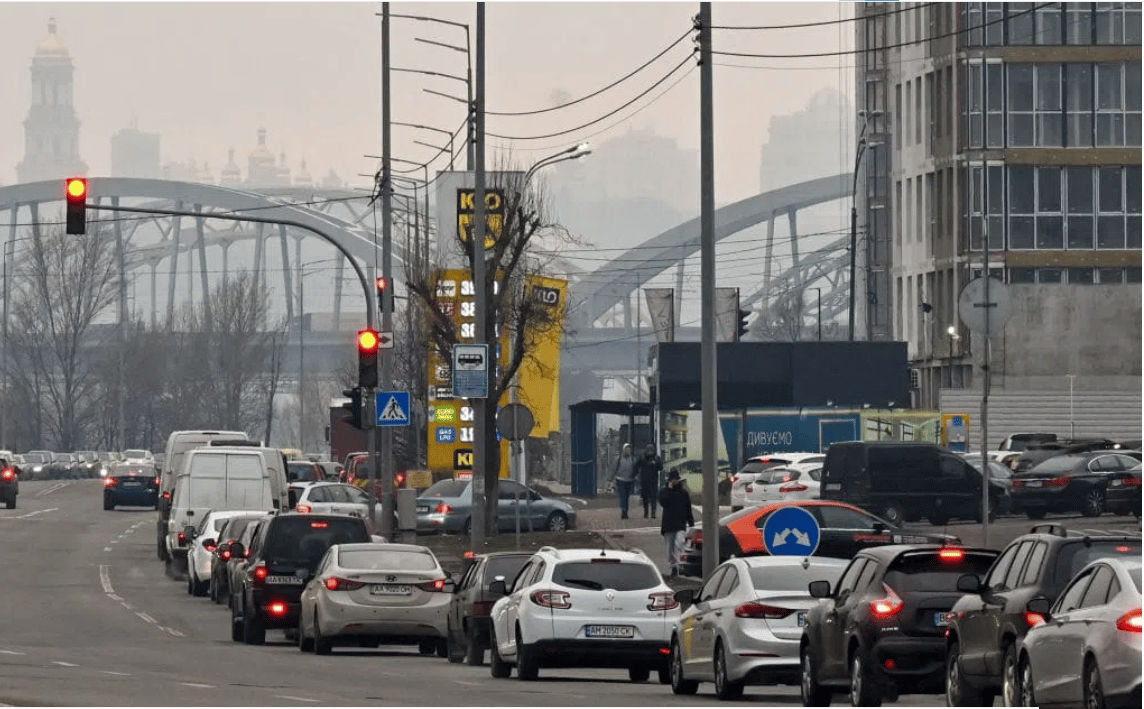 It is due to extreme queues forming.
Countries around the world, including the U.S, UK, European Union, and Asian nations, have placed sanctions on Russia following its invasion of Ukraine.
This breaks my heart. It's so hard to look at. I just don't understand this kind of greed for power. It takes a dark heart to do this to anyone. 💔 pic.twitter.com/b7mEgV7ALi

— Rahman khan (@Rahman_khan11) February 25, 2022
Even Switzerland, a country that has historically remained neutral in global wars, announced its support for Ukraine.
According to Bloomberg, the sanction implemented by the US bans transactions with the Russian central bank, the Russian National Wealth Fund, and the Ministry of Finance.
Strengthening sanctions, concrete defense assistance and an anti-war coalition have just been discussed with @POTUS. Grateful to 🇺🇸 for the strong support to 🇺🇦!

— Володимир Зеленський (@ZelenskyyUa) February 25, 2022
While the Prime Minister of the UK, Boris Johnson, announced an asset freeze against all major Russian banks and sanctions on more than 100 individuals, entities and their subsidiaries.
Sanctions implemented by the UK have also banned all exports of goods that could have military use and a ban on Aeroflot planes landing in the country.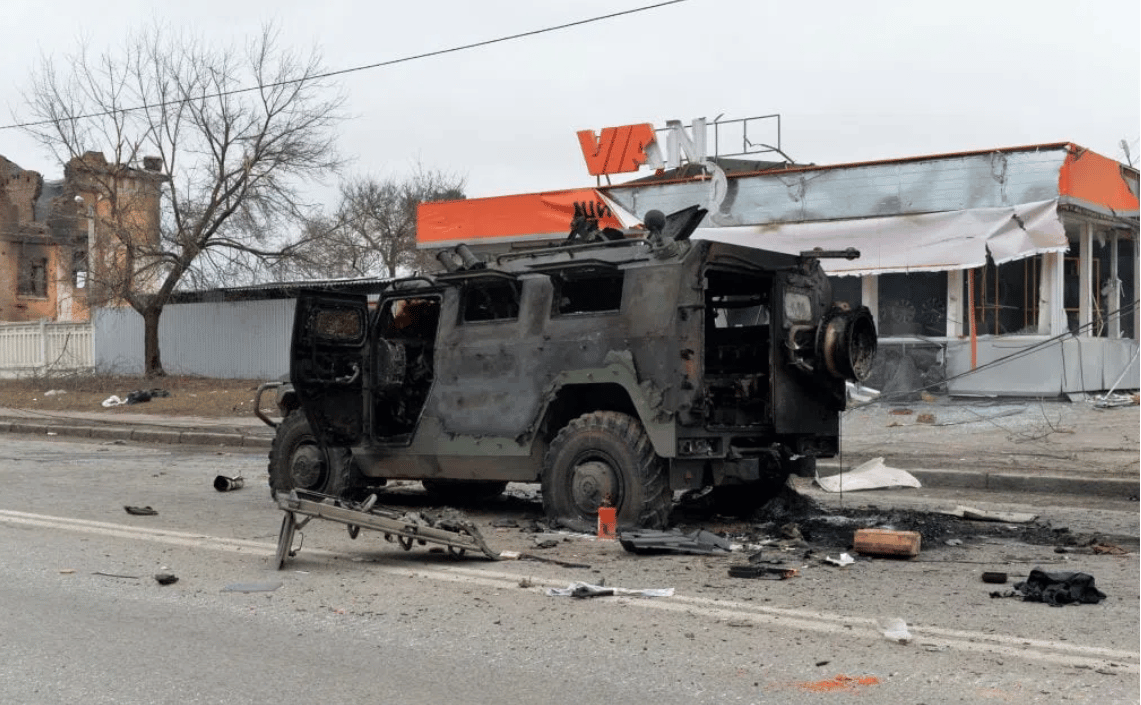 In EU airspace the EU has also imposed similar sanctions with a ban on all transactions with the Russian central bank and a Russian plane.
As airstrikes and fighting on the ground remain, tensions have continued to rise.
A group of Ukrainians was preparing Molotov cocktails to welcome Russian invaders. But one guy seemed dissatisfied. His regret: Russian armored vehicles may all get burnt by someone else before he can put his cocktail to practice. pic.twitter.com/NbzGYQ2qok

— Ukraine / Україна (@Ukraine) February 28, 2022
The BBC reports, days into the invasion, Putin told Russia's military to put its deterrence forces on "special alert," on February 27th.
The deterrence force includes nuclear weapons, however, it does not mean that the country intends to use them.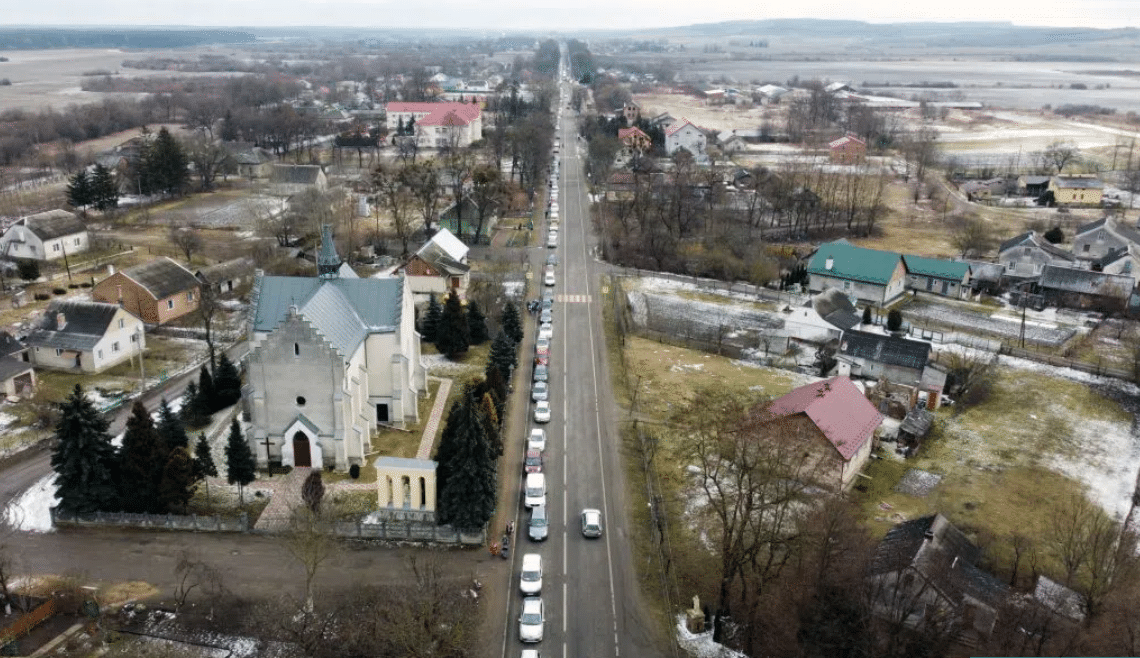 Putin said the change was because of "aggressive statements" by the West, According to the outlet.
Not only has Russia placed its deterrence forces on "special alert, but" it has also been accused of using cluster munitions.
These remains of rocket motors from BM-30 multiple rocket launcher rockets have been documented in various civilian areas, and considering these are usually associated with cluster munition use it raises concerns of cluster munitions being used by Russia in civilian areas. pic.twitter.com/zNstU53KoQ

— Eliot Higgins (@EliotHiggins) February 25, 2022
According to LADbible, Russia has been accused of using cluster munitions in an attack on a Ukrainian hospital and at a preschool.
The outlet reports that cluster munitions are banned in most countries.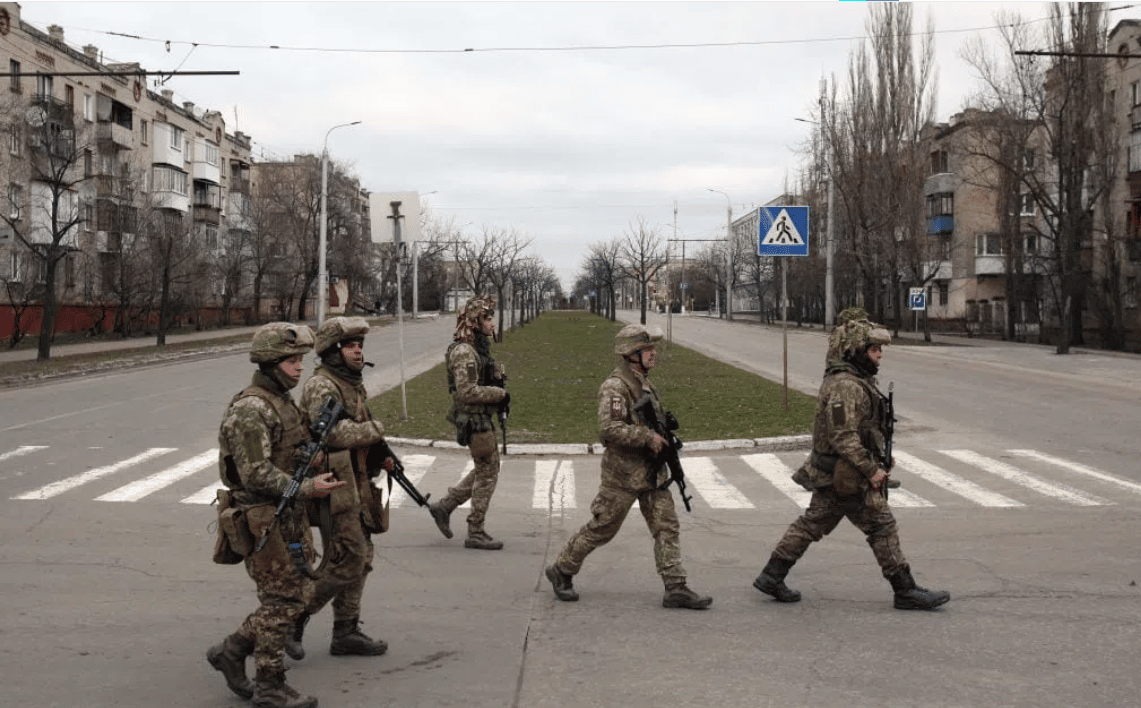 This is because when they explode, they scatter explosives which often do not detonate on impact and could then act as landmines.
Agnès Callamard, Amnesty International secretary-general, said in a statement that there was "no possible justification for dropping cluster munitions in populated areas, let alone near a school."
There are increasing reports of indiscriminate use of Russian MLRS (multiple launch rocket system) against Ukrainian cities; this weapon was designed to produce the maximum personal injury possible given the fragmentary nature of its munitions (cluster munition). pic.twitter.com/hXbncajmht

— Johnattan F. Bilancieri (@BilancieriNews) February 28, 2022
"This attack bears all the hallmarks of Russia's use of this inherently indiscriminate and internationally-banned weapon, and shows flagrant disregard for civilian life."
Since the war began, countless videos and pictures have been shared showing the devastation it's causing.
Ukrainian hospitals have been accepting Russian soldiers. We're operating them, feeding them, and care for them… But the Russian Federation would never show it on national TV.#Ukraine #StandWithUkriane #StopRussianAggression #UkraineRussia #war https://t.co/8b9ngIQ4cs

— ᴅiɴᴋᴀ ᴋᴀʏ | TENEBRIX | #СлаваУкраїні!🌻🇺🇦 (@DinkaKay) February 26, 2022
Videos have also captured Ukrainians reportedly feeding Russian soldiers who have been captured, and one video posted to TikTok even shows an officer ringing the mother of a young Russian soldier to tell her he is ok.
Another video posted by the Security Service of Ukraine shows a captured Russian soldier on the phone to his mom.
Security Service of Ukraine (SBU) has shared a picture of a captured Russian soldier who can be seen crying while talking on phone. SBU also shared the soldier's video, wherein he could be seen breaking down in tears while telling his mother "I love you too" over the phone.
😕😢 pic.twitter.com/0sCawtsgUG

— Tushar Kant Naik ॐ♫₹ (@Tushar_KN) March 2, 2022
After Ukraine officials allowed him to call home.
But there is some positive media coming out of this dreadful situation…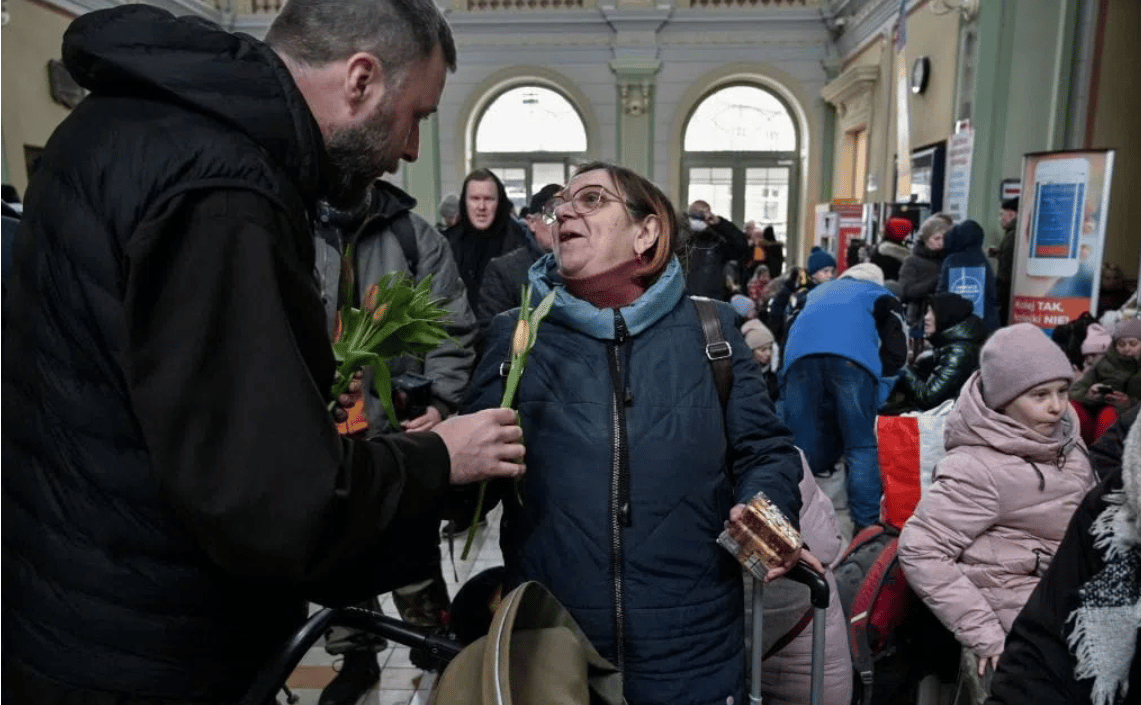 One is a photo shared by the Slovakian Interior Ministry that shows a young boy who traveled 600 miles on his own from his home to the Ukrainian border…
He made it all the way to Slovakia…
And only had "one plastic bag, passport, and phone number written on his hand," the Facebook post said.
The post added: "He came completely alone because his parents had to stay in Ukraine.
"The volunteers took care of him willingly, took him to the heat, and provided him with food and drinks, which they packed for him on his next journey.
He gained all of them with his smile, fearlessness, and determination, worthy of a true hero."
They concluded: "Thanks to the number on the hand and a piece of paper in the waist, I managed to contact relatives who came for him later, and the whole story ended well."
A Facebook post by the Police of the Slovak Republic later shared a video of the boy's mom.
Júlia Pisecká explained that the boy took the journey by train and she was thankful to all those who helped him reach his destination.
She added: "I am a widow and I have more children. I want to thank the Slovak customs and volunteers who took care of my son and helped him cross the border.
"I am grateful you have saved my child's life. Next to my town is a nuclear power plant that the Russians are shooting at.
"I couldn't leave my mother, she can't move on her own.
"People with a big heart live in your small country."
It has been reported that the boy's siblings have also made it safely to the border and they are now all being looked after by family.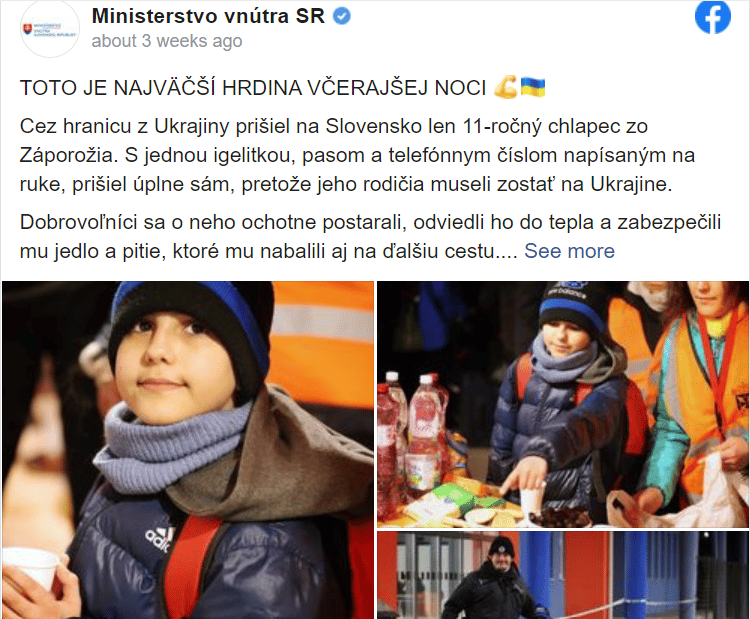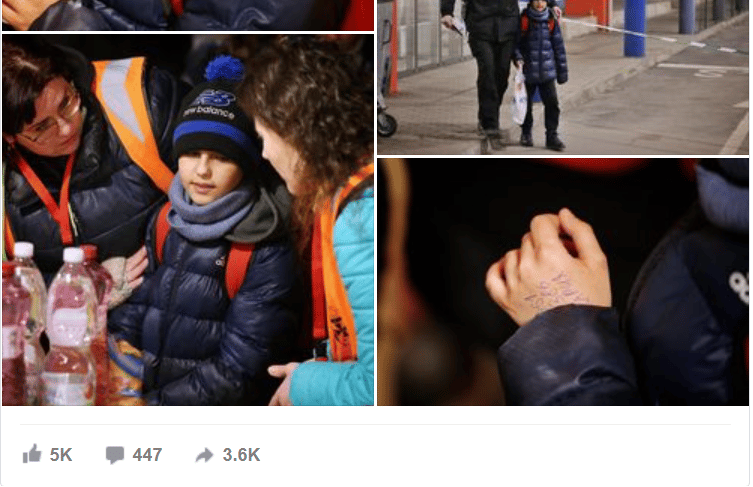 What an incredible story!
And now, a video that was shared on Facebook has gone viral, of a young girl singing Frozen's 'Let It Go' in a bomb shelter in Kyiv…
Heartwarming footage shows little girl Amelia singing the Disney Frozen song Let it Go inside a Ukrainian bomb shelter. pic.twitter.com/GUijEJ10qA

— Ibrox (@ibromehdi2018) March 8, 2022
The girl, known only as Amelia, left everyone in the bunker holding back tears. As she sang the song from the Frozen soundtrack in Ukrainian.
Which was later posted online by Marta Smekhova, with permission from the girl's mom.
She wrote: "From the first word in the [bomb shelter] came complete silence… everyone put their business aside and listen[ed] to a song by this girl who was just beaming light… even men couldn't hold back the tears."
The shelter could be seen packed out with people standing and others lying on the floor as they all listened to the young girl sing.
After she finished, the bunker erupted in applause, with one voice shouting: "Bravo! Bravo!"
Last night I saw a video from within a bomb shelter of a little Ukrainian girl named Amelia singing "Let It Go". Thank you Amelia for your voice, your hope, your courage and your strength. #Ukraine️ #LetItGo #letitgoukraine #StandWithUkraine️ #nowar pic.twitter.com/BZt941PRKP

— Spaghetti Toes (@Spaghetti_Toes) March 8, 2022
Marta's post went on: "I showed this video to people in different cities of Ukraine, it was seen by foreigners in different parts of the world!
"Amelia, your singing left no one indifferent!
"Look, Russians, against whom you are fighting! Only a coward can fight against civilians, take away childhood from defenseless children!
"You let your children go to the stew, making them into cannon meat… and our children radiate light, and even in a raw dark basement it does not blink, but ignites even brighter!"
What a ray of sunshine in these bleak times!