Much to the joy of Xiaomi fans in China, MIUI 10 has been rolled out to a substantial number of Xiaomi devices in China over the past few months and the Android Oreo update was rolled out to Xiaomi Redmi Pro 6 back in November 2018.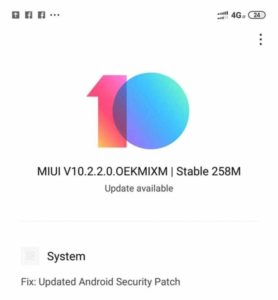 Xiaomi officially released a statement recently that the Android Pie based MIUI 10 update will be rolled out soon to Redmi 6 Pro, Redmi Note 5 Pro, Mi 6X, and Redmi S2 line-ups. Also, the Xiaomi Android Pie Beta has already gone live in China and more devices are scheduled to be updated to the same.
For those Xiaomi Redmi 6 Pro users outside China, the Android Pie MIUI 10 update can be manually installed by flashing it via a custom ROM but it does require an unlocked bootloader. It should not be possible to sideload it in MIUI' system updater as only MI authorized accounts are able it sideload it through the MIUI's system updater, as it is a closed beta. There are already several Xiaomi Redmi 6 Pro Android Pie ROMs available online for those who are interested in manually updating to the MIUI 10 without having to wait a few more months for the official launch. However, caution is advised when coming to manual installation due to a different number of reasons
Xiaomi Phones come with MIUI's anti-rollback protection, which in theory should prevent Xiaomi Redmi 6 Pro users from going back to an older version of the firmware. Given that the MIUI 10 is still in beta phase, it may have bugs and stability issues and, in such cases, a manual installation would result in not being able to roll back to a previous stable version or in worst case scenario – a bricked device. The main purpose of a closed beta update is to weed out any bugs that may be there and stability issues and as such, it is only advisable for users who are technologically well versed when it comes to mobile phones and firmware.

It should also be kept in mind that the official MIUI update is for China and given the absence of Google in China, the MIUI 10 update does not contain Google Play services out-of-the-box. The solution for this is to sideload Google Play which in theory is an easy process.

Another constraint to the official MIUI 10 is that it only comes in English and Mandarin. This again reiterates our earlier recommendation that manual installation is best left for the techno-savvy people and not for others who simply want to try out the new beta without learning the nitty-gritty of how Smartphone firmware works.
Despite the dangers of a manual installation gone wrong, it is an exciting time for Xiaomi Redmi 6 Pro users as every iteration of MIUI update has brought along with it a host of new cutting-edge features and it remains to be seen what MIUI 10 has to offer. Each successive version of MIUI has been focussed on providing a more engaging and immersive experience to the end user and a sleeker and more minimalistic User Interface.
The best recommendation is to take a backup of the Xiaomi phone in case of any issues with the MIUI 10 installation or the update is found to be too buggy for daily usage. For those, who use the Xiaomi Redmi Pro 6 as their primary or sole mobile phone, it is best advised to wait for a stable Android Pie update or at least an official launch of the MIUI 10 firmware in your respective regions.
Download the update from here!
Facebook Notice for EU! You need to login to view and post FB Comments!