In one of the most famous scenes from an episode of Seinfeld, Elaine hears the now-famous line, "You gotta have a baby!" We can only guess that millions of women watched, but we know that many of them were thinking, "What do you say when society wants to know when you'll have kids and why you haven't yet?"
Even though more and more millennials are putting off having kids or deciding not to have any at all, women are still put under a lot of pressure to have kids. Celebrity "baby bumps" are getting more attention in the media, and young women say they feel more pressure because society has made a strong link between being a woman and being a mother.
Some women are adamantly against having kids, while others want them very much, and still, others are undecided. But no matter how a woman feels about having kids, the choice to have them is hers and hers alone to make based on what's most important to her. No woman should ever have to answer the never-ending questions about this issue that society asks.
Here is a list of 12 women who answered the question about babies that no one wants to hear:
Cameron Diaz: "I have an unbelievable life."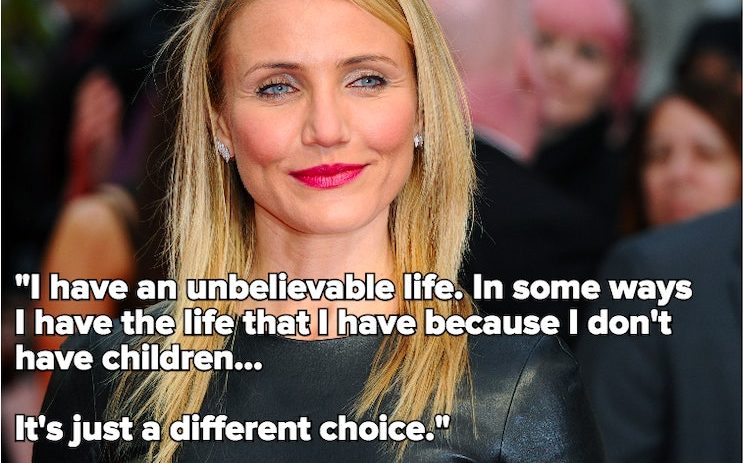 In an interview with Parade magazine in 2009, Diaz said something that many women who don't have children already know: that having children isn't always the key to a happy life.
Jennifer Westfeldt: "Regret … doesn't seem like a compelling enough reason."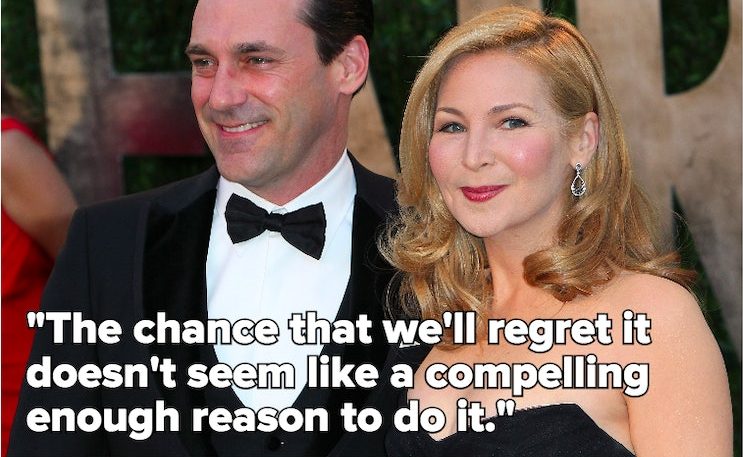 When you're surrounded by a sea of happy moms, it's natural to start to worry that you'll look back with regret. But in an interview with the New York Times in 2012, actress and director Jennifer Westfeldt, who has been in a long-term relationship with Jon Hamm, said that she doesn't let "what if" questions affect her decisions.
Zooey Deschanel: "Nobody asks a guy that."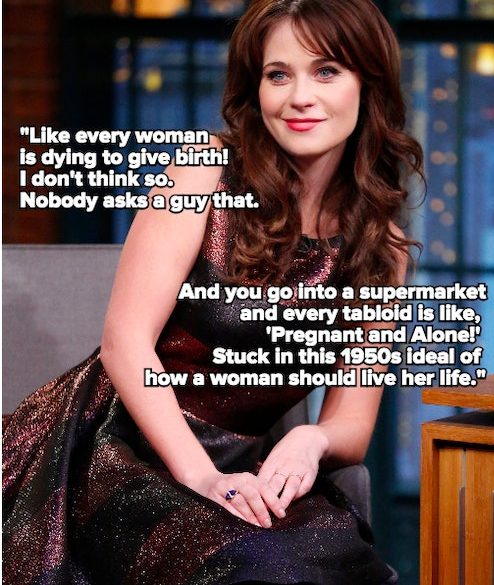 Deschanel, who is currently expecting her first child, wanted to let everyone know that just because a woman wants to have children in the future doesn't mean it's okay to ask if she already has any. In 2014, the actress complained to InStyle magazine about how annoying it was to be asked about babies all the time before she had them. She pointed out that this behavior is based on sexism.
Marisa Tomei: "I don't know why women need to have children to be seen as complete human beings."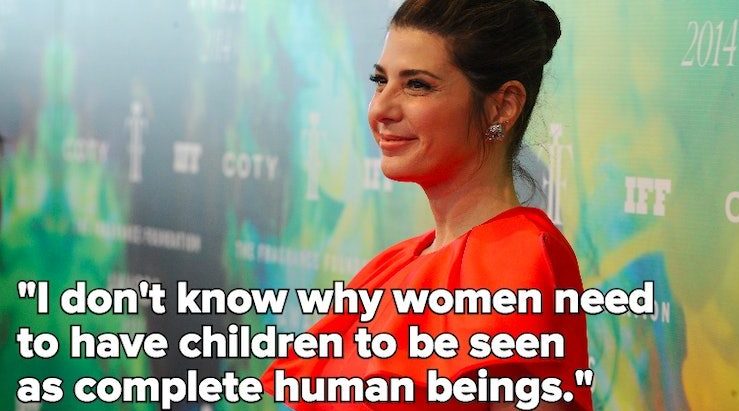 Can you say a woman has reached her full potential if she doesn't have her own children? Some people are sure that the answer is "no." In an interview with Manhattan magazine in 2009, Marisa Tomei questioned whether or not this old saying was true.
Chelsea Handler: "Childhood was heartbreaking enough."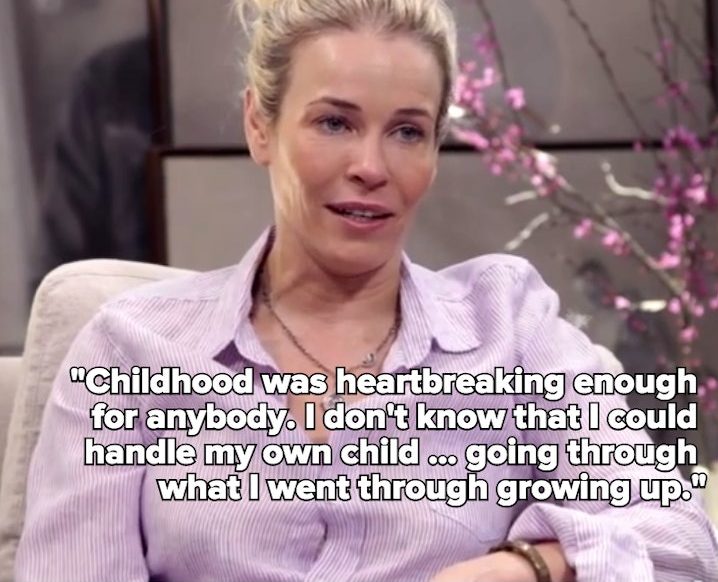 Handler has been open about the fact that she had an abortion when she was 16. In 2013, she said on an episode of The Conversation With Amanda de Cadenet that she doesn't think she would be a good mother and doesn't want to be a child again. Handler has been open about the decision she made when she was 16 to have an abortion. It's a confession that is not only raw but also honest, and one that we rarely hear from women.
Oprah Winfrey: "If I had kids, my kids would hate me."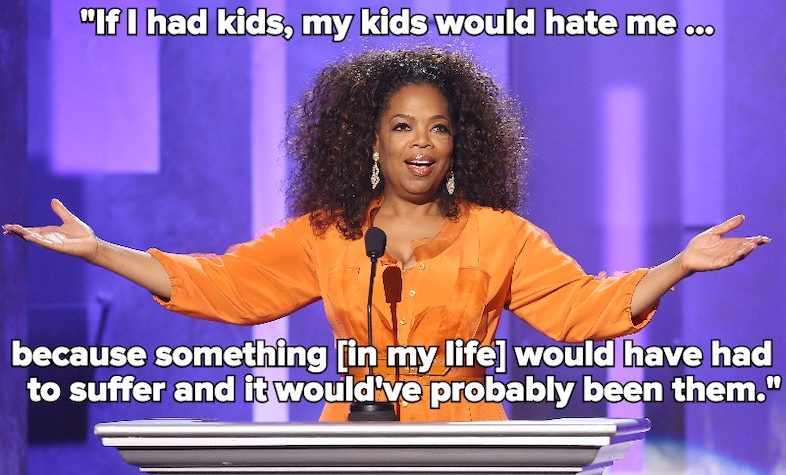 Winfrey has never tried to hide the fact that she wants her career to come before having children, even though many women feel like they have to choose between the two. She told the Hollywood Reporter in 2013 that while her best friend Gayle King always wanted to be a mother, she always wanted to be Martin Luther King Jr., and now she knows that if she had gone after her other dream, having children would have taken a back seat.
Ellen DeGeneres: "I wouldn't want to screw them up."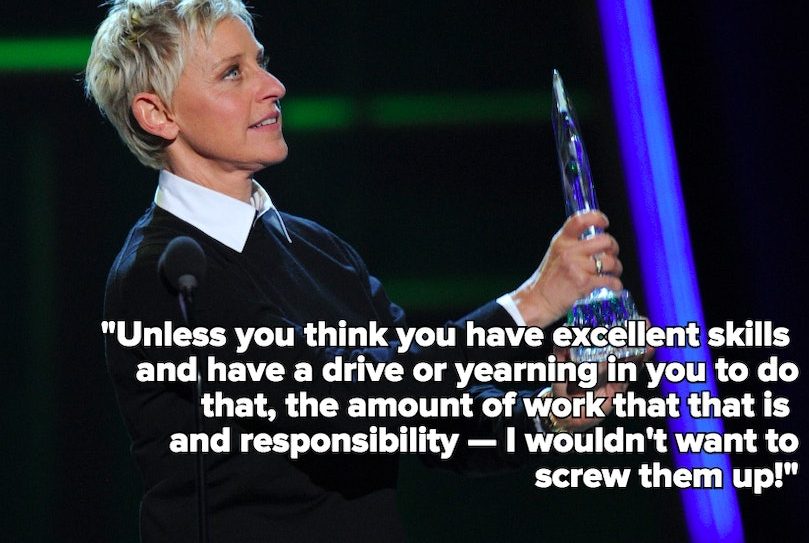 Being a parent is called the hardest job in the world for a reason, and both Ellen DeGeneres and her wife, Portia de Rossi, admit that they do not want to take on the responsibility of being parents.
You have to really want to have kids, and neither of us did,
de Rossi said to Out in 2013.
Ellen DeGeneres wrote an essay for People magazine in 2014 and reminded readers that many childless couples weigh the pros and cons of having kids just as much as, if not more than, many parents do.
Margaret Cho: "I ovulate sand."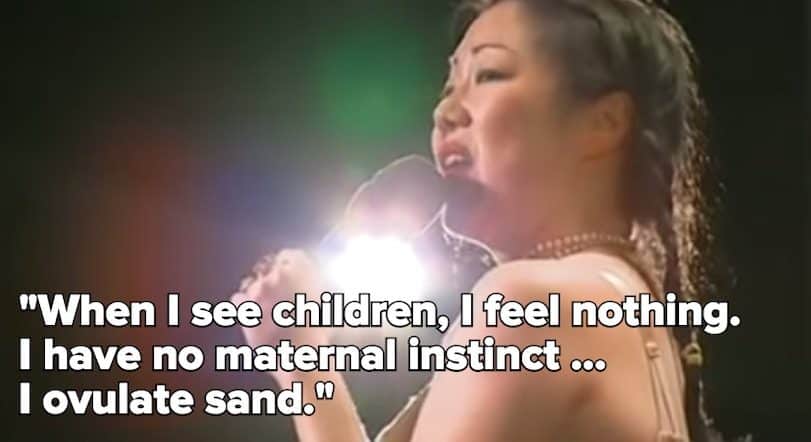 Anecdotal evidence suggests that women who don't have a strong biological drive to reproduce or a strong maternal instinct are not as rare as we might think. Margaret Cho is a firm believer in this point of view. In the 2003 movie she directed, Revolution, she made a joke about how she would rather adopt a 50-year-old "baby by choice" than have a real child of her own.
Sarah Silverman: "I want to have kids when there's nothing else I want more."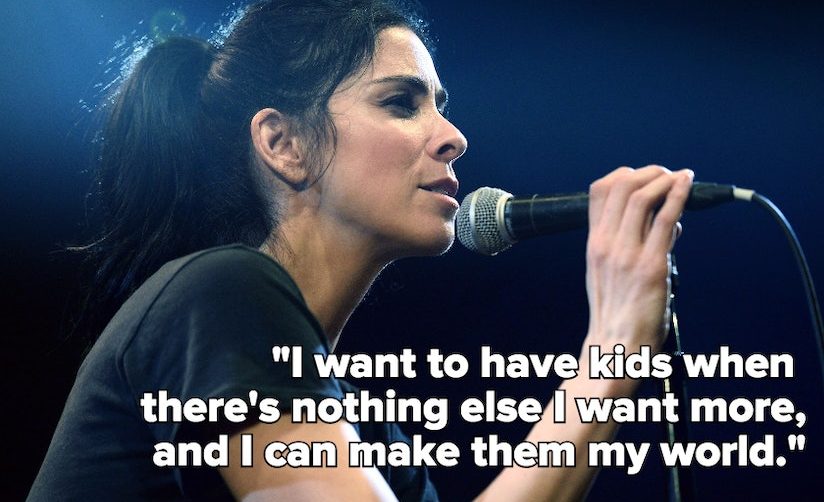 In an interview with The Daily Beast in 2010, Silverman said that there is no minimum or maximum age to start a family. Silverman doesn't want children right now for a number of reasons, one of which is that she doesn't want her depression to be passed on to her children. However, her point of view about not rushing if you don't have to is a much-needed one.
Kim Cattrall: "I have a headache."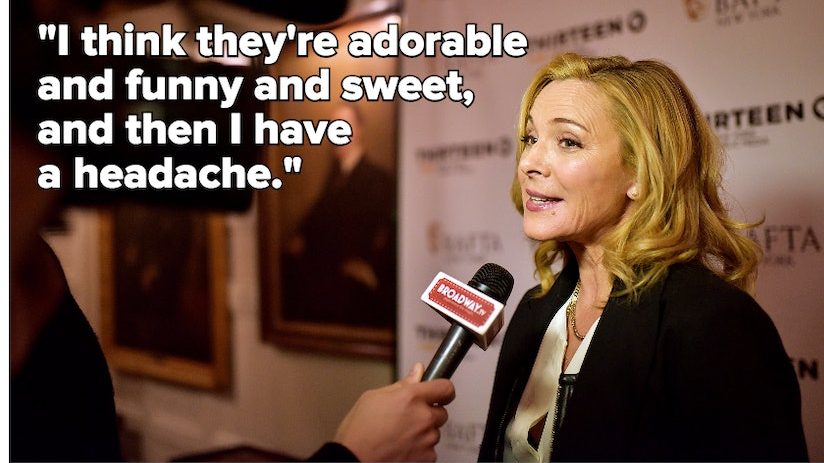 The truth is that having kids can be a lot of work. Kim Cattrall told the Advocate in 2008 something that most parents know but probably don't want to think about too much.
Jennifer Aniston: "No one has the right to assume."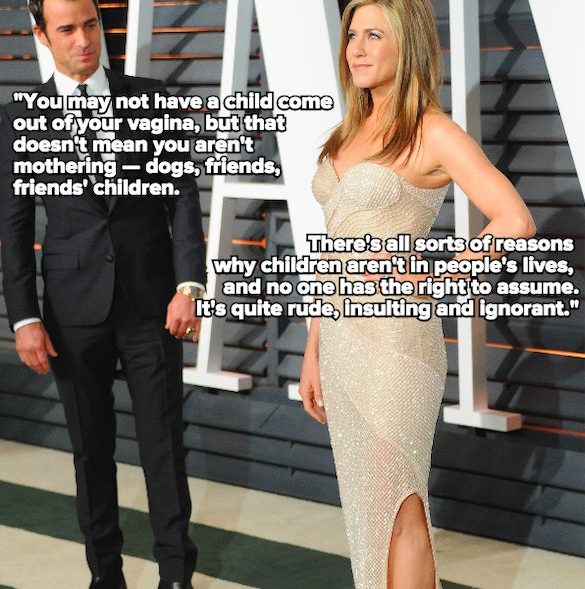 Aniston has spent her whole career fighting off rumors and speculation about her private life, including her breakup with Brad Pitt and the fact that she does not have any children. She has answered her critics in a number of different ways. In 2014, she gave an interview with Allure magazine in which she pointed out a basic truth: the reasons a woman chooses not to have children are no one else's damn business.
Gloria Steinem: "Everybody does not have to live in the same way."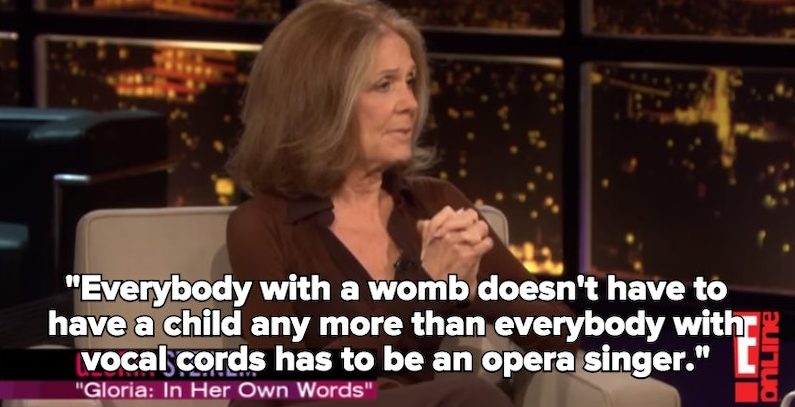 Steinem said that she did not want to spend any more time caring for other people because she had a hard childhood and helped take care of her mentally ill mother. She then told the crowd in India that she does not regret her choice "even for a millisecond." In a 2014 conversation with Jennifer Aniston at the MAKERS Conference, she said that the women's movement of the 1960s and 1970s showed her that being married with kids is not the only way to live. She said this again on Chelsea Lately in 2011 with a quote that will be remembered forever.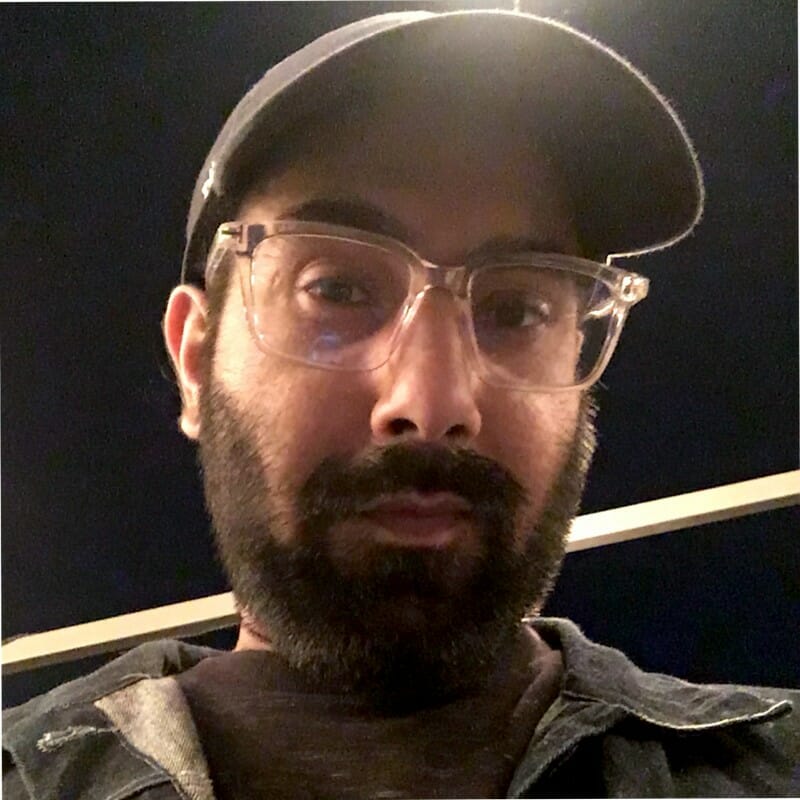 Fascinated by everything that goes beep. Strong passion for music, tech, and all things Marvel.