The world needs to realise that there are so many animals who are looking for their forever home. Some even spend their entire life in a dog shelter waiting for a family to adopt them. While some lucky ones are adopted in a single day. As more and more people realise their responsibility towards animals, the world will become a better place for everyone to live.
Lauren Smith Greeno, from the USA, is a strong and kind lady who has dedicated her entire life to looking after animals. She works closely with animals. She closely works with shelters and even takes them to her home until the animal finds it forever home. Lauren has three beautiful pets. But when she saw Ginnie picture on the Charlie's Crusaders Pet Rescue Facebook page, in an instant she knew that she had to bring her home.
This is Ginnie. She was stuck in the shelter for 6 months because nobody wanted her. She was taken away from her previous owners because she was treated very poorly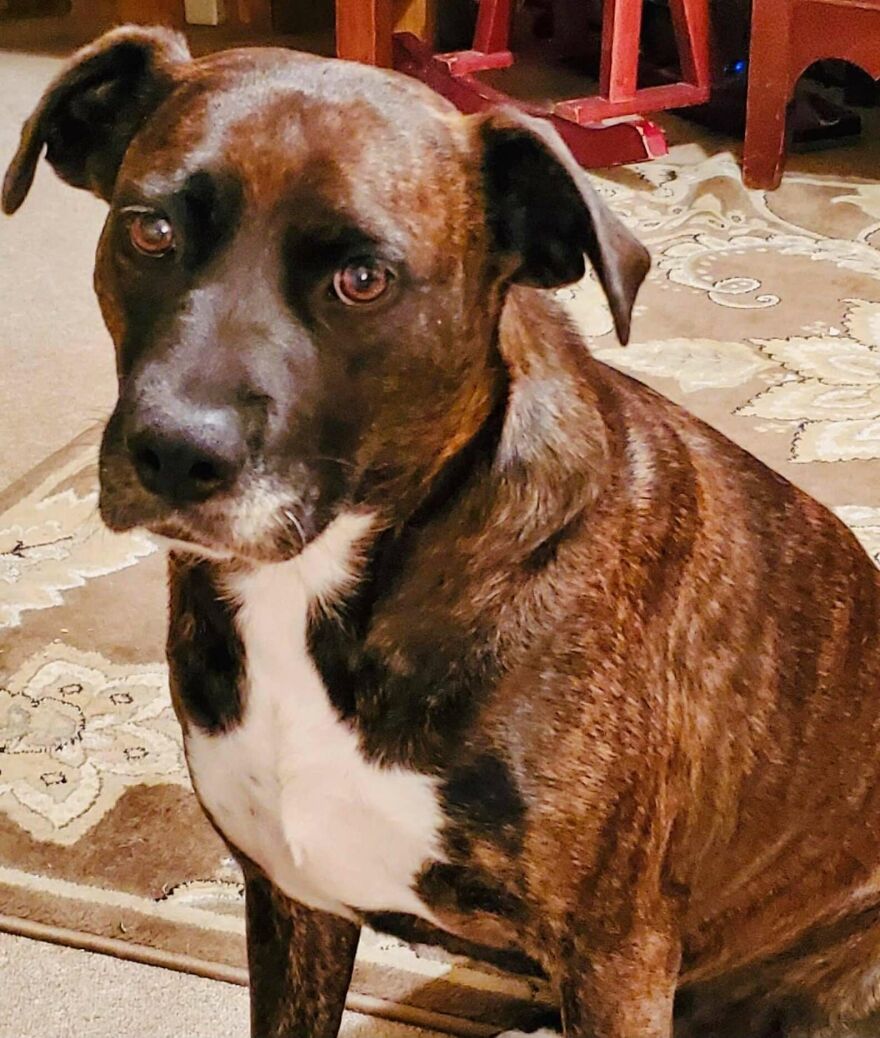 Lauren told Hiptoro: "We first saw Ginnie on the Charlie's Crusaders Pet Rescue Facebook page.
It was a post asking for a new foster/potential adopter. I emailed them that night and then called in the morning to tell the rescue that I was willing to foster to potentially adopt. I called on a Monday and she was in our home that Sunday.
I am immensely grateful that I came across her picture. It warms my heart to see her smile and wag her tail; and I am happy to give her all the snuggles, kisses, and belly rubs. All she wanted was a family to love her and I am happy we could be that family for her. She fits right in."
Ginnie was kept on a short leash outside and never knew what a soft bed or toys were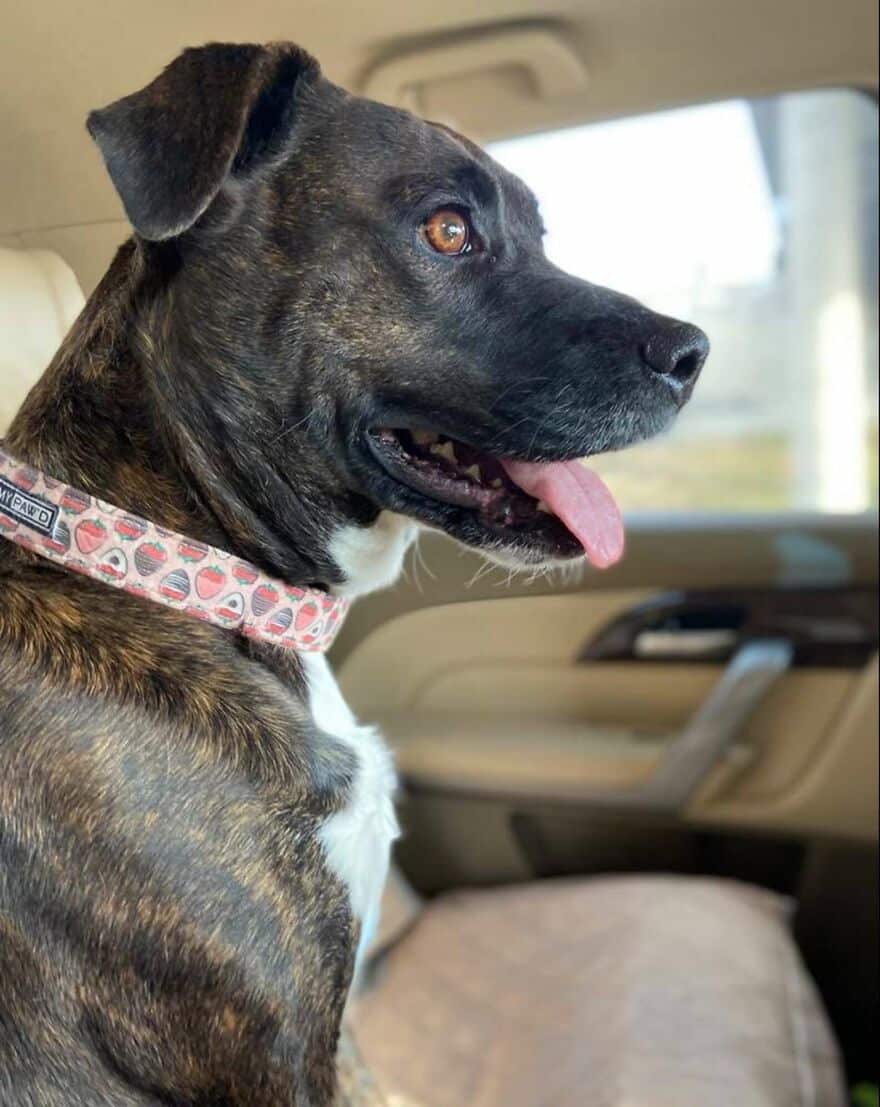 When Lauren saw her on the shelter's Facebook page, she immediately fell in love. After a week of paperwork and getting to know each other, Ginnie was on her way to her new home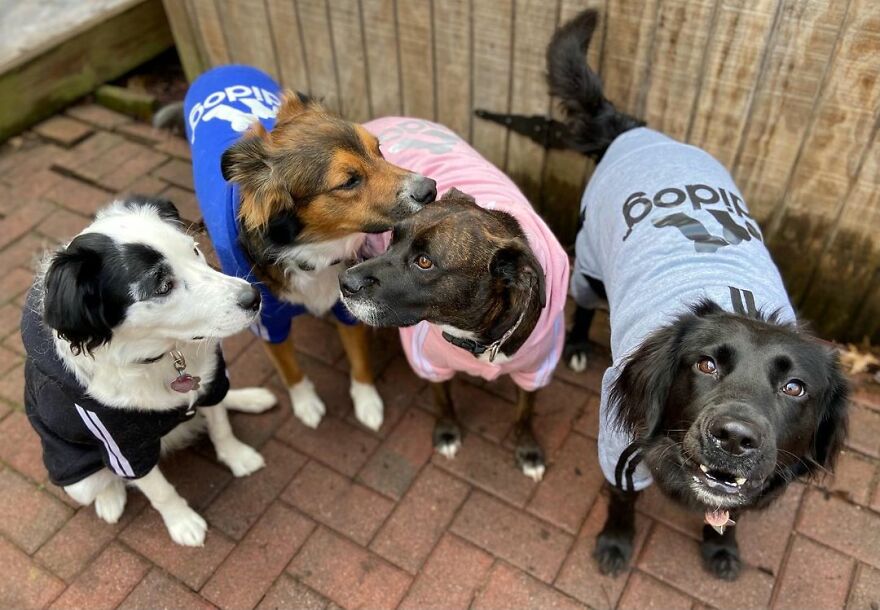 Lauren told us how's Ginnie is currently doing: "Ginnie is doing super well and is completely spoiled. She sleeps in our bed every night and gets all the kisses, snuggles, and belly rubs. When I'm working, she sits right beside me with a bone to chew. She also really enjoys spending time with her siblings, especially our youngest dog, Gigi. They play wrestle all the time.  All in all, she's just a happy, healthy girl."
She met her three siblings and finally felt like she was at home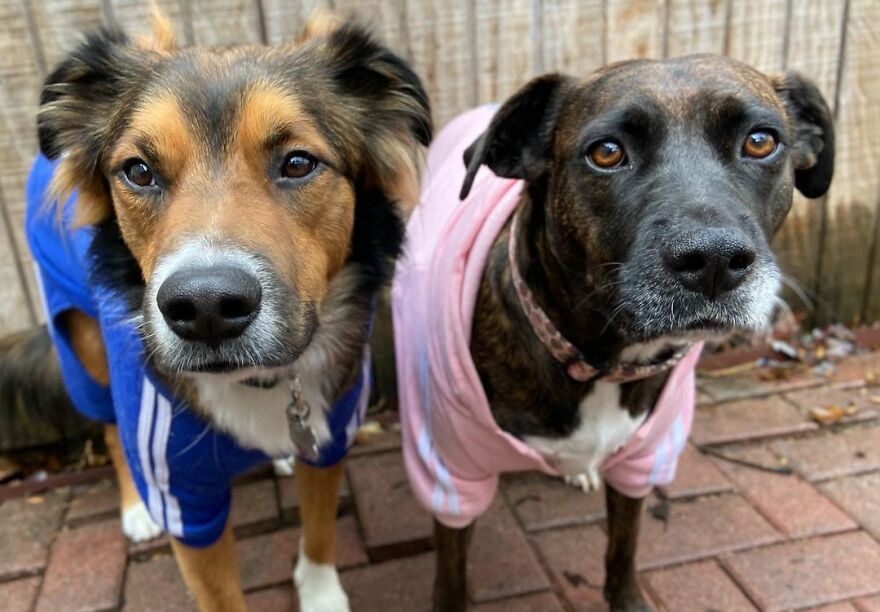 SHe further shared more about Ginnie's personality: "Ginnie is a gentle and affectionate girl. Her favorite thing to do would be cuddling. She is a major cuddler. If I am in a chair, she always wants to sit in my lap and be held and if I am in bed, she wants to sleep in my arms. Whenever my eyes meet hers, she always wags her tail and leans in for a hug and a kiss. She's just a big love bug.
She didn't have toys before we adopted her, so these last 3 months she has been discovering her love for tug toys and tennis balls. She loves a good game of tug or fetch. Even if she's resting, if you pick up a toy, she is the first one up and ready to play."
This is Ginnie the first time she laid on a bed. She fell asleep almost instantly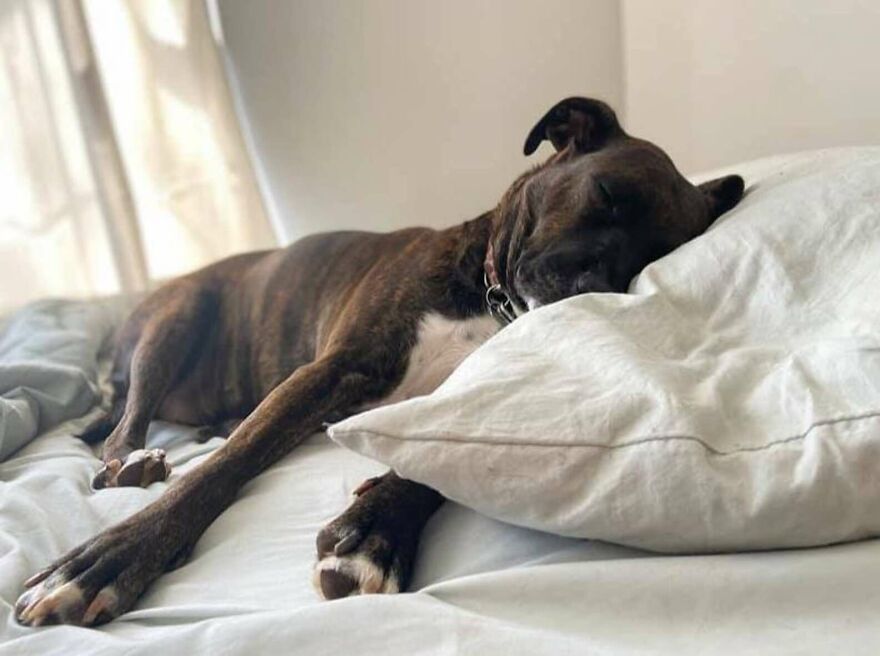 Lauren told us in detail about how she decided to keep Ginnie "I was searching on Petfinder to find a dog to foster over the holidays. I came across the Charlie's Crusaders page on the site and decided to look them up on Facebook. The very first picture that popped up was of Ginnie with her big sad brown eyes. My heart just broke for her.
It was too late at night to call the rescue, so I sent them an email, and then I called the minute they opened in the morning. I signed the foster papers on Monday and she was in our home that Sunday. I fell in love with her on the drive back from the pickup site. we had her in the back of the car so that she could have space to decompress. We barely left the pickup site before she had jumped in my lap and started smothering me with kisses. I cried. She was so trusting and so open to being loved.
The second day, I brought her up to my room and let her on the bed (she had never been on a bed before). I lay down on the bed and invited her to lay next to me. Without hesitation, she sauntered over and collapsed. Once she was comfortable, she let out the sincerest sigh of relief. She just laid there on the bed, with her eyes wide with what I can only describe as a mixture of amazement and profound contentment. I knew at that moment that we had to adopt her."
She fit into the family perfectly, the siblings accepted her, and they became inseparable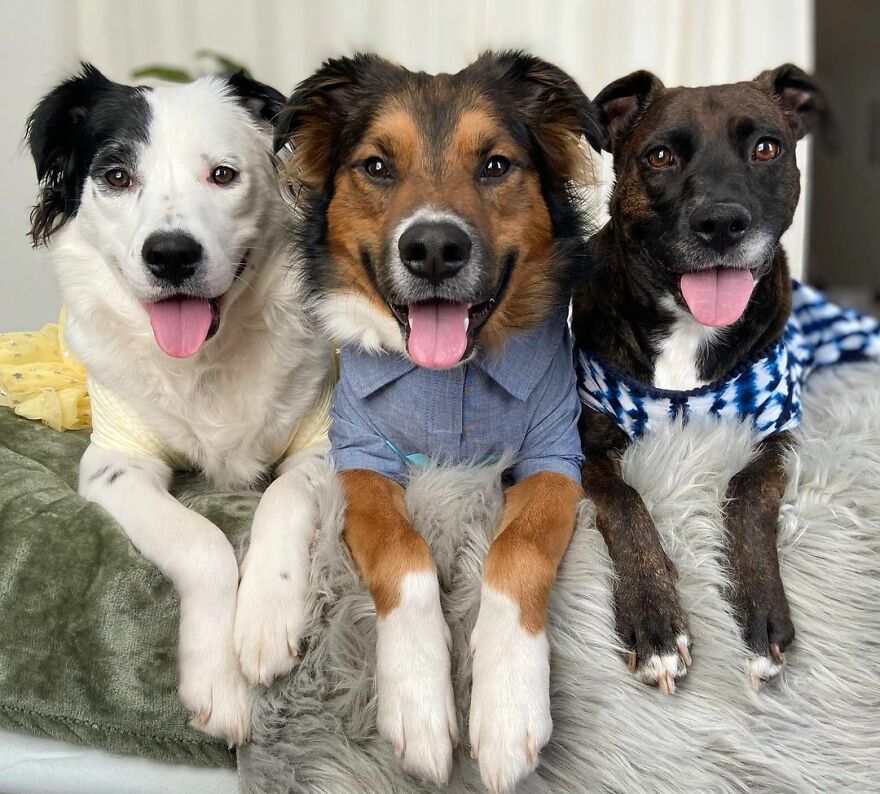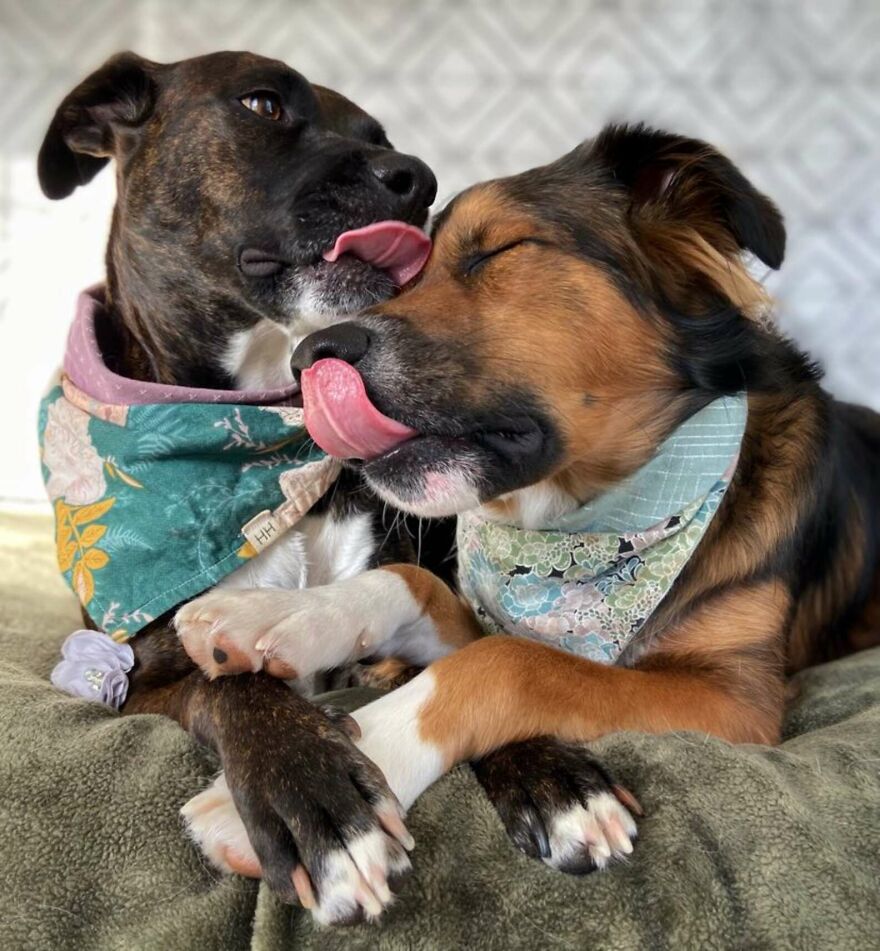 When we asked her about what was Ginnie's previous life like, she replied "Ginnie, along with her littermates, was confiscated from their previous owners for neglect/abandonment. They were found attached to short leashes outside a property without a dry place to stand.
Once confiscated, they were taken to a shelter where they were put on the euthanasia list before a Charlie's Crusaders Pet Rescue came along and scooped them up. Ginnie's littermates were adopted immediately, but Ginnie remained in foster care and on the rescue's website for 6 months. Nobody wanted her."
Sadly, The poor dog is suffering from heartworms. Lauren shared with us about how her recovery is going and how's she's doing: "Ginnie's recovery is going super well. She handled her medication and shots like a champ. Now we are just waiting for her follow-up appointment in a few months to see if she is heartworm-free. We are hopeful she will be."
Lauren shared the issues they run into with Ginnie and the ghosts from her previous life: "The only psychological issues or lingering trauma she has is the fear of being left outside. She won't panic, but she will go outside, do her business, and want to come straight back inside. She doesn't want to be left outside alone. We're working on it, though, and I think she understands now that she can relax or play outside because we aren't going to abandon her."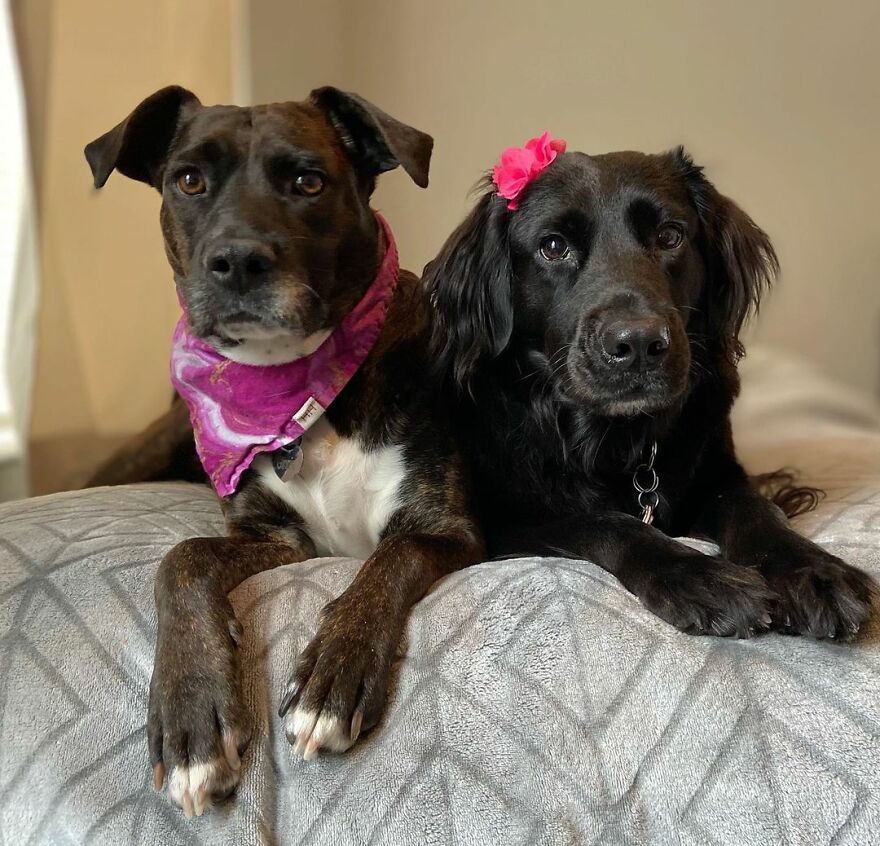 She also told us about her bond with other dogs in the house. "We have three other dogs: Gendry, Garnet, and Gigi(they all have G names.) Garnet is our first rescue, she is a lab mix and is the shyest of our pack. She keeps to herself, mostly, but loves one-on-one time with mom and dad. Gendry and Gigi are our troublemakers. They are biological siblings who are constantly pestering one another. Even though they get on each other's nerves, they are best friends and always look out for each other."
Ginnie's health is not perfect; she is currently recovering from heartworms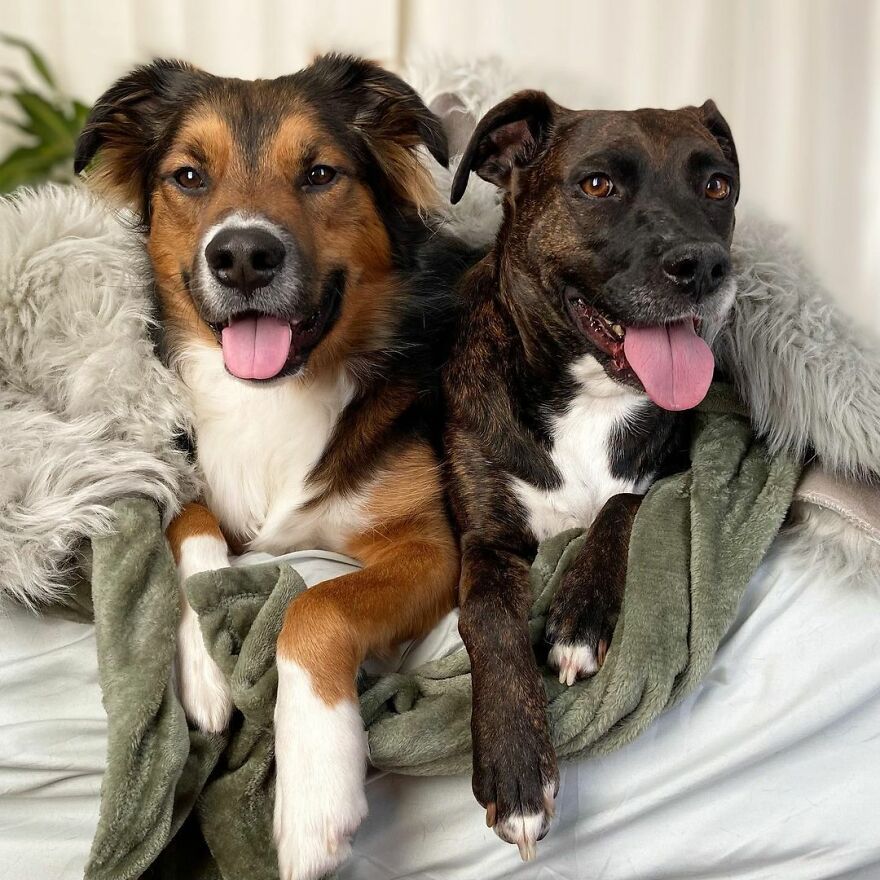 On asking Lauren about what she likes about dogs, she said, "They are the embodiment of love; love in its purest form, and they express that love with their whole being. From their sloppy kisses and their bright eyes down to the wiggling bottoms and wagging tails, you can just feel the goodness radiating off of them when they see you. Loving them and being loved by them brings me so much joy." What are your favorite things about dogs? Share in the comments below!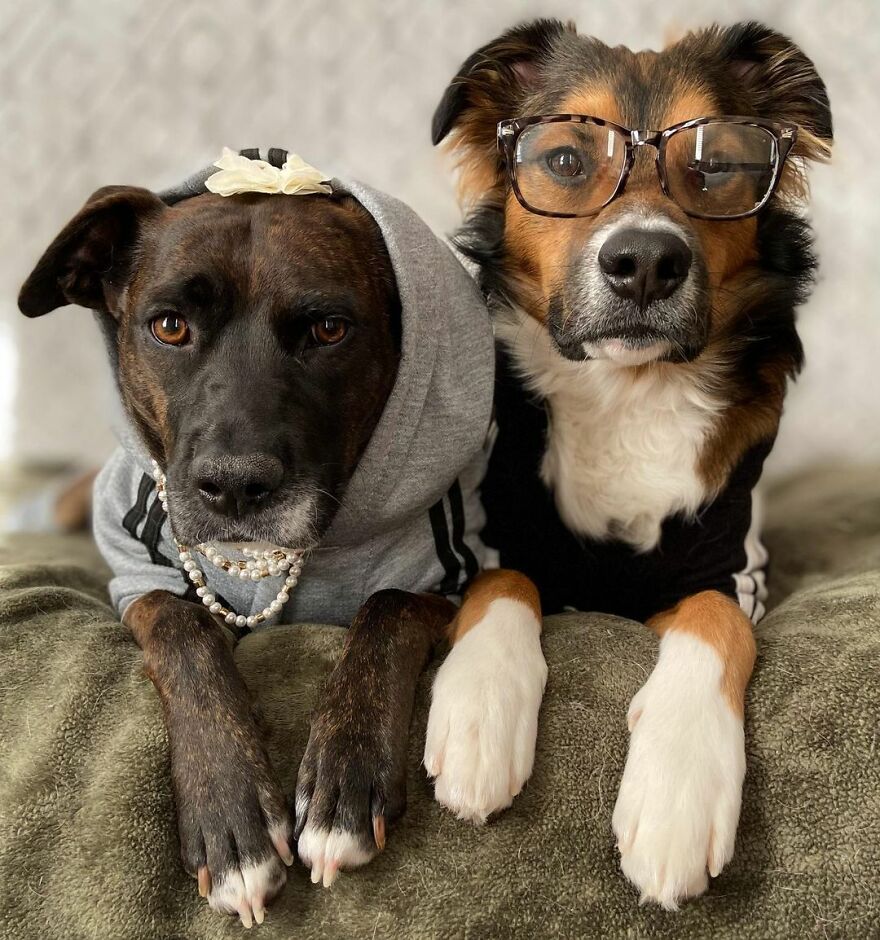 About Laurens journey, from where she began and where is she at the moment, she had this to say,  "When I was younger, we used to visit our grandparents in St. Croix. On the island, my grandmother had lots of dogs and she even fed and cared for the strays in the neighborhood. She loved all her dogs as though they were her children and I believe she is the one who inspired my love of dogs. I knew that as soon as I had my own house, I would have a house full of dogs just like her. She recently passed away, but before she passed, she told me she was going to adopt a pug. Dog lover until the end."
With all the love Lauren and the other dogs give Ginnie, she will be back to full health soon!