Want to know everything about Love Island USA Season 2? The show ran a successful season 1 and had a number of incidents that made news.
As the autumn is about to hit, you must be craving for some sun once again. So stick to your television screen – Love Island USA Season Two is about to come to ITV with a brand new plot and a sun-soaked single with a lot of drama.
Due to COVID-19, traveling across the world wasn't possible. So the makers decided to film the show in Las Vegas and the 'islanders' will be living in a bubble in one of the strip's luxurious hotels.
If you are eager on knowing where the participants of Love Island USA season will be staying for months and whether you can also book a room in the luxurious hotel, we will give you every detail here, so keep reading.
Where is Love Island: USA filmed?
The producers of the have decided to shoot the Season 2 of Love Island in Las Vegas due to the spread of coronavirus. The contestants will be living in a luxurious stunning villa on top of Caesars Entertainment's Boutique Hotel, The Cromwell.
The hotel has been transformed into a "fun and sexy" setting for the islanders to enjoy over the next month. The 25,000-sq. ft. rooftop villa overlooks a view of the infamous Las Vegas strip.
The rooftop of Cromwell is home to Drai's Beach Club where all A-listers in LA come to the party. With big stars like Migos, Ty Dollar $ign, Snoop Dog, and Rae Sremmurd, who are often performing there.
Richard Jensen, the production designer of the show has transformed the place into a villa with a pool, a secret Jacuzzi, a bedroom, a gym, a kitchen, two dressing rooms, and the iconic fire-pit. This Las Vegas villa has every damn thing that the contestants need to know each other and build strong bonds.
In the show, if a contestant lands up in the doghouse, they will have a pull out bed for them to sleep on.
How much does it cost to stay at The Cromwell?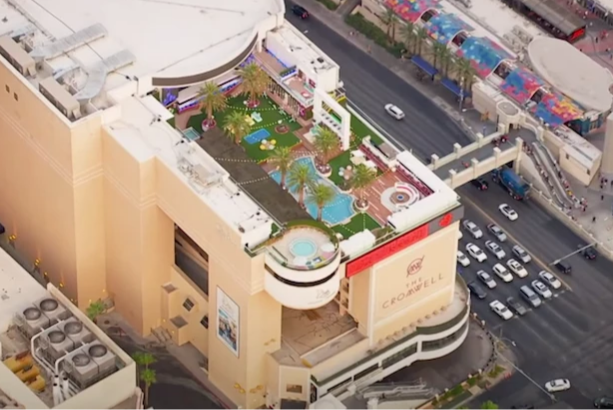 Well, if you want to stay for a night in The Cromwell, your bill will land up to $117 (£88). This goes up to $600 (£452) per night. It entirely depends on the quality of the room you've booked for your stay.
Drai's Beach Club is found on the villa that you actually get to see in season two of Love Island USA. Punters cannot rent the villa.
Also currently, the hotel is closed for visitors till October 2020.
Love Island USA Season 2 starts on ITV2 on September 7th. Stay tuned for more updates on the show.