We must always remember that where there is a black cloud, there is a silver lining and this story provides just that. Because truly, what could be better than a cat? Let me tell you—20 of them in a café!
Welcome to Cat Café Lviv, bringing joy to people for over 6 years now
Serhii Oliinyk, owner of Cat Café Lviv, opened the café over 6 years ago and it's become home to 20 felines and, of course, cat enthusiasts. As Serhii told The Dodo: "I have a small team of several close people who have been working with me for several years and have become my closest friends. The cats have also gotten used to these people, who help to take care of them and who play with them when there are few guests, because our fluffy residents love people's attention."
Founded by Serhii Oliinyk, the café is home to over 20 friendly felines, waiting for a moment to snatch your sandwich
The café has been a safe place to have a bite to eat whilst also enjoying the ever-loving company of the cats. Truly a piece of heaven on Earth, where you can forget the stressors of life with a cup of coffee and a cat on your lap. Some are fluffy, some are hairless and they come in all shapes and sizes, excited to meet new people and play with their friends.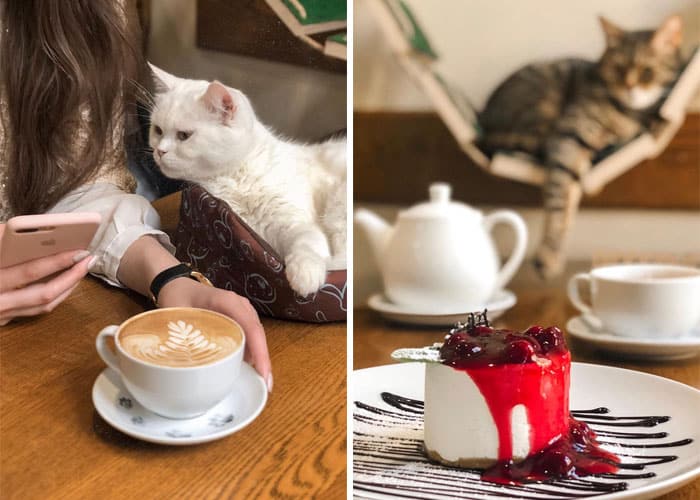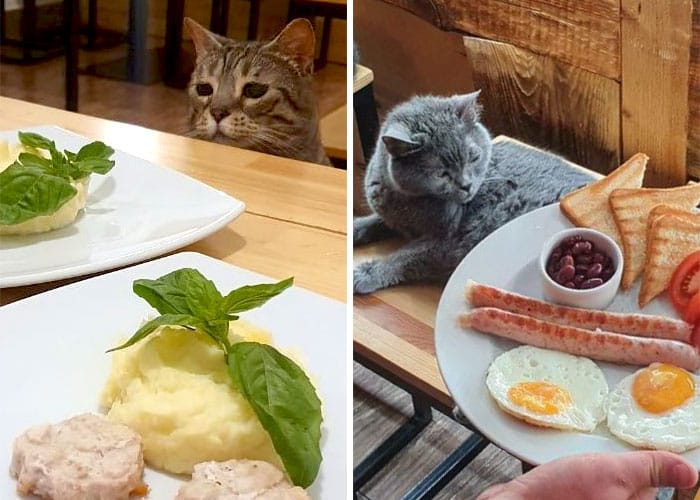 The Ukrainian-Russian war has not stopped the café from running
With the war upheaving most businesses and causing the Ukrainian people to flee, Serhii and his family decided to stay in Ukraine and continue running the café as usual. One might think it obvious to close and move away from potential danger, but to them, it is the worst option, because of one simple question—what happens to their 20-odd cats if they choose to leave?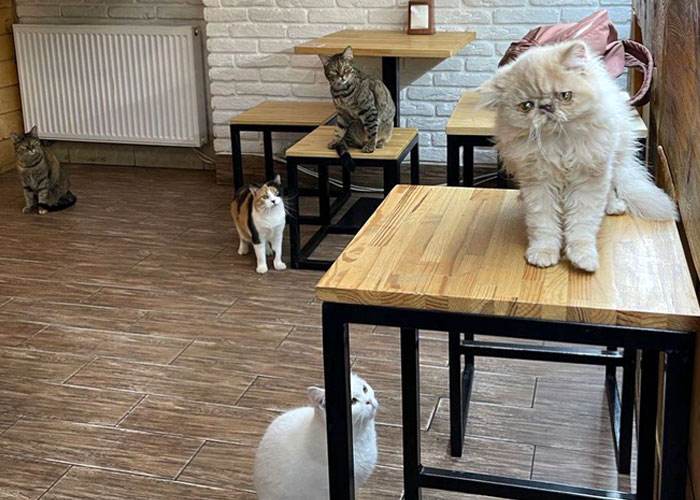 "We could never leave our country" says Serhii, their future is here
Serhii explained, "we realized that we would never leave our country, that this was the only place where we could see ourselves in the future." Even if the future is uncertain, they still remain in the place which has become a home to so many.
A safe space for residents and travelers alike, the cats continue to provide company to all
Moreover, they continue to provide a safe space for people & migrants who need hot food and positive emotions more than ever. There are also three large rooms in the café, two of which are located in the basement, so in case of an air raid warning, there is a safe shelter for the guests and cats. The owners are well prepared to hold out for the war and are welcoming to all.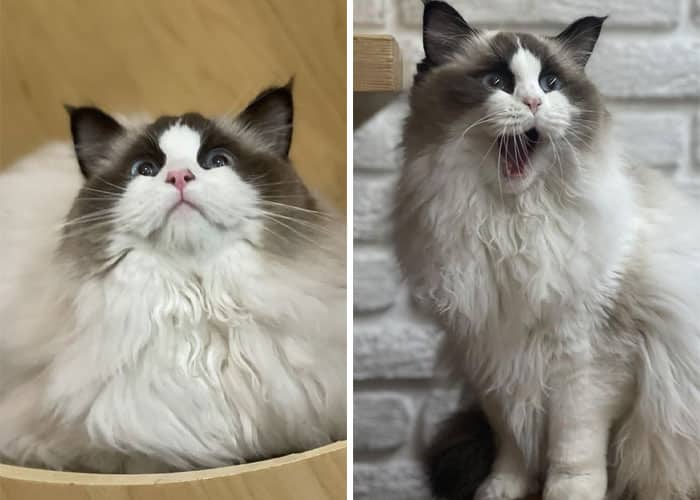 In dark times, the Cat Café Lviv remains a place of joy and brings some much-needed positivity
The story has also been covered by CNN's Erin Burnett, who recalls seeing a family inside the café with backpacks and blankets covering them, clearly fleeing the Russian invasion. But she noticed the smiles on their faces as they were watching a kitty playing on the cat wheel. In her own words, "You cannot look at that and not smile," and if not today, when else could we use a reason to smile?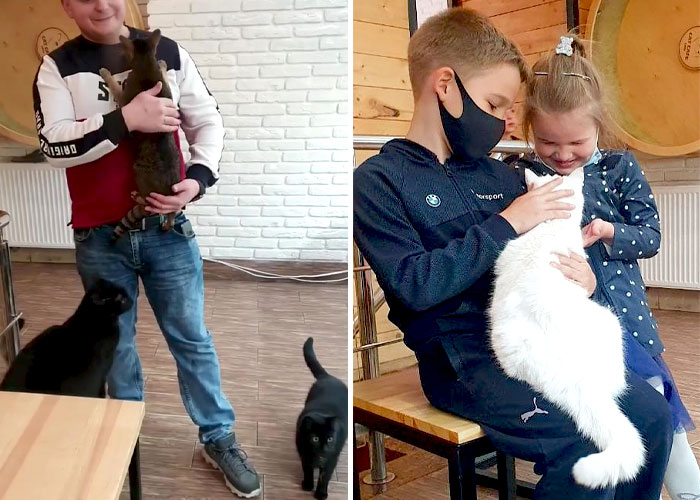 We stand with Ukraine, the people and their pets
The Ukrainian people are brave, and so are their cats. They are a part of Oliinyk's family, so they're staying together, nothing is going to separate them if they can help it. It is difficult to imagine what they're having to deal with, however, in times of difficulty we remember the importance of family, regardless of whether it's made up of people or pets. Togetherness against isolation, kindness against unrest.
You can help them out by donating to their PayPal
The owner has recently posted to their Facebook account, apologizing for the lack of posts and explaining that "in this difficult and dangerous time, we are among the few who work, and everyone has a lot of unusual work." They have also linked to their PayPal, so if you're able to help them out, reach out to petro.sichko@gmail.com. They will send 50% of all donations to the Ukrainian army, which, in his own words, "is now stronger than ever and will definitely defeat the enemy, but needs our and your support!"
For the moment, let's hang in there and wait for a better, more peaceful time
Cats have 9 lives for a reason, and we're hoping this family can get through this war unscathed. For now, let's find inspiration in their courage and joy in their furry felines. We're sure stories like these will get us through the present and in the brighter future, we'll look back at it and smile.
Stay strong, little one!
Let us know what you thought of this story, whether you have cats of your own, and if you've ever visited a cat café before. For now, have a great day and, as is the Cat Cafe's motto: "Cats = Good Mood = High Immunity!"
Commenters are sending their prayers and love to the café