Victor Wembanyama, the number one overall pick in the NBA draft recently got into headlines on Wednesday. The French professional's security guard allegedly slapped American popstar Britney Spears in the face.
Here's how the incident rolled out!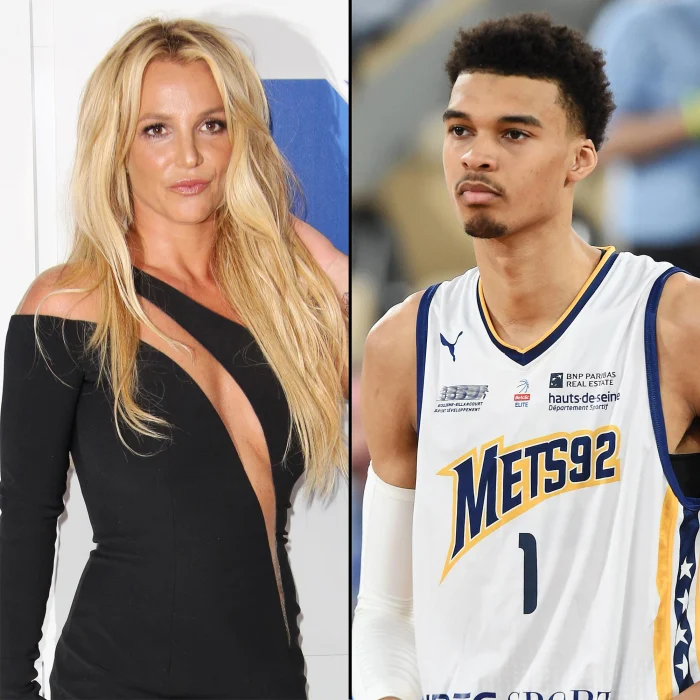 Place: Where did the incident involving Victor Wembanyama happen?
The teenager was in Sin City, Las Vegas, when the incident occurred. Victor was there for the Summer League where he'll be debuting for San Antonio Spurs after being drafted as the Number 1 overall pick in the previous month.
The saga started at a restaurant inside the ARIA hotel in Las Vegas, where the Popstar was allegedly slapped while asking for a picture with the 7ft 4in basketball prodigy.
The 41-year-old Britney Spears claimed that she was smacked in the face resulting in her falling down and also her glass getting knocked off when she tapped the back of the 19-year-old victor.
https://twitter.com/TheNBACentral/status/1677377829195898887
What Victor Wembanyama said about the incident?
The Frenchman on Thursday claimed that the security didn't slap Britney but pushed her away. He added that he was grabbed by popstar instead of tapping the shoulder, which Spears claimed.
He stated that many people were in the hall calling out his name, and somebody grabbed his shoulder from behind. Before he could see the person, security had pushed her away.
He told the reporters that he wasn't told who the person was for hours and later Spurs security informed him that it was Britney Spears. The 19-year-old apparently was unware of the headlines that issue made until Thursday.
What Britney Spears said about the issue with Victor Wembanyama's security team?
Britney released a statement via Twitter denying the accusations of grabbing the teenager. She mentioned that she has been in the same shoes before and had been swarmed by fans, but her security never hit anybody.
She went ahead with telling how traumatizing it was for her, and she's embarrassed to share it with the world. She requested a public apology from the player, the Spurs, and their security and shared her support for victims of Physical Violence.
Britney Spears speaks out after getting assaulted by Victor Wembanyama's security guard:

"I simply tapped him on the shoulder. His security then back handed me in the face without looking back, in front of a crowd. Nearly knocking me down and causing my glasses off my face." pic.twitter.com/X6cCUZHkPs

— Pop Base (@PopBase) July 6, 2023
Subsequent events: What happened next in the issue involving Victor Wembanyama and Britney Spears?
The security reportedly apologized to Spears, which was accepted by her, but later, her team filed a police complaint against the Spurs' new signing.
While Spurs are yet to make a statement on the incident, Victor chose to miss out the California Classic Summer League in Sacramento but is expected to start against the Hornets on Friday.