If there is one thing that is keeping us sane in this crisis, it is the cute face of our furry friends. Not just now but these cute angels wrapped in fur always come to our rescue no matter what. Pets are always our mood boosters and bring our emotions back on track with their cuteness.
Now, you might be wondering how is this possible? Hopefully, we have the answer. To understand how dogs can instantly make us feel better, we spoke to Antonio Diaz, a professional K-9 trainer in Las Vegas. He told us several benefits of having dogs. He also says that "Dogs give people a reason to keep living. My German Shepherd, Brooklyn, literally helped me get through depression after a bad motorcycle accident in 2012 and she is the reason I found my passion and I am doing what I love. Dogs can be extremely affectionate towards humans and they also have the ability to read our body language much better than we (most people) can read theirs."
So now you know that your furry friend has the power to make you feel good and it is proven. Yay! If you have a furry angel, you are totally blessed. But if you don't have one, do not worry because we are going to bless your feed with the uplifting pictures of adorable dogs.
#1 A Pelican Befriended A Stray Dog Who Was Often Spotted Hanging Out All Alone Along The Boat Docks. The Man Who Photographed This Has Adopted Him But Brings Him Back Every Day To See His Friend, Petey The Pelican
#2 The Best Boy
#3 This Makes Me Happy
According to a study, it has been seen that dogs can actually help their humans live longer than others. How? Because dogs make us happy that results in lowering heart rate, lowering blood pressure, and releasing serotonin. 
#4 Broken Dog Can't Stop Smiling When He Realizes He's Being Rescued
#5 This Pitbull Pulled Out His Teddy To Show It To The Dog Of The Other Car
#6 Friendship Through The Toughest Of Times
One thing that we like most about dogs is that they are smart and have different characters, just like we do. Antonio confirms this by saying that "Some dogs are more independent and like more space, therefore may not pay enough attention to their owner to understand them. These dogs would be less likely to read or understand their human counterparts. I believe that is dependent on the strength of the bond and relationship between a person and their dog. The more time you spend with your dog and the more emotional states they witness, the better they can understand you. With all that said, dogs are master observers and probably know more about us than we think."
#7 This Is Jasper. He Is My Neighbor's Dog. I Can't Leave The House Much Due To Health Issues, So Anytime He Sees Me He Runs Back Inside His House To Bring Me Back Out One Of His Favorite Toys. Today Was His Duck. His Record Is 3 Toys And A Stick, All At Once. What A Champ. Be Like Jasper
 #8 Fifteen Years Later, Still Best Friends
#9 Homeless Man Goes To The Hospital, His Dog Friends Patiently Wait By The Door
#10 When You Do Not Have A Doggo But Your Neighbor Does…
#11 Same Boot, 3 Years Later
#12 When You're In Time-Out But Your Best Bud Won't Let You Do Time Alone
#13 Kind Woman Gives Her Own Jacket To Her Dog Who Had To Wait Outside The Post Office In The Cold Weather
#14 Proud Mother Of Two
#15 This Is Floyd. He Was Born With Cerebral Hypoplasia Which Means He Can't Walk Too Well. Today We Found Out He Fits In My 75 Liter Hiking Pack, So We Got To Take Him On His First Hike! He Seemed To Really Enjoy It
#16 Blind, Deaf Dog Comforts Every Foster Animal Who Comes Through His Home
#17 I Have To Pick One U Guys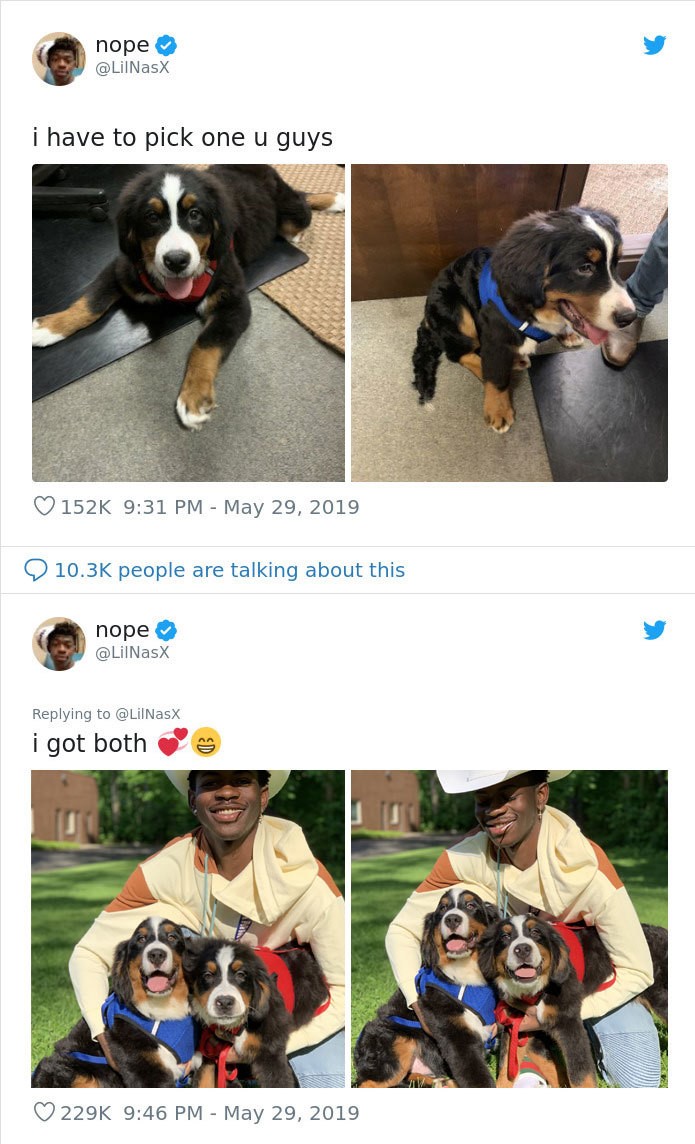 #18 When Your Favorite Spot Shrinks With Time
#19 Gus Gets Reconstructive Surgery
#20 We Got A New Puppy Yesterday. I Asked My 4 Year Old To Put Him To Bed. This Is What I Came Back To
#21 A Really Wholesome Moment Spotted
#22 We Adopted A Greyhound That Was Super Skittish For Months And Was Very Suspicious Of Us. Tonight She Initiated Cuddles And My Heart Is Full
#23 Neighbors Are A Big Fan Of Luna!
#24 Rescued Tortoise Is Now A Part Of A Great Dane Litter
#25 Boy Was Reunited With His Lost Dog And It's The Most Heartwarming Thing Ever
#26 Got A Dog To Guard The House But Then… Who Wants A Belly Rub?
#27 My Friend Just Texted "Adopted A Dog Yesterday"… With This Pic
#28 Andy Has Slept In My Bed With Me For The Past 8 Years And He Still Puts His Head On The Edge Of The Bed To Ask Permission To Jump On
#29 My Neighbor's Sweet Dog Found A Moth
#30 "My Friend Lives Above A Punk Bar And Sent Us This Pic Of Her Dog And The Regulars"
#31 Right In The Feels
#32 It Has Taken 2 Years Since We Adopted Her, But Reba Has Dropped More Than Half Her Weight And I Couldn't Be More Proud Of Her.
#33 He Had A Long Day
#34 Can We Keep Her?
#35 He Found His New Bestfriend!!
If you also have any such pictures, share them with us, and help us bring smiles to the lives of others. XOXO