The world is going through a hard time in the wake of the Coronavirus pandemic. Self-isolation has been a difficult necessity and sometimes it's hard not to miss going out for a party with friends and family. However, that doesn't mean the fun has to stop.
You can now kick-off summertime with an adorable, inflatable tiki bar. The Big Bounce Theory has a cute inflatable Tiki Hut bar with 7ft L x 11ft W x 10ft H dimensions.
https://www.instagram.com/p/BiBKzIKAvWA/?utm_source=ig_web_copy_link
According to the website: "This is a great add-on to any backyard summer pool party. Not only does it look cool, but it serves as a place to keep your drinks cool as well. Inside this Inflatable Tiki Hut Bar, there is room for a bartender, Small Table, large-sized cooler, and even a place on the side to take a picture as a Tiki Man or Woman. A fun addition to any beach or summer themed party!"
If you want something apart from a tiki bar, Extra Fun Jumpers is also offering a wide variety of inflatables. According to the site: Extra Fun Jumpers has a great selection of bounce houses, jumpers, and moonwalks ready to work their magic. These exciting bounce house rentals are cleaned and sanitized before every use, so you can be sure your guest will have the best bounce experience Los Angeles has to offer. Choose from themed character jumpers, and all sizes and colors to fit your event theme. Your kids will particularly love these as there's every theme from Disney character bouncers to Unicorn bouncers to Sports jumpers and more!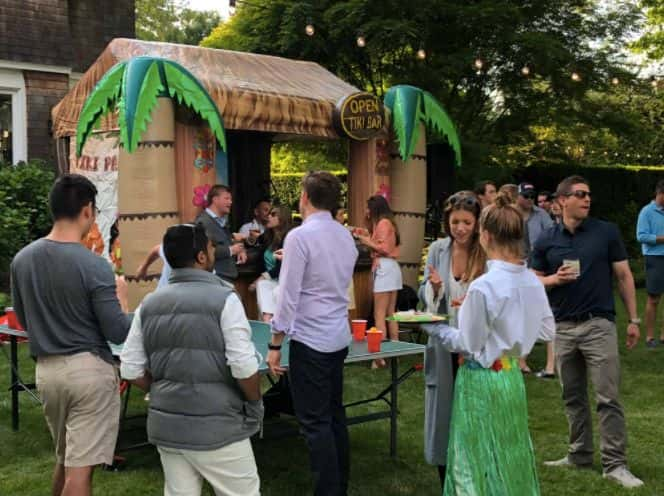 1. 

Why a Tiki Bar is soo good?
Even if you've never actually been to a real one, we are definitely sure you'd like to if you got the chance. And the current situation is the best time to experience this innovative product. The Big Bounce Theory rents these puppies out for what's guaranteed to be the best backyard pool party/BBQ ever.
2.

Can you actually use it as a Bar?
Yes, you can actually go inside of it, and the company reveals that "there is room for a bartender, small table, large-sized cooler, and even a place on the side to take a picture as a Tiki Man or Woman."
3.

It's perfect for setting that Tropical Vibe
If you're down with throwing themed parties, this inflatable tiki bar could come in handy. Whether you're putting on a luau or simply want to pretend you're on vacation on a beautiful tropical island since actual trips are kinda not happening right now, this would be perfect.