Gabe Adams-Wheatley, a Trans woman, and a makeup artist, has overcome more obstacles than most to get to where she is today, and her videos now inspire millions.
The influencer, who recently came out to her fans as a Trans woman, was born with Hanhart Syndrome, a rare condition that causes her to lack arms and legs.
As a result, at the age of nine months, she was abandoned by her birth parents. Thankfully, she was adopted by a family in Utah not long after and gained 13 siblings.
She now has over 180,000 Instagram followers and 4.1 million TikTok followers as a result of her joyful makeup tutorials, beauty challenges, and 'Get Ready With Me' videos:
She accomplishes all of this while providing much-needed representation for disabled people in the beauty industry.
Gabe attributes her success to her adoptive family, who have always shown her unconditional love and support while also teaching her how to be as self-sufficient as possible.
Gabe, for example, learned to dance to avoid being labeled as "the kid in the wheelchair" in high school so she could perform at her school talent show.
Gabe spent some time after school working as a motivational speaker, touring schools and businesses to try to make a difference in her community. However, she had fallen in love with makeup and beauty in the background.
"I had always been interested in beauty," she told Queerty in a 2021 interview. "I have four sisters, and they're all gorgeous, and my mom is also stunning.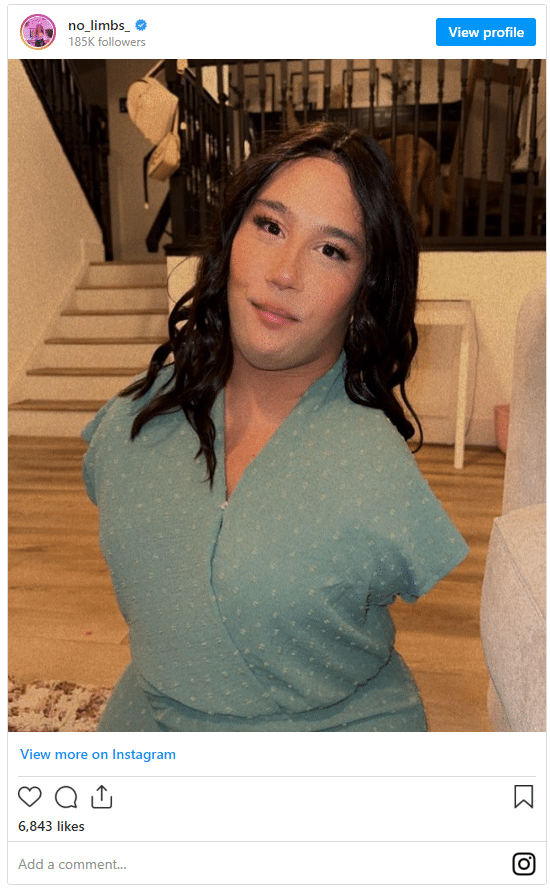 "I always loved just sitting there watching them do their makeup and how each one of them did it so differently – whether that was starting with their eyeshadow first or starting with their foundation first."
Gabe eventually found the courage to quit her job and focus solely on makeup and content creation after the Covid-19 pandemic struck.
"The first video I ever posted, it was just from the neck up, and there were a bunch of comments saying, 'Why is [she] doing it this way?' and 'What's going on?,' and I was like, 'Oh, I need to show that I actually don't have arms and legs in the beginning of the video to people understand,'" she recalled.

"When I started to do that, the videos skyrocketed. "
Trans woman Gabe Adams-Wheatley
"Everyone exclaimed, 'Whoa!'"
Gabe is not only inspiring millions of fans and subscribers, but she is also turning the beauty industry on its head by ensuring that major brands recognize and meet the needs of their disabled customers.
"I was asked by a brand to film a video where I'm holding the product up to show it and I was so stressed because I can hold it up, but it's not going to look as graceful as somebody else," she told Dazed.

"There needs to be a little more of an open dialogue on how to do things."