Heros come in so many different forms. Whether its policemen, firefighters, superheroes, or civilians; everyone can become a hero when needed. But this list is incomplete. It's because we are missing out on one of the cutest, fluffiest, and kind-hearted superheroes. Do you know what we are talking about? Well, it's the dogs. 
People who have grown up with TV classics like Lassie would know what we are talking about. Dogs not just support us in our ups and downs but they can also save our lives. You don't believe that? No worries because hopefully we have got 35 proof. The pictures of brave dogs that we have found are saving humans in so many ways. Be it sniffing explosives, guiding, or rescuing; dogs prove that they always got our back. 
You can scroll down to check out the heartwarming pictures of courageous canines who are all set to save the world with their paw-someness. 
#1 Layka The Hero Military Dog. Despite Getting Shot 4 Times By An Ak-47 At Point Blank Range, She Still Attacked And Subdued The Insurgent Who Was Attacking Her Handler She Survived A 7 Hour Surgery And Was Recently Awarded A Medal For Her Heroism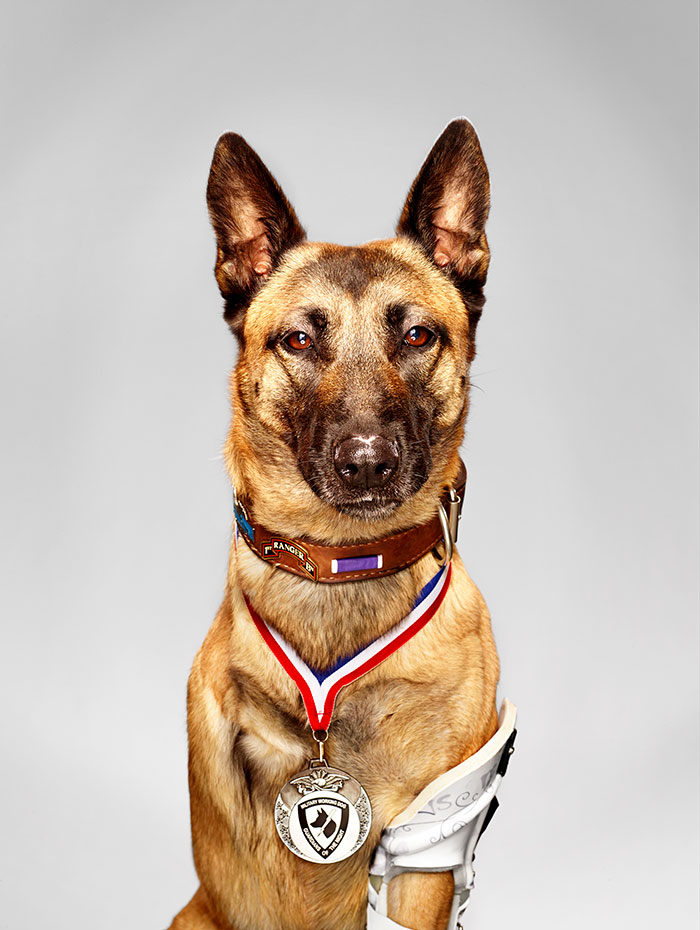 #2 An 8-Month-Old Puppy Geo Saved Charlie Riley From Being Hit By A Truck By Pushing The Boy Out Of The Way And Getting Hit And Run Over Instead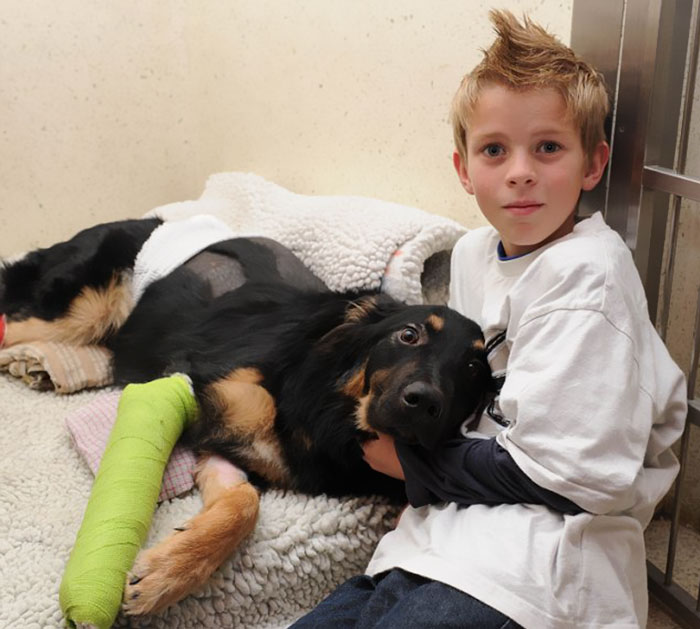 #3 Tonight This Guy Barked At Me For Thirty Minutes To Take Him Out Despite Just Going. Turned Out We Had A Gas Leak In Our Apartment And He Just Wanted Us To Get Out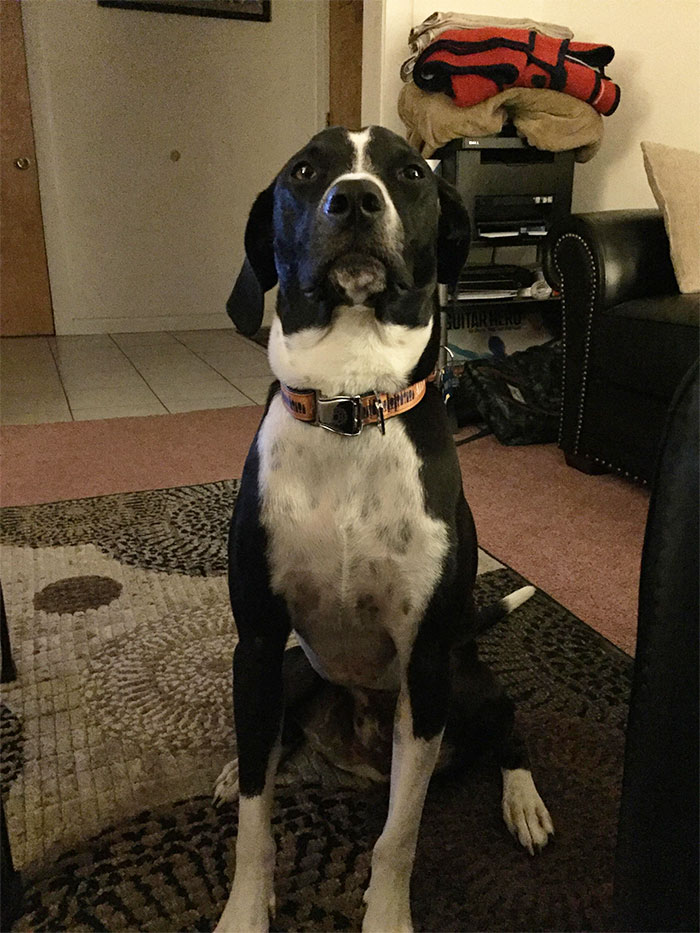 #4 Dog Saves Owner's Life By Lying On Him For Nearly 24 Hours In Freezing Conditions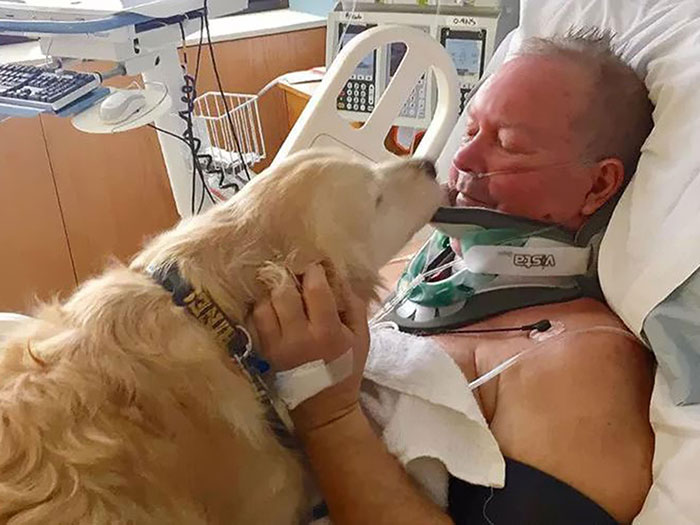 A man who broke his neck outdoors in freezing conditions survived lying in the snow for nearly 24 hours thanks to his dog, who kept him warm through the night and barked for help. Anticipating a journey of only several meters, the man was wearing just long johns, a shirt, and slippers when he went outside, despite the temperature being around -4C. However, he slipped and broke his neck. Kelsey, a five-year-old Golden Retriever, kept him warm by lying on top of him and kept him awake by licking his hands and face
#5 Maggie Snuck Out Of Her Kennel At Night To Comfort Crying Foster Puppies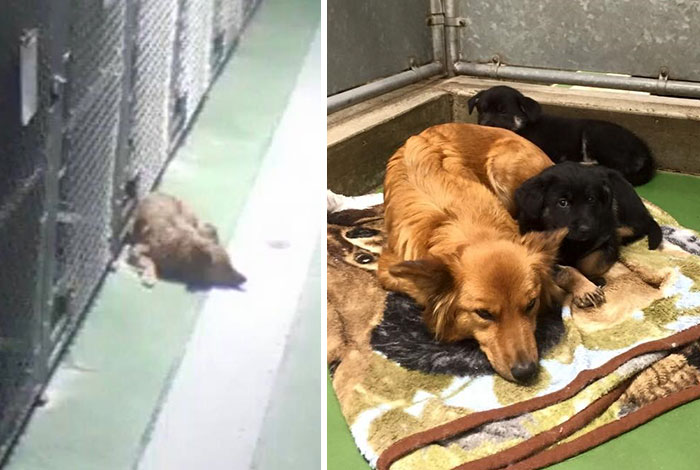 #6 Our Blind Dog Molly Saved The Lives Of 7 People, 2 Dogs, And 4 Cats From Fire

Our house caught fire at 2 am in November 2016. Our dog Molly woke us up. She saved the lives of 7 people, 2 dogs, and 4 cats. She was blind and given 2 months to live 4 months before the fire. 2 years later, and she is still alive and kicking. We take her to the vet weekly to get fluid drained from her lungs. She is still happy and wagging.
#7 Abbie Saved Little Benjamin By Letting His Mom Know He's Choking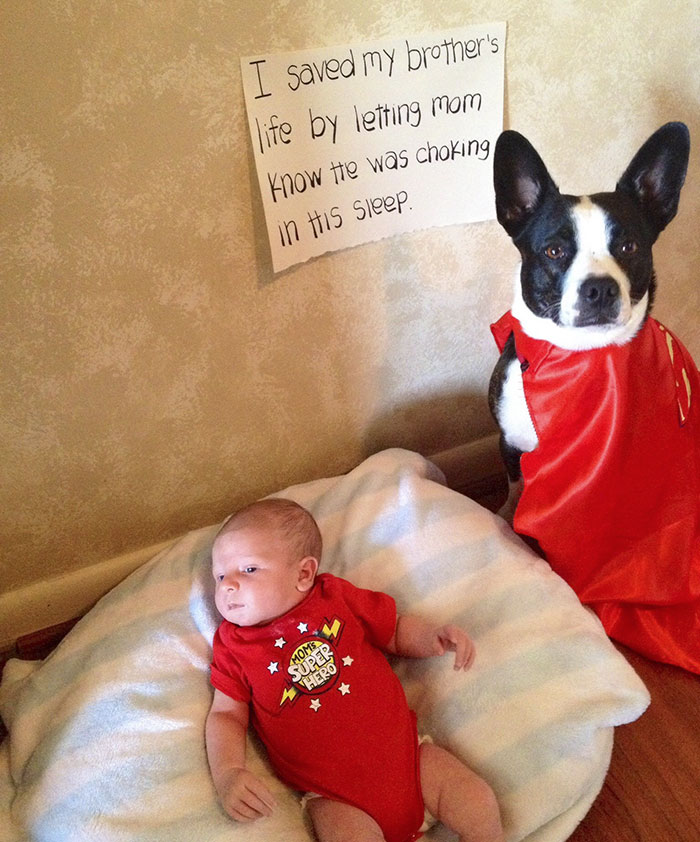 #8 This Is Frida – The Good Girl Who Saved 52 People From Mexico's Earthquake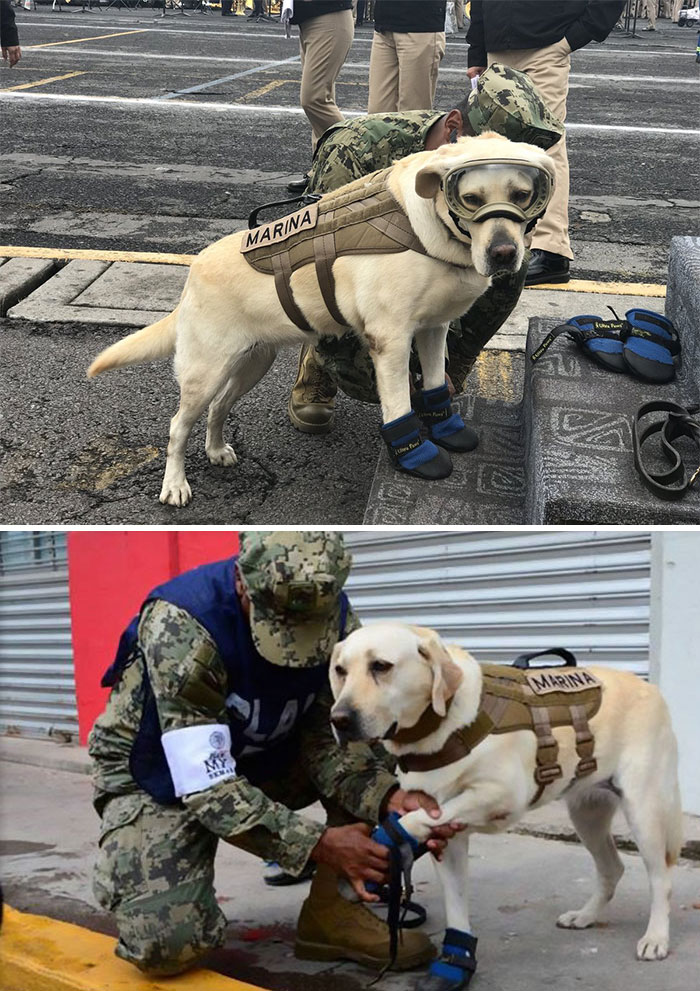 #9 A Woman Saved A Pit Bull Just Hours Before He Was Scheduled To Be Euthanized And Less Than A Week Later It Returned The Favor When He Helped Save Her 4-Year-Old Son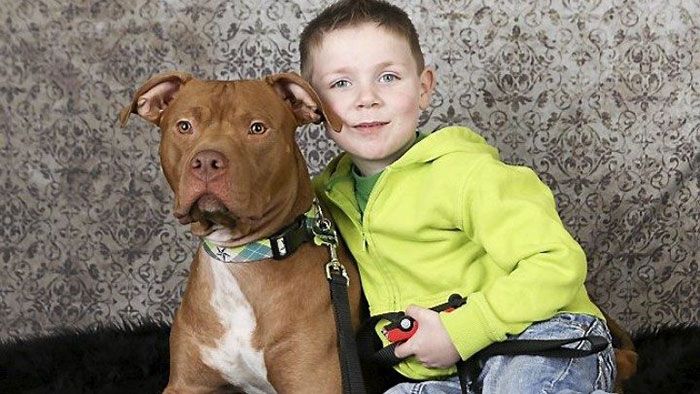 A woman saved a pit bull named TatorTot just hours before he was scheduled to be euthanized and less than a week later TatorTot returned the favor when he helped save her 4-year-old son. That night the pit bull began barking and running back and forth between the woman and her son. She thought that TatorTot just hadn't exercised out all of his energy, but the pit bull wouldn't give up until she finally went to check on her son. He was barely breathing, TatorTot was on his bed, barking and pawing at him, licking his face.
#10 When This Service Dog, Figo, Saw A Bus Heading Towards His Blind Owner, He Jumped Between Them In an Attempt To Take Most Of The Hit For Her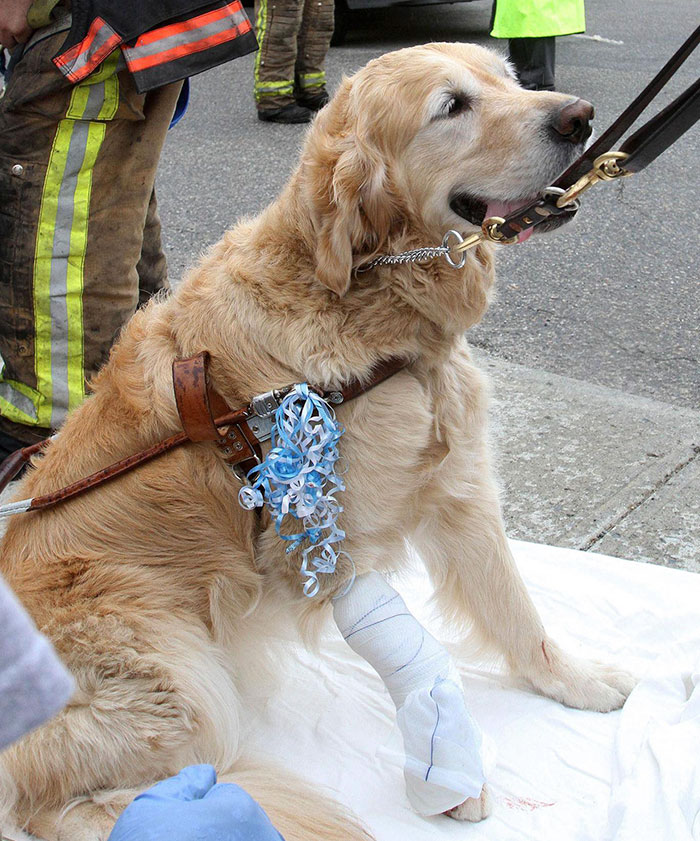 #11 Chako Saved His Owner From An Abusive Partner Who Threatened Her With A Knife, Taking 12 Stab Wounds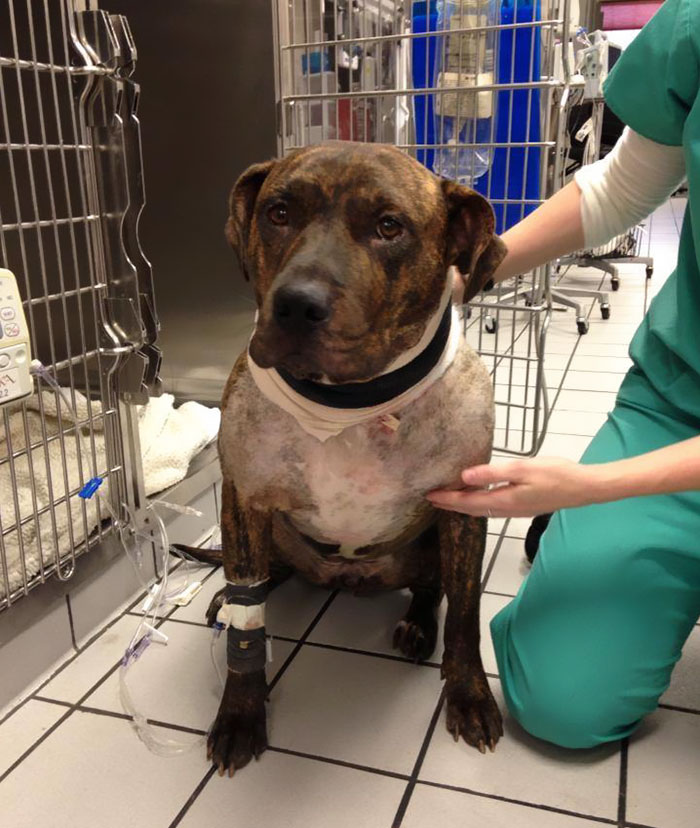 #12 Pit Bull Lilly Saved Her Unconscious Owner From Getting Hit By A Freight Train By Covering Her Body And Taking The Hit Herself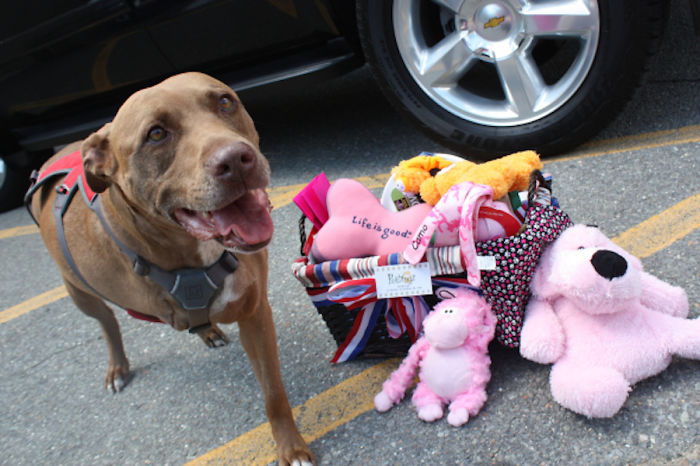 One late evening in May 2012, a freight train conductor riding in Shirley, Massachusetts saw the silhouette of a person and a dog on the tracks ahead. He radioed for the train to stop but could tell there wasn't going to be enough time. Christine Spain had tripped on the tracks while walking her dog, Lilly, and fell unconscious. The conductor saw that the silhouette was moving — Lilly was attempting to pull her immobilized owner off the tracks. As the train passed over the pair, the conductor claims to have felt a thump. When he was able to safely exit the train, he found Spain unscathed; Lilly had covered her owner and took the hit for her. While waiting for emergency services, Lilly continued to watch over Spain, though the dog herself was suffering from extreme injuries, including to her front right leg, which had to be amputated in surgery.
#13 Dog Named Storm Saved An Injured Baby Deer From Drowning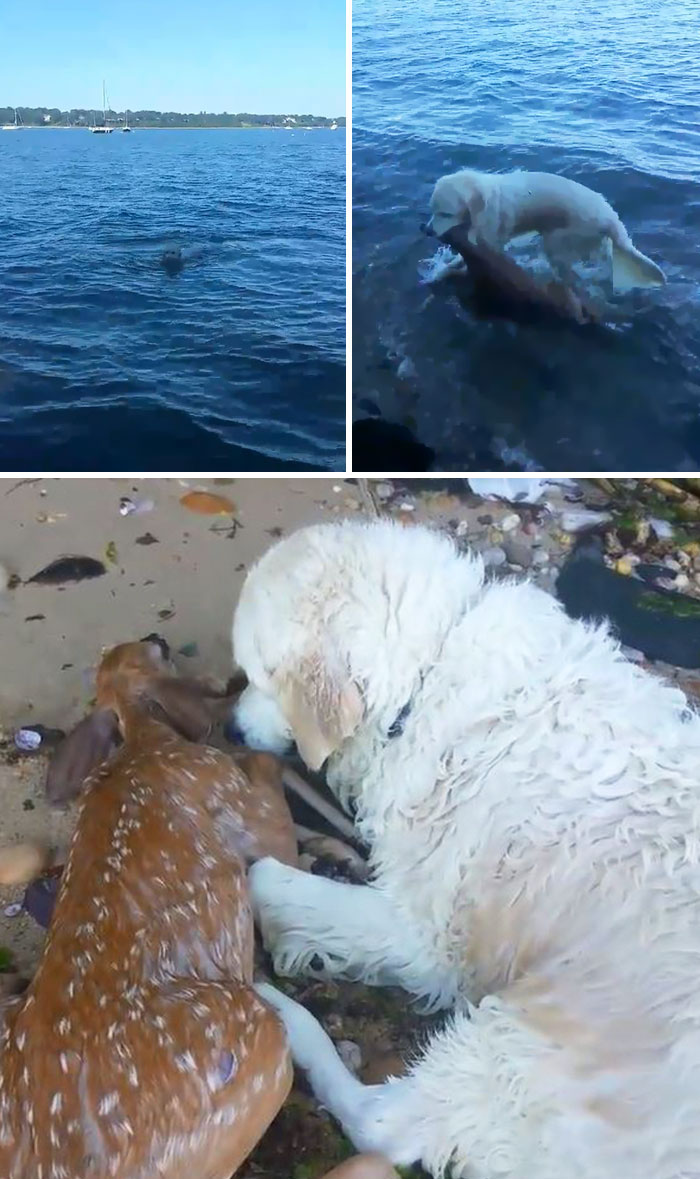 #14 Bretagne Was The Last Surviving 9/11 Search And Rescue Dog. She Was 2 Years Old During 9/11 And Passed Away At The Age Of 16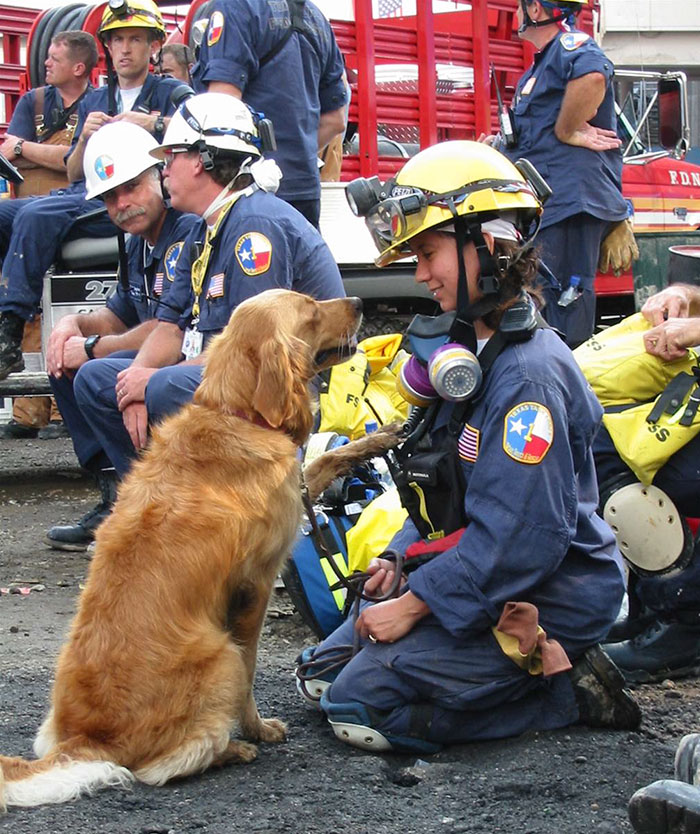 #15 Whenever I'm Sick, My Dog Thinks His Love Is The Cure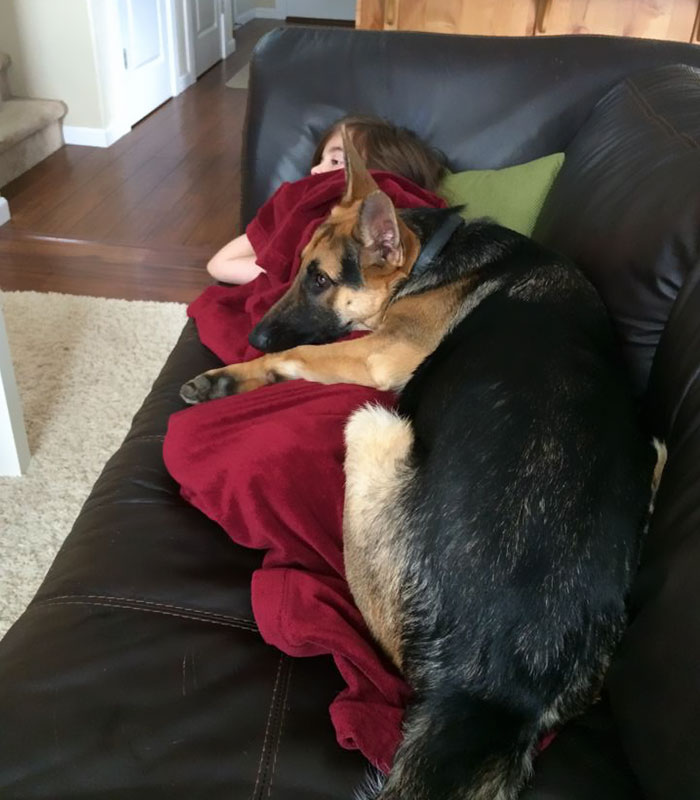 #16 Pitbull Baby Saved The Entire Family When Fire Broke Out In Their House One Night, While Everyone Was Asleep. She Not Only Alerted The Family But Ran Back Into The Flames To Rescue The Five Family Dogs, Even Dragging One Scared Pooch Out Of The Burning House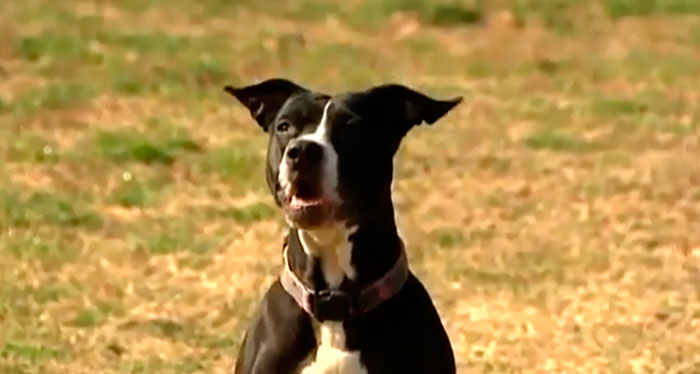 #17 Feral Dog Rex Was Rescued And Adopted By Ed Gernon. The Dog Found A Dying Hummingbird "Hummer" While Out On A Walk And Refused To Leave The Tiny Bird. Ed Ended Up Taking Her In And The Pair Nursed Her Back To Health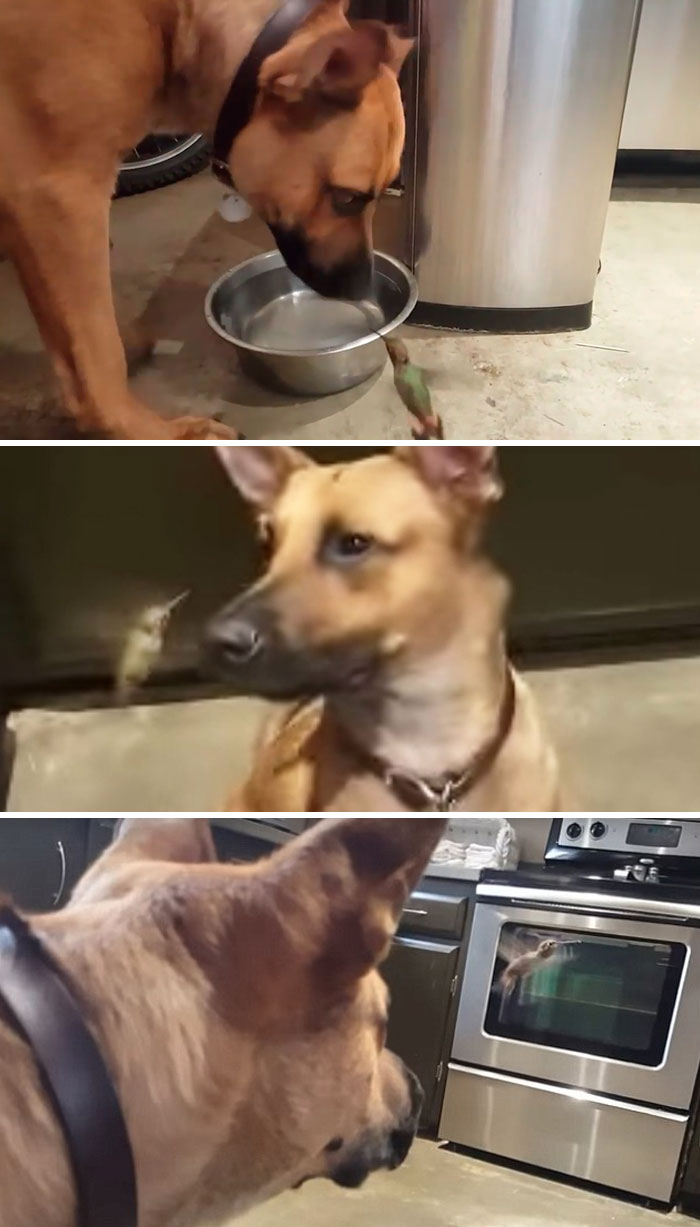 #18 Today I Met A Real Hero. Meet Sam, Who Recently Retired After 10 Years And Over 300 Children Found As A Search And Rescue Dog In PA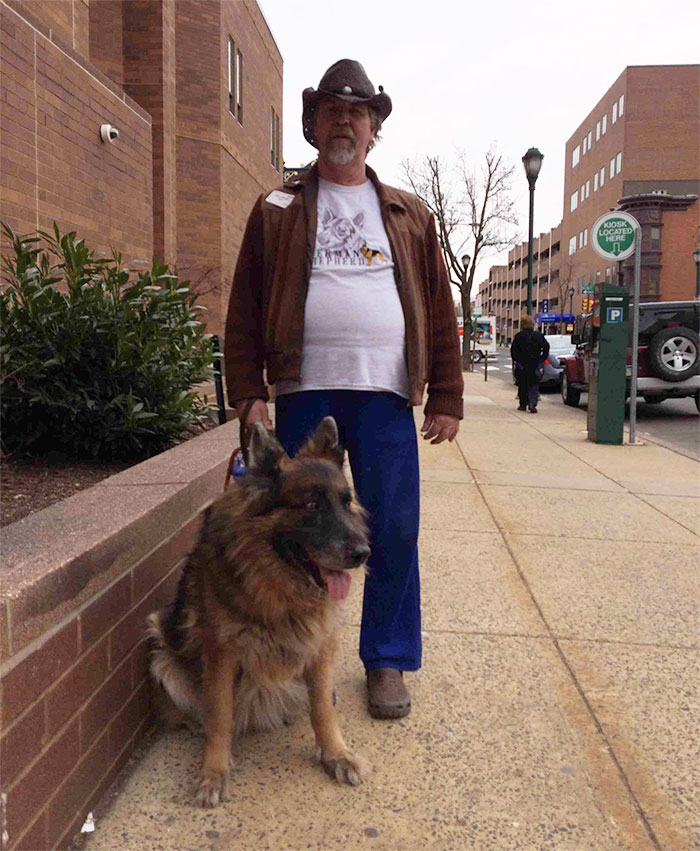 #19 I Walked In To See My Pitbull, Akasha, Who Has Never Had Puppies, Is Now Nursing A 4 Week Old Feral Kitten I Saved… Nature Is Amazing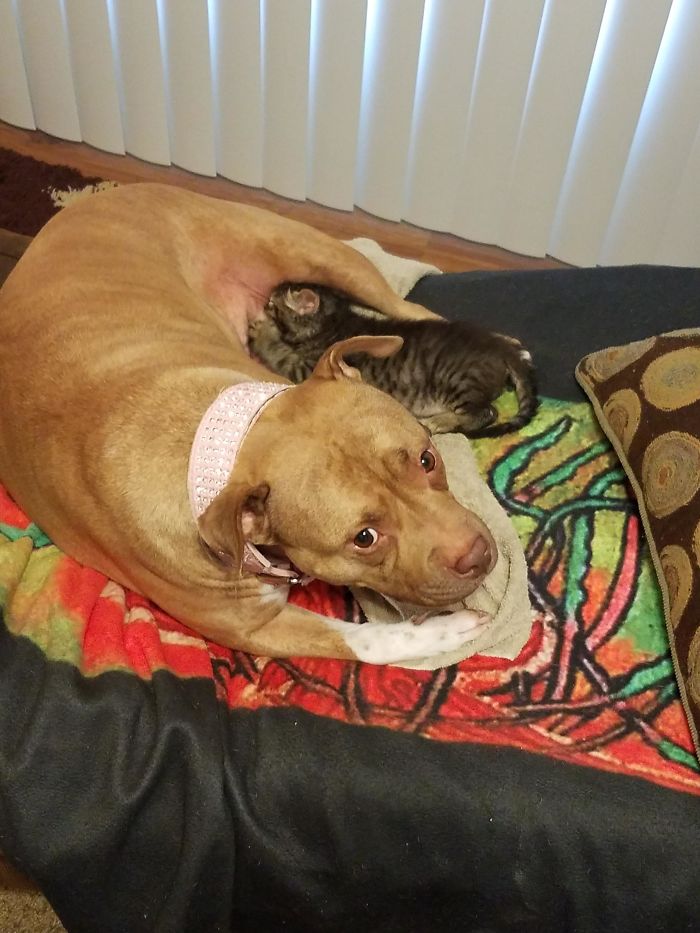 #20 This Mama Dog Saved Her Puppies From A Fire And Put Them On The Fire Truck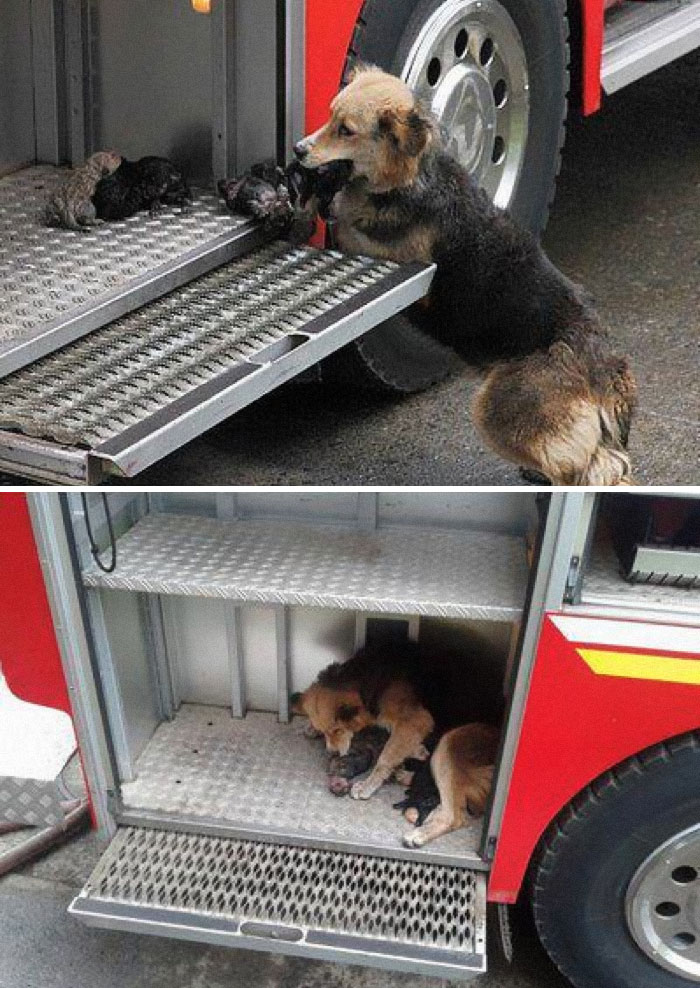 #21 Kabang – A Dog That Lost Half Her Face When She Knocked Over A Motorcycle, Saving Two Children From A Crash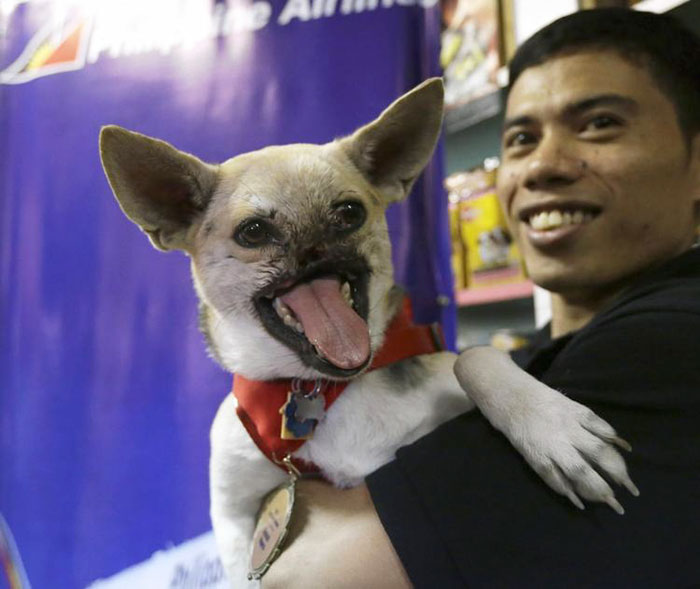 #22 When Jerry Flanigan Was Attacked By Two Pitbulls, His Pet Dog Katy Mae Got On Top Of Him, Shielding His Neck Area With Her Body. According To The Vet, She Could've Died As One Of The Bites Was Next To Her Jugular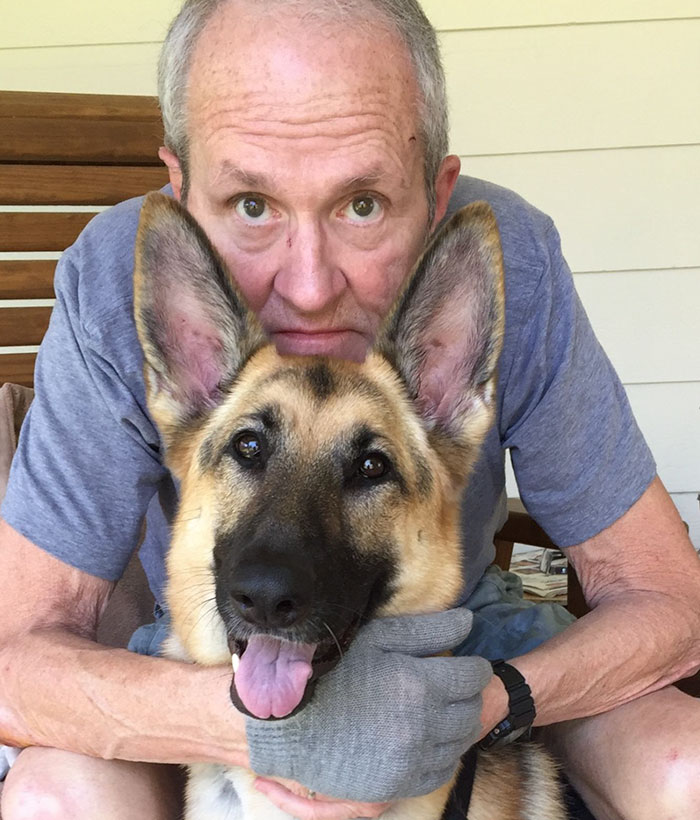 #23 Kitty Was Being Attacked By 2 Coyotes Who Were Shaking Her By Neck And Tail When Pit Bull Jack Dashed In To Fight Them Off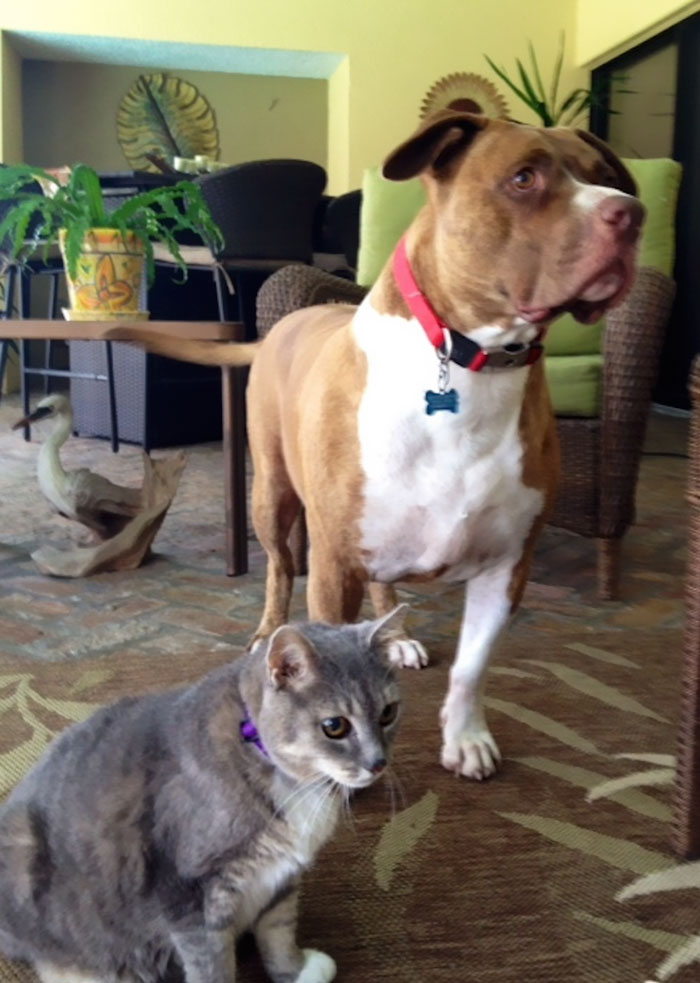 #24 My Best Friend Turns 12 Today. She's Flown In Helicopters, Saved Me From Dozens Of Bears, And Volunteered As A Therapy Dog At A Local Hospital. She's Definitely Earned A Day Off Today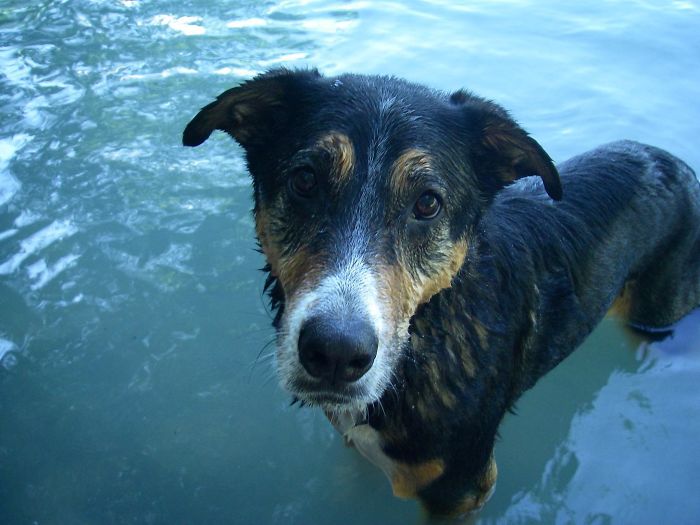 #25 University Of Illinois Awarded An Honorary Master's Degree To Hero, A Service Dog Who Attended Each One Of His Owner's Classes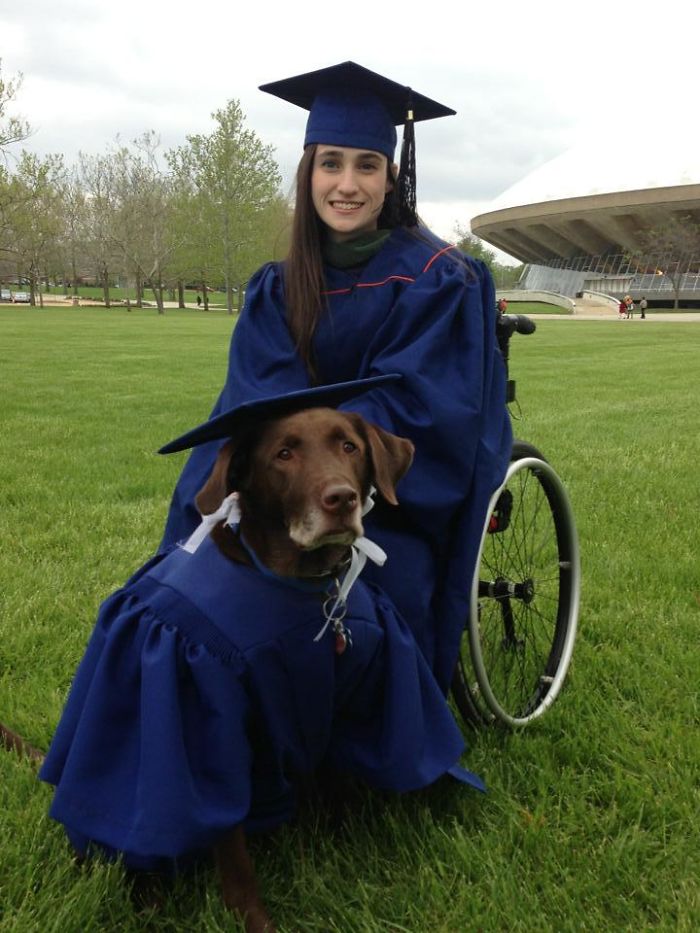 #26 Dog Named Max Took Three Bullets To Save His Owner When They Were Attacked By Two Armed Robbers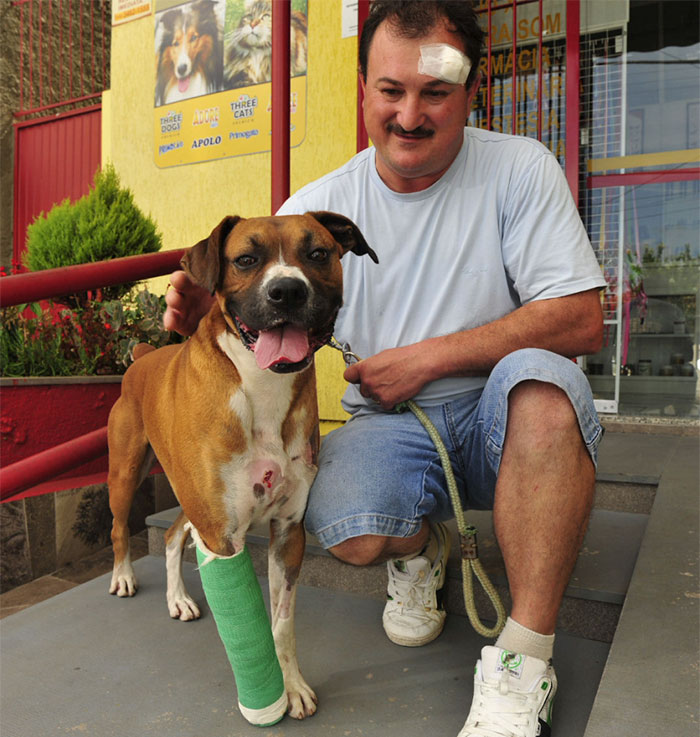 #27 Rescue Dog Duke Burst Into Woman's Bedroom, Jumped On The Bed, And Began Shaking Uncontrollably. She And Her Husband Decided To Check On Their 9-Week-Old Daughter In Her Bassinet And Discovered The Unthinkable: She Wasn't Breathing. If Duke Hadn't Been So Scared, Then They Would Have Just Gone To Sleep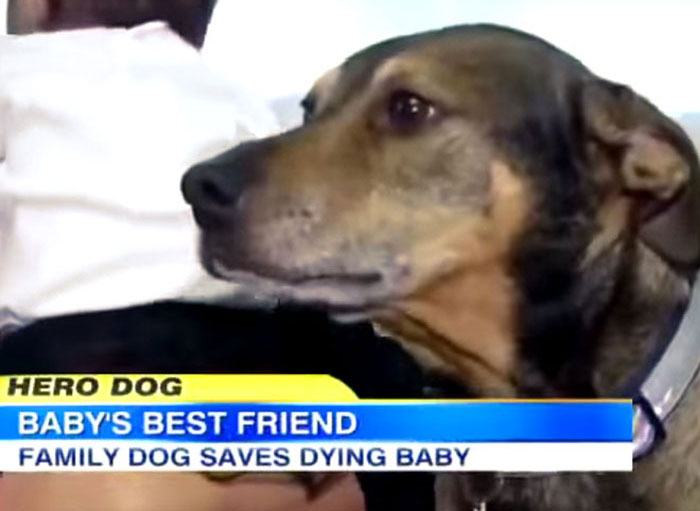 #28 On A Cold Winter Night, This Dog Found An Abandoned Baby In A Field. She Carried Her Back To The Pen Where She Kept Her Warm Through The Night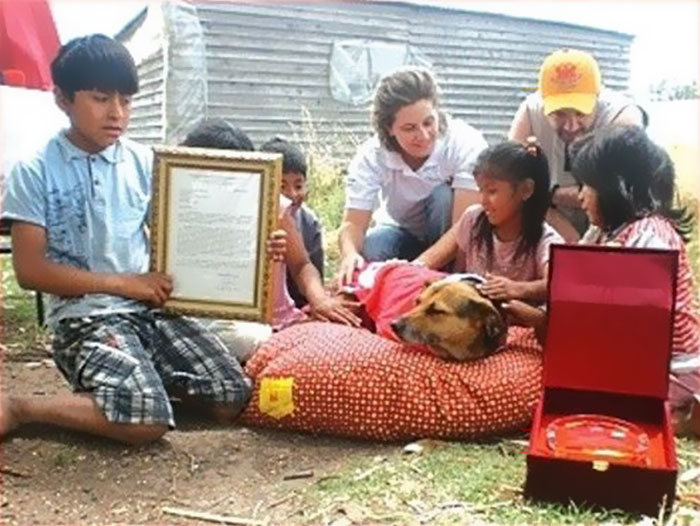 On December 12, 2008, in La Plata, Buenos Aires, Argentina, a dog named China was honored with the Shining World Hero Award by Supreme Master Ching Hai, for her brave maternal love. On a frigid winter night, China found an abandoned baby girl in a field and carried her back to the pen that held her own newborn pups. Together with her pups, China kept the baby warm through the night until her human caretaker heard the cries of the infant and took her to the local hospital for medical attention. The baby was aptly named "Esperanza," meaning hope, at the hospital.
#29 Dog Saved Another Dog That Was Buried Alive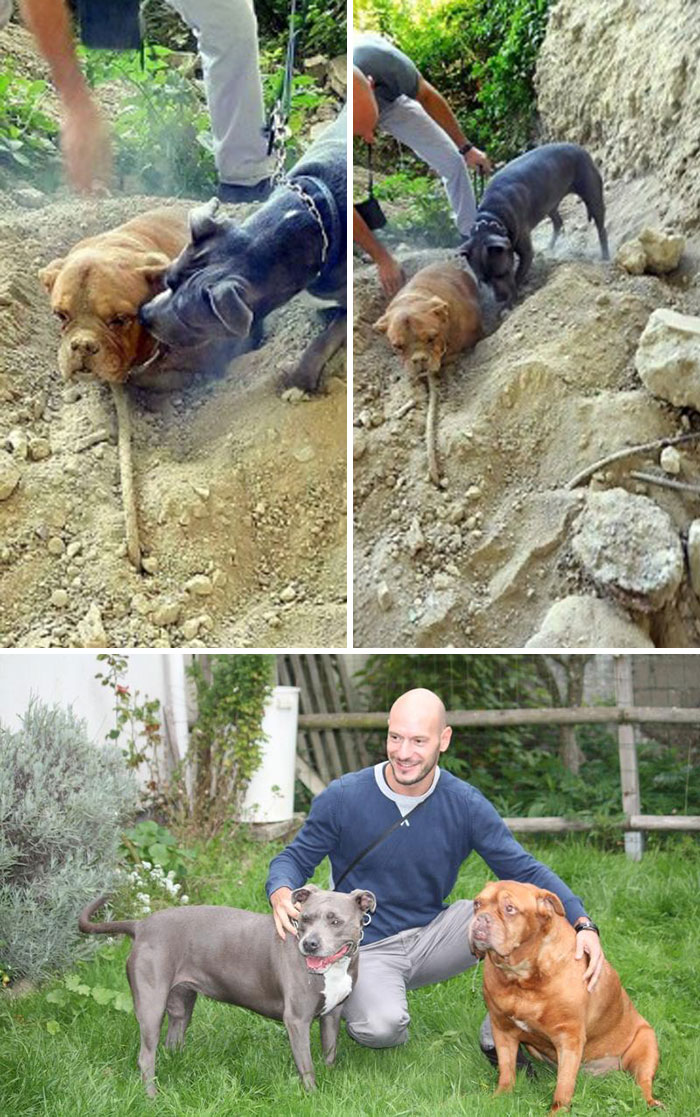 The man was walking his dog who began behaving peculiarly, and he noticed the dog buried up to her head. Only her head was visible and it was difficult to see given the amount of earth covering her. She was surrounded by rocks and also she was attached to a large sack filled with gravel (to keep her from escaping). Thanks to a dog and owner who happened to see her head emerging from the ground the buried dog survived
#30 Dog Named Buster Saved His Owner By Alerting His Wife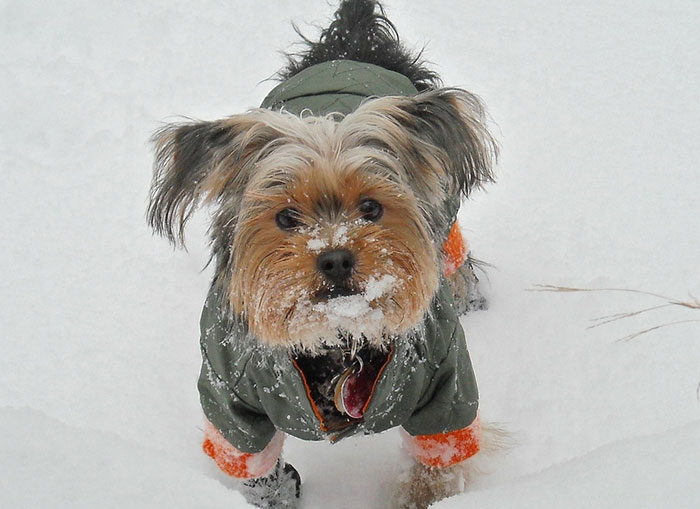 "Our Hero Buster came into our lives when my husband started a job that required him to travel. I looked for a puppy and found the best friend ever. Soon after Buster came into our lives my husband became very sick. After multiple hospital stays and surgeries, he came home from the hospital. Buster was 10 months. My husband was sleeping downstairs in our living room, he was unable to use the stairs after his operation. Buster and I were sleeping upstairs, we were having a terrible ice storm that night. Buster woke me up barking. That wasn't like him. He's not a barker…I thought he may have heard a snowplow outside, but I realized he wasn't barking at the window, but he was barking at the bedroom doorway. I decided since I was awake I would check on my husband. It was a good thing I did, when we got downstairs my husband was unconscious on the floor. He had gotten up and blacked out. He hit his face on a piece of furniture and cut his face. When I got him to the hospital his blood pressure was 55/30. The doctors said if I hadn't found him when I did he very likely would have stroked out and possibly died…If it wasn't for Buster I never would have gone down to check on my husband, I didn't hear him fall but Buster did..My husband thanks Buster every day for saving his life."
#31 Dog Refuses To Leave His Family's Eight Goats; Protects Herd And Baby Deer From California Wildfires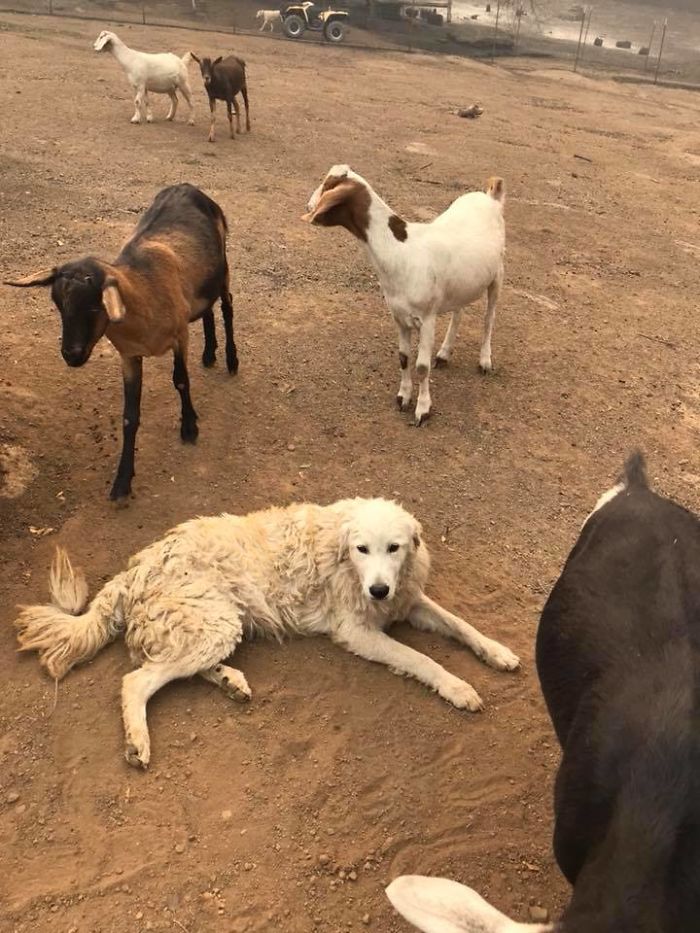 By 11:10 we could see the first of the flames across the valley. By 11:15 they were growing larger and the winds went mad. We had loaded up the dogs and cats, but Odin, our stubborn and fearless Great Pyrenees would not leave the goats. Even under the best of circumstances, it is nearly impossible to separate Odin from the goats after nightfall when he takes over the close watch from his sister Tessa. I made a decision to leave him, and I doubt I could have made him come with us if I tried. We got out with our lives and what was in our pockets. Cars behind us on Mark West Springs Road were pouring flames out of the windows as they roared down the road. Later that morning when we had outrun the fires I cried, sure that I had sentenced Odie to death, along with our precious family of bottle-raised goats. Today, we were able to make it back to the smoldering wasteland of our forest. Every structure is in ruins. Trees are still burning. Yet, eight goats came running to see us and get cuddles and kisses. Dixon has a burn on his back the size of a nickel. Other than that they are perfectly fine. Odin's fur is burned and his whiskers melted. He is limping on his right leg. And he has adopted several baby deer who huddle around him for safety and water from their trough, which is miraculously intact and full of relatively clean water. We dropped off several bails of orchard grass and gave them fresh water. Tomorrow we hope to reunite them all with his sister Tessa. I'm sure Odin believes she has perished. I can't wait to see their faces when they see each other. Odin has lived up to his namesake. Pray for him and his charges. He is our inspiration. If he can be so fearless in this maelstrom, surely so can we
#32 Sergeant Stubby Was A World War I Hero Dog Who Saved His Regiment From Surprise Mustard Gas Attacks And Once Caught A German Soldier By The Seat Of His Pants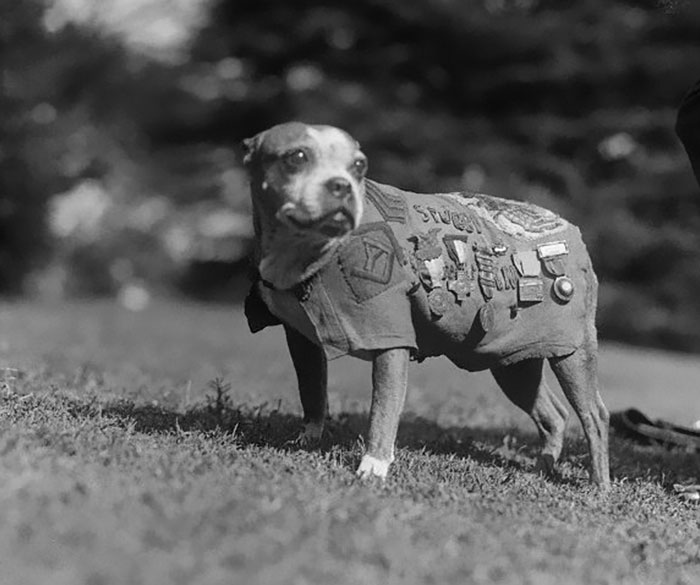 He served for 18 months and participated in seventeen battles on the Western Front. He saved his regiment from surprise mustard gas attacks, found and comforted the wounded, and once caught a German soldier by the seat of his pants, holding him there until American soldiers found him. Sgt. Stubby is the subject of an upcoming animated film, scheduled for release in April 2018.
#33 Roselle, A Labrador Retriever Guide Dog Who Led Her Owner Michael Hingson From The 78th Floor And Away From The Collapsing Buildings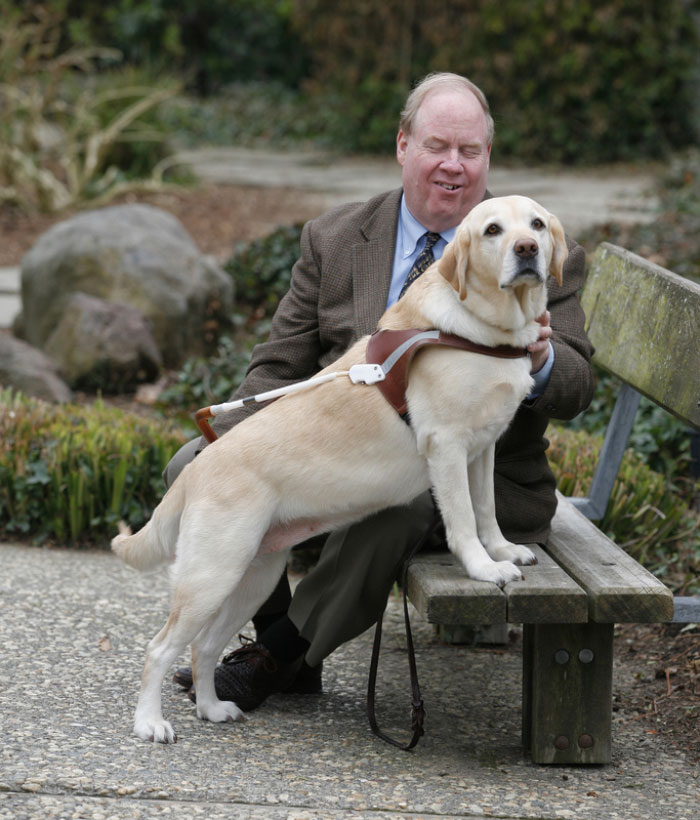 Roselle had led Hingson through the noise, smoke, and rubble of the office to descend the stairway. Once on the ground level in the middle of the human panic Roselle remained focused as they continued walking away from the chaos. When they were about two blocks away, Tower 2 began to collapse. To escape the ash and debris, they started running for the subway. Roselle eventually guided Michael to the home of a friend in mid-Manhattan where they stayed until the trains were running again. They were finally able to arrive home in New Jersey after seven that night.
#34 Mercey Protected His Owner From 4 Male Invaders After They Pushed Their Way Into The Apartment Of A 30-Year-Old Female Victim. The Dog Jumped To Protect Her Owner And Suffered Life-Threatening Injuries In The Attack With A Machete
#35 This Pretty Lady Chased Off A Bear For Me And My Cat Tonight. Meet My Hero Abigail