Are you not paying attention to your little furry friend? Even if you are a proud owner of your utterly adorable or the cutest dog, pay attention. It must be up to no good. All dog lovers can absolutely relate because every dog owner has his or her own story. It may be the story of an expensive pair of shoes that are chewed or perhaps stolen snacks.
We have one such story for you. Because even the undeniably cute puppies have tricked their owners.
Nonetheless, these four-legged creatures, come up with the most hilarious "crimes" of all time.
Ben Campbell with his viral dog – Thomas
Lately, a playful dog named Thomas is famous. Apparently, it is viral for stealing a  pair of fake teeth.
Ben Campbell is from Michigan. He claims, he just couldn't stop laughing after he found his dear dog with a pair of fake teeth in his mouth.
Ben added, that he had bought these fake dentures as a sheer joke. He has nothing specific in mind. Perhaps, he would have used it to take a  few selfies. However, before he could do it, his dog Thoman stole the show by deciding to try those dentures on.
Perhaps, the funniest a dog has ever looked,
"I got some fake teeth for some quarantine comic relief and well… Thomas stole them off of the table," Thomas posted the video with this caption.
Here is the video of this outright hilarious incident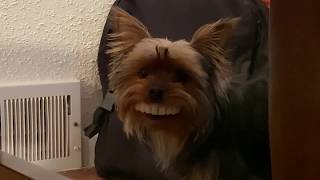 Lucky for us, Ben had his camera ready at the right place and the right time. In fact, the video quickly went viral. Who wouldn't want to look at this beauty smile?
Evidently, Thomas is a mischievous little dog. In fact, anything the dog is up to is bound to be adorably funny. Additionally. Thomas also shared another Thomas's video. The video showcases how it is scared of a soft drink.
Here is the video,
Here is how people responded,