This pandemic is not easy for every one of us. While some miss their loved ones as they were away from them, others missed going to work. At least, Hannah Heil and her husband miss their office. 
They both loved working from the office but coronavirus has forced them to pack their bags and go back to their hometown. Just like us, even they find it hard to adapt to different surroundings. Actually, things are even difficult for them because they have never worked from home for more than two days. 
On top of that, the Internet isn't always best there. So ya, pretty much they were missing their old lives a lot. But hopefully, Hannah came up with a brilliant idea. To cope up with the challenges and to feel better, she started doing funny hairdos on their dog, Hank.
The sweet thing is that this Newfoundland dog happily lets them do everything. To show the world what she is up to, Hannah even created an Instagram account and people are loving it. If you also want to see how handsome Hank looks in his new hairstyles everyday, keep scrolling.
#1 Day 4. (Sunday Brunch)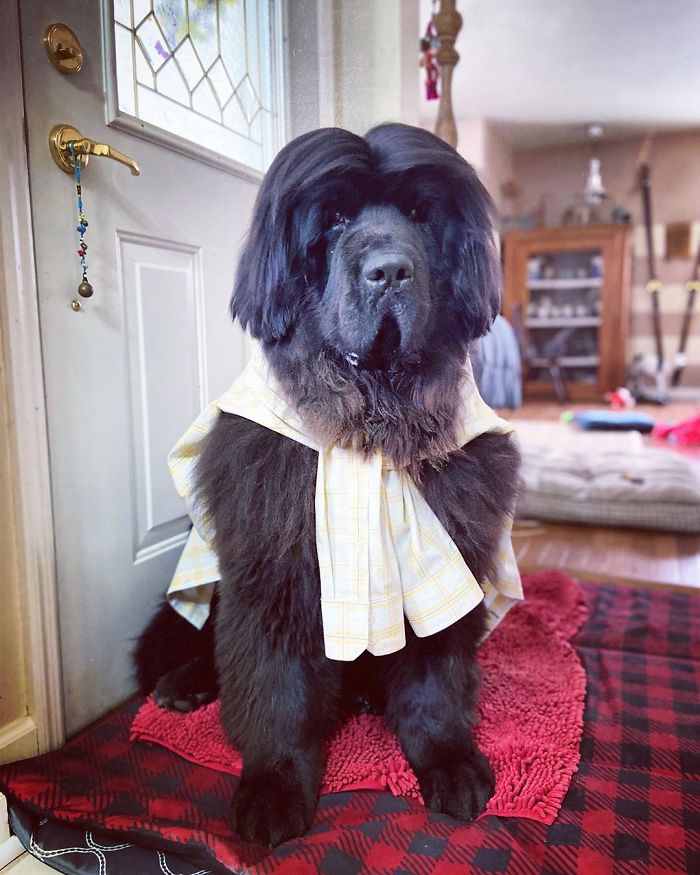 Hannah said, "something that helped with this stress was Hank". "Whenever we needed a break or something seemed to go wrong, we could go sit down with him for a few minutes. Hank has this wild hair that we believe portrays his mood, plus it's fun to play with. While taking these 'Hank breaks', we started giving him hairstyles to make each other laugh. We figured if it could lift our spirits, maybe it could lift our friends' and families' as well. We started posting whatever we could come up within the morning before work."
#2 Day 16. (Hank Exotic)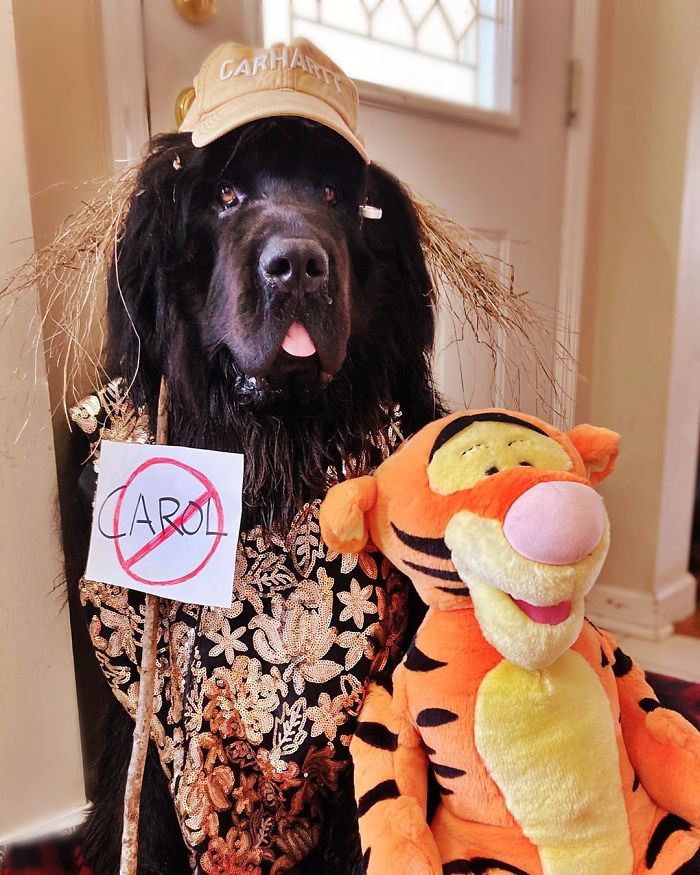 Before the pandemic, Hannah and her family had scheduled a family event to celebrate Hannah's late grandmother's 100th birthday this month. But as you know, that was not possible. However, Hank and his new hairstyles have kept everyone sane. "Gammy loved animals, and I think she probably would have enjoyed these pictures also," Hannah said.
#3 Day 10. (Self-Care Sunday)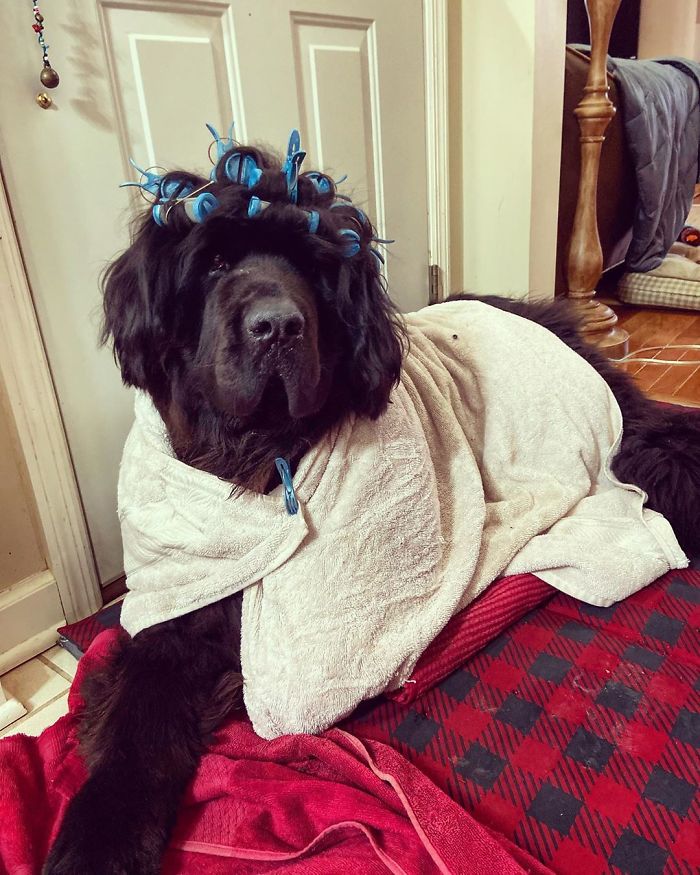 "Hank is a classic example of the Newfoundland breed; patient, loving, and loyal. He is also the most photogenic dog we have owned, and I think he loves all the attention he gets while both of us are home."
"Self-isolation has been fantastic to Hank, he gets 24/7 mom and dad time! Not much can bother Hank. As long as he gets kisses and a Kong chew toy after, it's his perfect day."
#4 Day 5. (Hank. Manager Of Home Office Relations)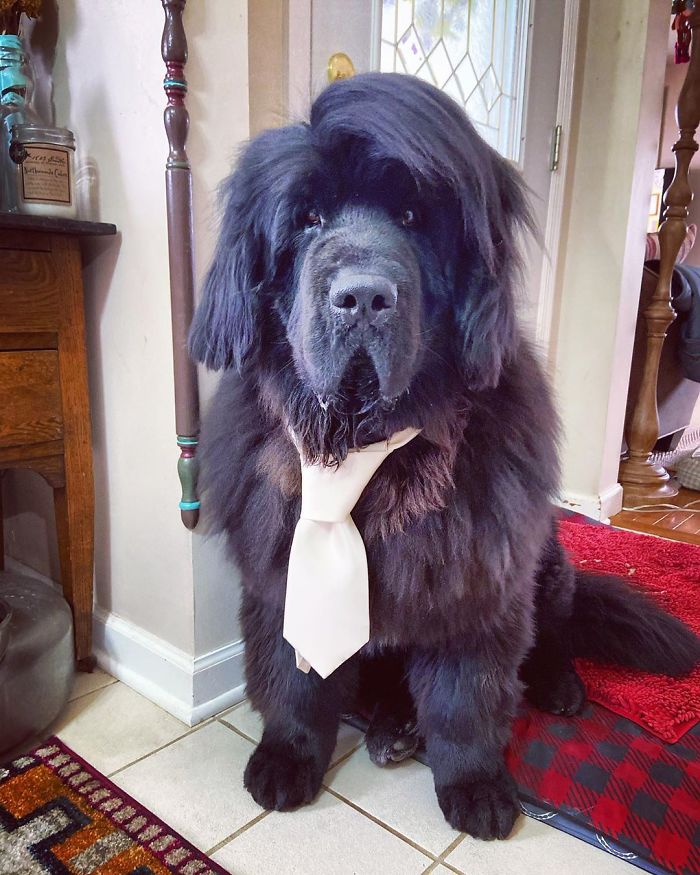 #5 Day 6. (Back To The Stone Age. Stay In Your Cave!)

#6 Day 1

#7 Day 9. (The Black Pearl)

#8 Day 7. (Pity The Fool Who Tries To Leave This House)

#9 Day 13. (Call Me Now For Your Free Tarot Card Readin'!)

#10 Day 15. (Luke, Han, And The Rare Black Tauntaun)

#11 Day 11. (Moovin Into Monday)

#12 Day 2

#13 Day 3. ("We Are 138…")

#14 Day 9. (Feeling Like A Cast Away)

#15 Day 18. (Pledging Sigma Kappa Quarentine)

#16 Day #. (Kiss The Cook)