For an average person, life behind the bar is a mystery. That's because we don't know how prisoners spent their life. So, when we see prisoners behind the bar in some TV shows or movies, we think that's true. 
Maybe that is. But there is another side of life behind the bar that we haven't seen. But don't worry because the subreddit r/PrisonWallet is here to give us a glimpse of what we are missing out on.
Prisoners From Indiana Were Given Cats To Look After As Part Of A Rehabilitation Scheme. Here Is One Prisoner With A Hat He Knitted For His Cat!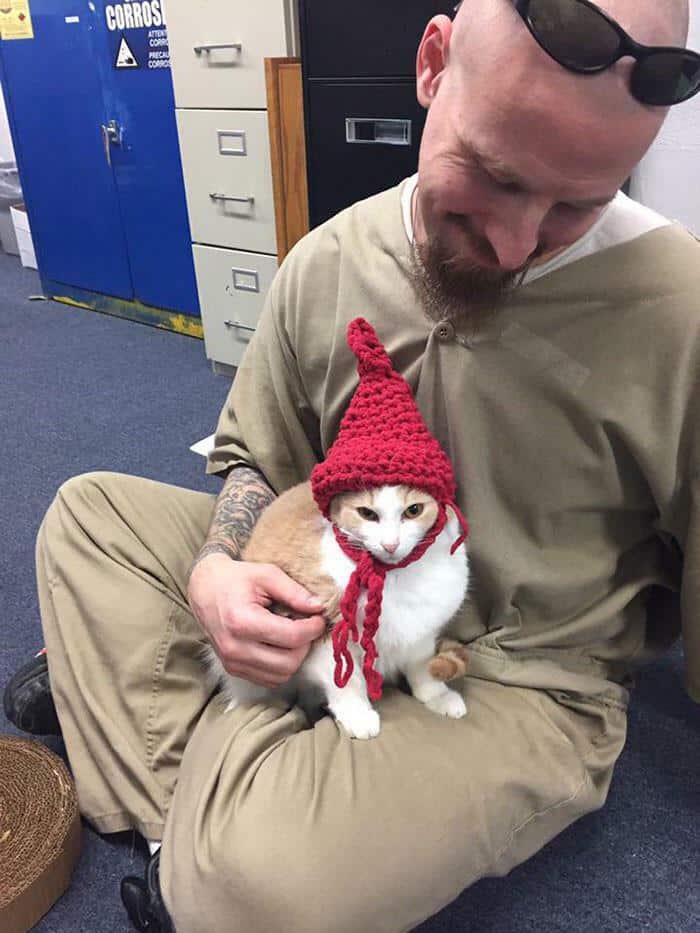 "Lady", An Electric Guitar Built Illegally By An Inmate In A Pennsylvania State Prison
These Are The Best Chess Figures I Have Ever Seen And These Were Made In Prison
Prison Issued Bleach Soap Carved With A Plastic Spoon And Empty Bic Pen
Asked An Inmate To Draw His Interpretation Of The Prison System. They Are Only Allowed A Blue Pen. Color Was Done By Melting Skittles And M&ms
Made Out Of Rolled Paper, Cardboard, Craft Paint, Bed Sheets, And Floor Wax (Clear Coat)
Model Of Hms St George Made By Pows Of The Seven Years War
The Face Of A Guard Made With Soap By A Prisoner In Brazil. All Made With Soap Even The Eyes
The Paper Mache Heads Made By Frank Morris, John Anglin And Clarence Anglin When They Escaped Alcatraz Prison
Anytime You Feel Life Isn't Nice, Remember This Brazilian Prisoner Who Dug An Escape Tunnel For 5 Years To Burst Out In A Guard Room…
Found This In A Small Town Museum Today. Made By A Prisoner In Angola Prison Out Of Match Sticks And Pebbles From Prison Grounds
A Way Prisoners Make Rose's For Their Loved Ones Made Of Jolly Ranchers
Asian Prison Art Made By Liv Bao Jin, A Chinese Refugee, Made And Sold To Pay Legal Bills, 1993
Two Picture Frames Made Out Of Chip Bags An Inmate Had Given My Mom Whilst Working The Jail As A Nurse
Trained Cockroach Smuggles Cigarette Into Prison Cells, June 1938
Flashlight Made By Prisoner
Carved By A Death Row Inmate Using Only A Spoon
DIY Dumbbell Made Of Old Battery's Crafted In Jail
Toilet Paper Dice
Hand Crafted Mah-Jong Set By A Japanese Prisoner Of War, Ww2
Pen Art On Prison Linen
Prison Lamp Made From Popsicle Sticks
Pokemon Cards Made While In Prison
Hand Painted Playing Cards Made By French War Prisoners, Hampshire 1796
Prison Chess Set Made In The 1950s – Made Out Of Toilet Paper, Dried Bread & Shoe Paste
Toy Dachshund Made By A Prisoner Of War In Bristol, Gifted To A Family Near The Prison, Ww2
Prison Made Harley Motorcycle Sculpture
The Convict Cookbook, Made By Convicts At Washington State Penitentiary For Charity
"The Last Supper" As Carved By An Inmate On A Jailhouse Door
Table Made From Ramen Noodles And Masking Tape
Flip Flops
Prison Made Celluloid Bakelite Ring, Gifted To A Prison Guard, 1930s Ww2
Inmates Bug The Guards' Rooms With "Bugs" To Listen For Cell Shakedowns
This Prison Tattoo Gun
This Tin Can Grill