If something gets broken, we replace it rather than repairing it. But it's important to start living a sustainable lifestyle because the fast fashion industry is polluting the planet. 
That's why a Reddit community is sharing stunning ways to repair clothes to reduce the amount of trash that ends up in landfills. 
Scroll down and start taking notes!
I Don't Know What I Am Doing At All But I Fixed My Sweater, Someone Be Proud Of Me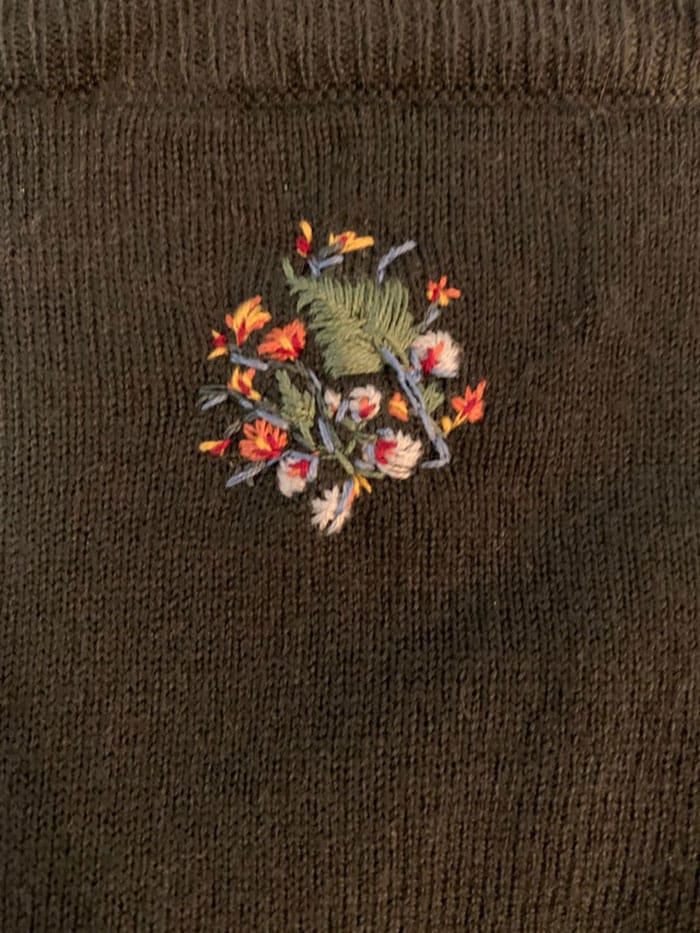 My First Few Attempts At Semi-Invisible Swiss Darning!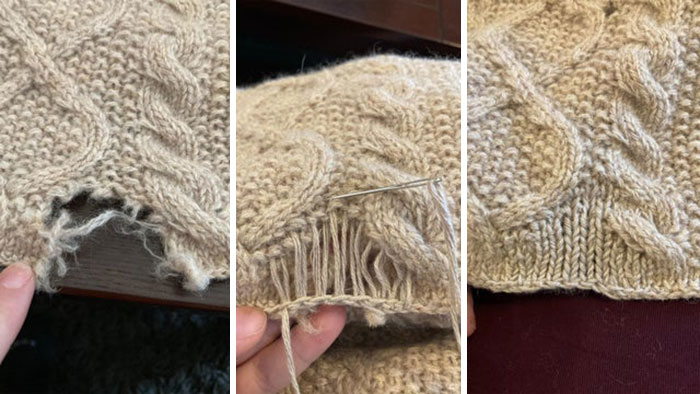 I Accidentally Got Bleach Stains On A Brand New Hoodie. This Is My First Time Attempting Embroidery, Too!
Almost Exactly One Year Ago Today I Tried To Take My Own Life. The Emts Had To Cut Off My Pants But I Decided To Keep Them And Repaired Them With Bias Tape. I Call Them My Kintsugi Jeans
My Child Requested "Flames In Space" For His Knee Mend..
Every Time This Dress Gets A Stain, I Fill It In With Fabric Markers

Does This Count? Spilt Pink Nail Polish On My Yellow Jumper, So I Covered It Up With Embroidery
My Jeans Always Rip On The Left Knee. These Are My Favourite, So Thought They Deserved A Nice Mending
I Patched A Sock Into A Rip! (Saw It On Here And Tried It For A Cousin's Knee Patch)
When Life Gives You A Hole On The Left Elbow, Make A Panda
First Time Mending, Hope It Holds Up!
Stupid Things I Like To Sew On My BF's Clothes When He Asks Me To Med Them
Fixed My Husband's Jacket. Used Colors Of The Kenyan Flag.
A While Back I Covered Bitter Stains With Embroidered Bumble Bees. It Saved My Dress And Made Me Love It More

A Little Before/After Of My First Time Using A Weaving Technique To Mend A Hole! I Need Practice But I Do Like The Way It Turned Out
Busted My Zippers Out, Decided A Little Mending Was In Order!
Upcycled Mended Patagonia Jacket! What Do You Think?
Patched And Mended My 4 Year Olds Batman Sweatpants With A Night Sky With Bats
Saved A Shirt That Had Gotten Bleach Stained. Added Bleach 'Bubbles' And A Tie Dye Ombre. I Love It
Finally Finished The Knees Of My Jeans Yesterday! I'm So Pleased With Them
When You Want To Try Darning But Don't Have A Fancy Speedweve
My Sons Out In The Forest In Their Mended Clothes
Visible Mending: Humor Edition
Covered A Pen Stain On Maternity Pants Gifted To Me By A Neighbor! First Time Visible Mending And I Think I'm Addicted
Did You Know, That Y-/T-Oucan Fix Small Tears In Your Jeans?
Fixed The Fraying Cuffs Of My Very Worn Jacket
Getting The Hang Of Darning. Luckily My Work Pants Are Riddled With New Opportunities For Practice
Really Pleased With How This Repair Turned Out! I Feel Like It Adds Some Character To A Plain T-Shirt
Posted The Wip The Other Day. Here's The Finished Thing!
You Guys Inspired Me To Tackle This Stain!
I Had Lots Of Old Jeans That Either Didn't Fit Or Were Worn Out, So I Made Them Into A New Pair!
Covered A Stain With Flowers
Hello! It's My Jacket That Had Big Black Stains On Left Elbow. I Didn't Want To Throw It Away So I Embroidered Some Sunflowers
My Favorite Jeans Were Wearing Thin In The Thighs So I Added A Denim Patch Inside And Used Sashiko To Make It Pretty
My S/O Needed A Knee Hole Patched In Some Jeans So I Threw In A Cheeky Little Love Note As A Surprise — Thought You Guys Might Like The Idea