Did you know that about 3.2 million cats go to shelters in the United States of America? Out of this massive number, only 1.6 million get adopted. Those people who are fortunate to adopt an animal and give them a forever home receive lots of love.
A subreddit BeforeNAfterAdoption celebrates people who adopt animals and shared their achievements. Today, we bring you across 30 cats who got adopted and went to their forever home where they are happy and healthy.
#1 Its Been A Year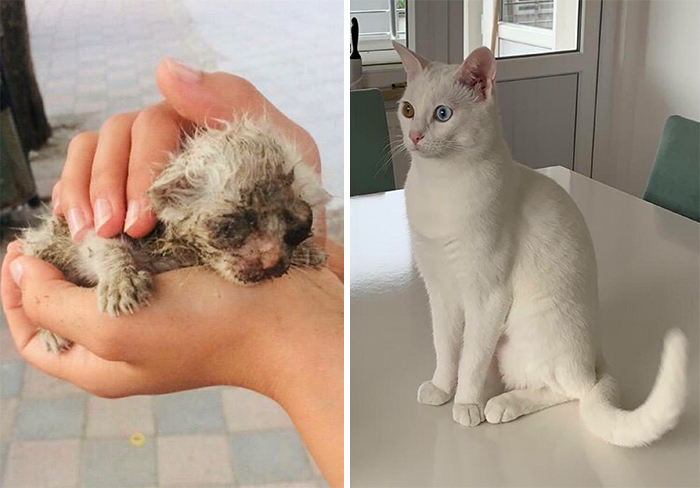 As recorded by the experts, over 35% of homes in the U.S have a cat. So what are the rest of your still waiting for? Anyway, it is a big responsibility to adopt an animal. We do understand that and resect your decision of not adopting one. But do you realise that humans also have a happy and healthy life when you bring home a pet. They are always around you to lift your mood and make you happier.
If you wish to know about cat adoption, you can get the checklist from American Humane to learn about cat care guide.
#2 Took A Chance, And Decided To Rehabilitate This Boy Instead Of Letting Him Be Put Down. One Of The Best Decisions Of My Life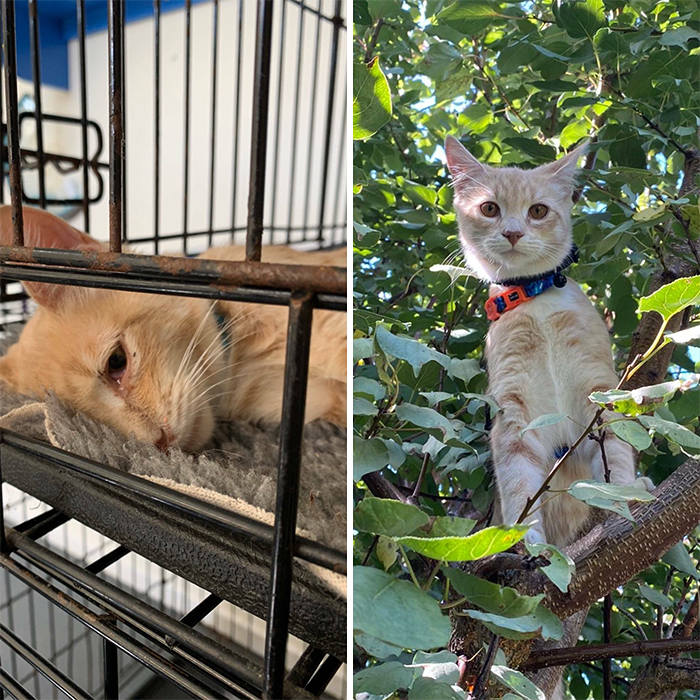 Let's end things off with a quote from Matthew Bershadker, ASPCA President and CEO, that really puts things into perspective: "Helping vulnerable animals and keeping pets in safe and loving homes requires a commitment from all of us—advocates, pet owners, shelters, leaders, and entire communities. When we work together under a common cause, we're both saving lives and elevating our society and its laws to ensure cruelty victims and other at-risk animals receive the protection and care they deserve."
#3 What A Foster Home Can Do For A Sick Cat…now Misza Is Enjoying His Cat Retirement After Being A Neglected Feral For 15 Years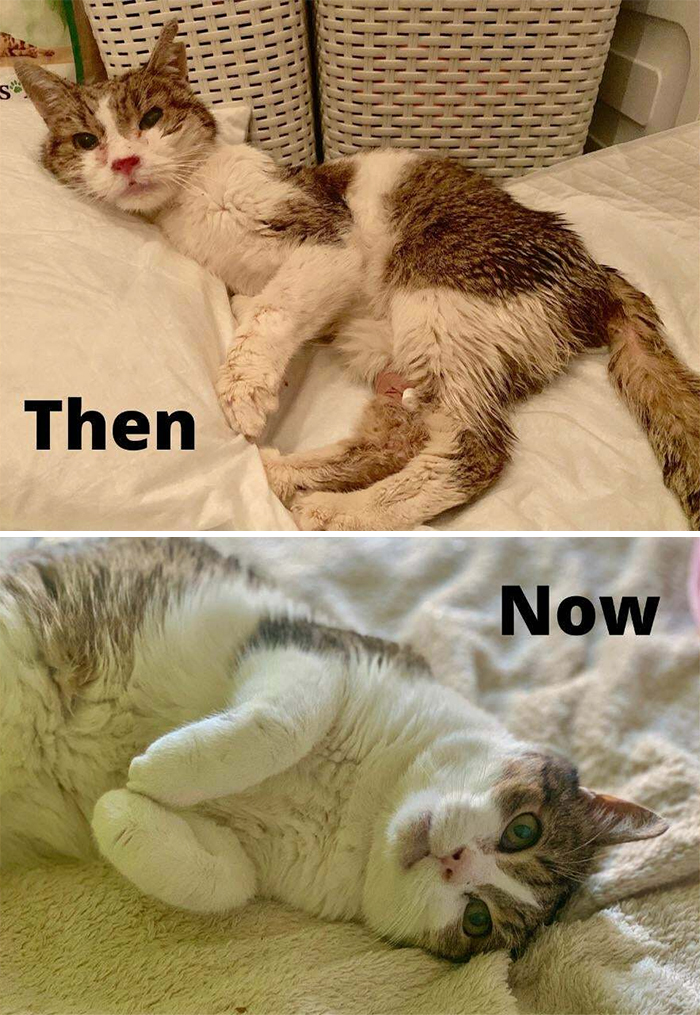 #4 Toby And Quinton Were Rescued Together And Adopted As A Bonded Pair. Toby Has Ehlers Danlos Syndrome And Quinton Was Toothless. They Became Brave And Happy . Quinton Passed Away Recently, I'm So Glad We Had Him For The Time We Did And He Passed Knowing We Would Keep His Best Friend Safe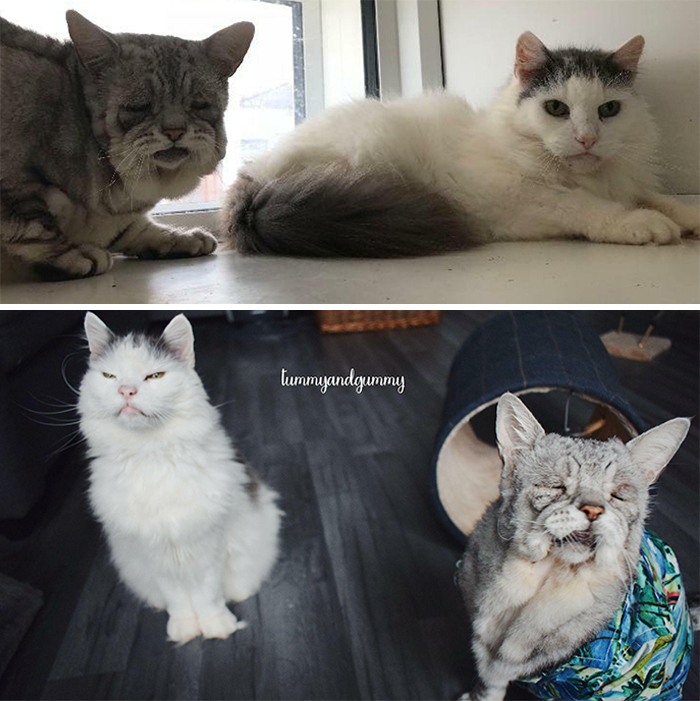 #5 8 Years Ago Today The Triplets Were Born. From Bottle Feeding Every 3 Hours, To Beautiful Lazy Babies. Bob, Possum, And Arwyn Made Me The Crazy Cat Lady I Am Today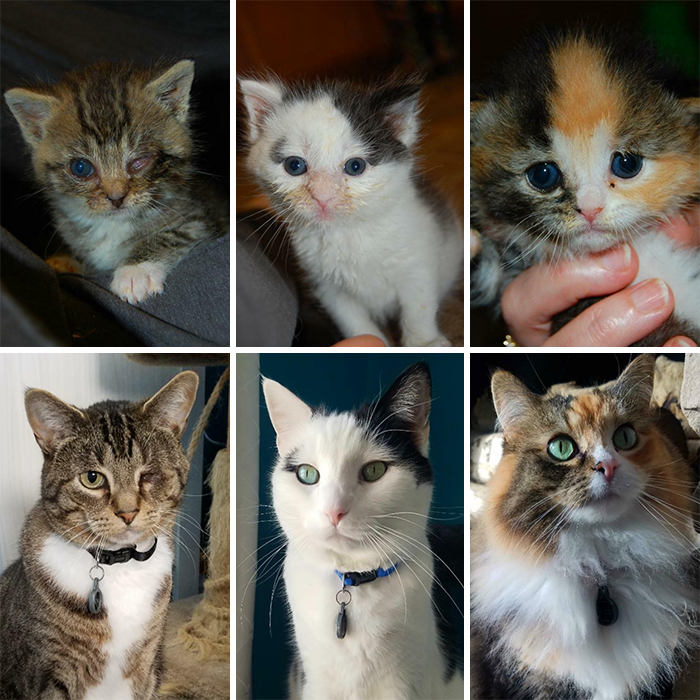 #6 Before And After. What A Transformation!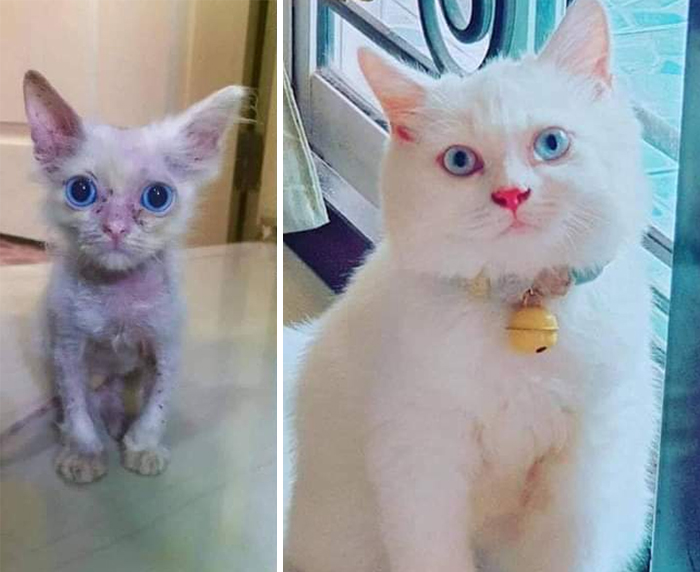 #7 Bones Had Some Issues With Ringworm When We First Found Him (~8 Weeks), But He's All Better Now (2 Years)!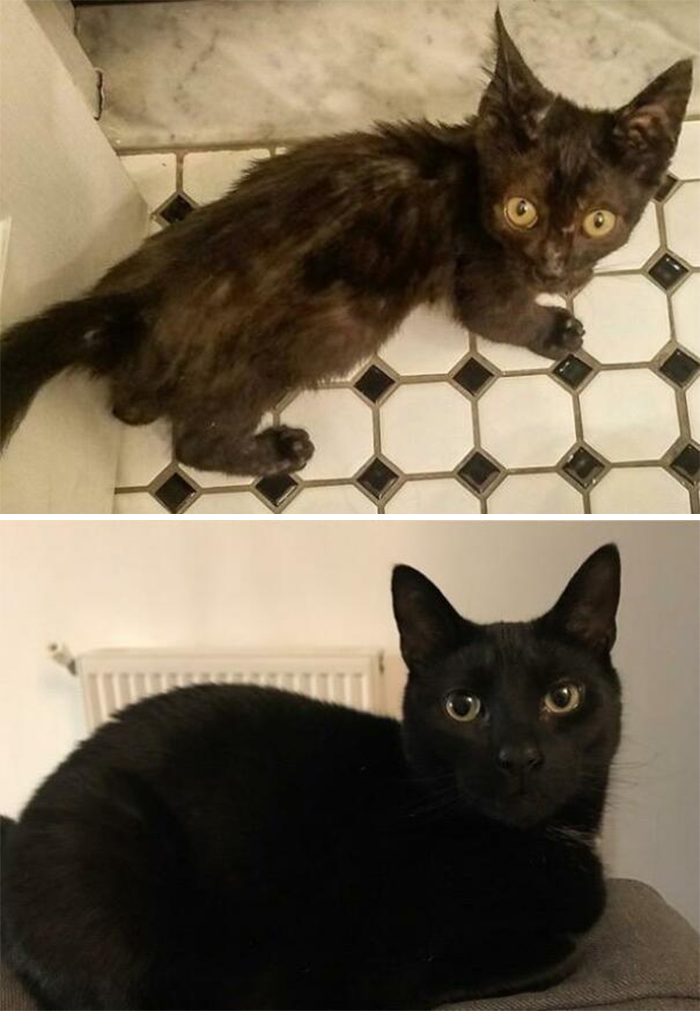 #8 A Local Vet Treated This Rescued Stray From A Bad Case Of Fungus/Ringworm Few Months Ago. Look At Her Now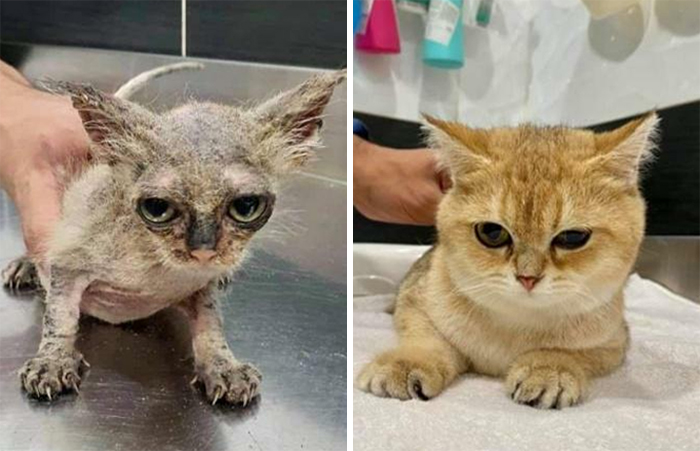 #9 Our Kitty Was Already An Adult In The Photo On The Left. A 6 Month Glow Up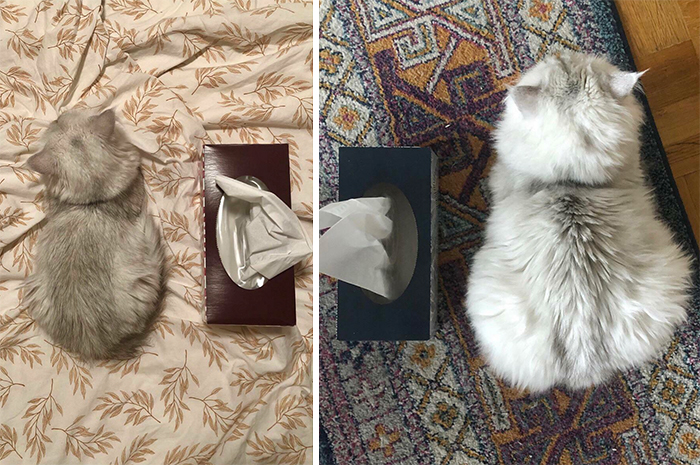 #10 My Mom Is A Realtor. She Went To Show An Empty House And Found That The Previous Owners Had Left Something Behind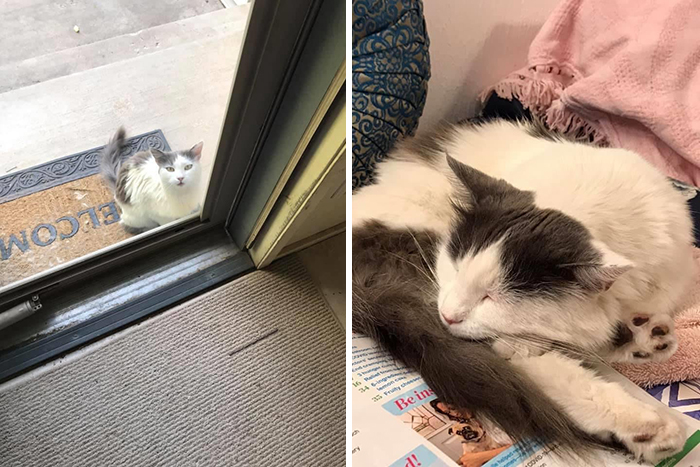 #11 I'm So Happy For Her Progress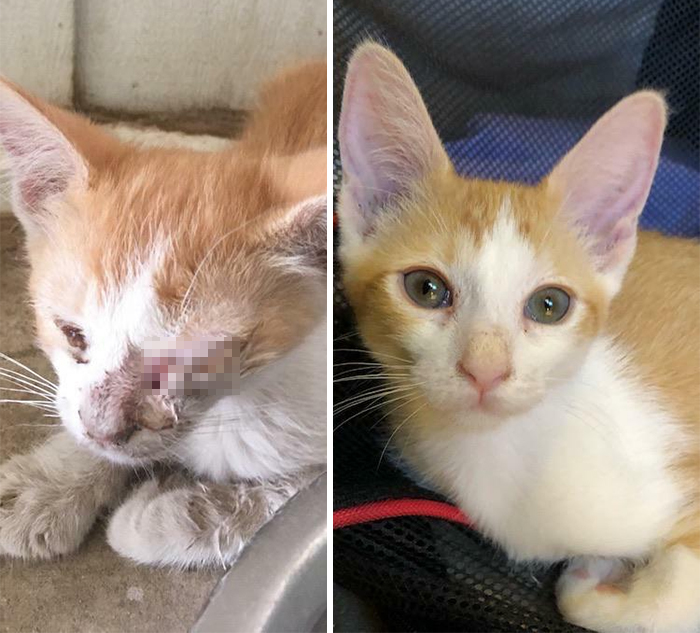 #12 Two Months Ago I Found Him Mangled, Probably Had Been Run Over, And Almost Dead Due To Dehydration. Vets Had To Amputate One Of His Front Legs And Tail. Today We Finally Took The Cone Of Shame Off And Let Him Chill With Us On The Bed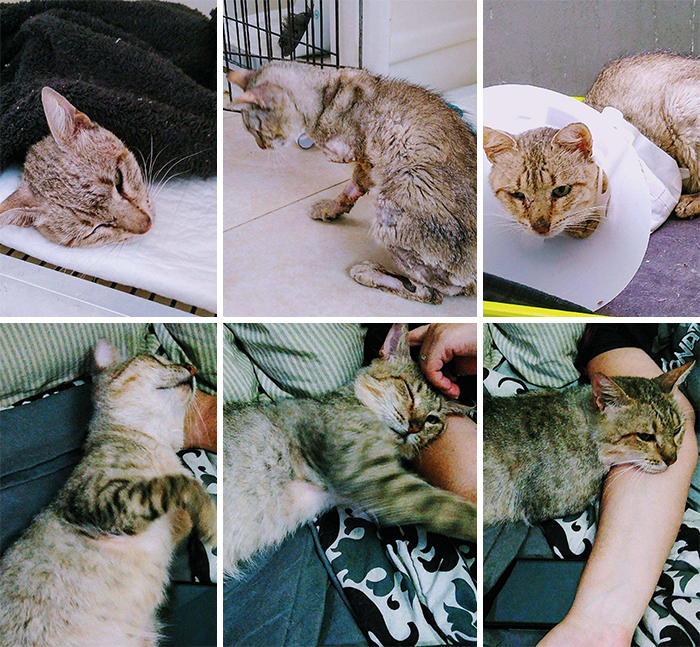 #13 Rey When I Found Her On The Street And At 1 Year Old. Good Job, Baby Girl!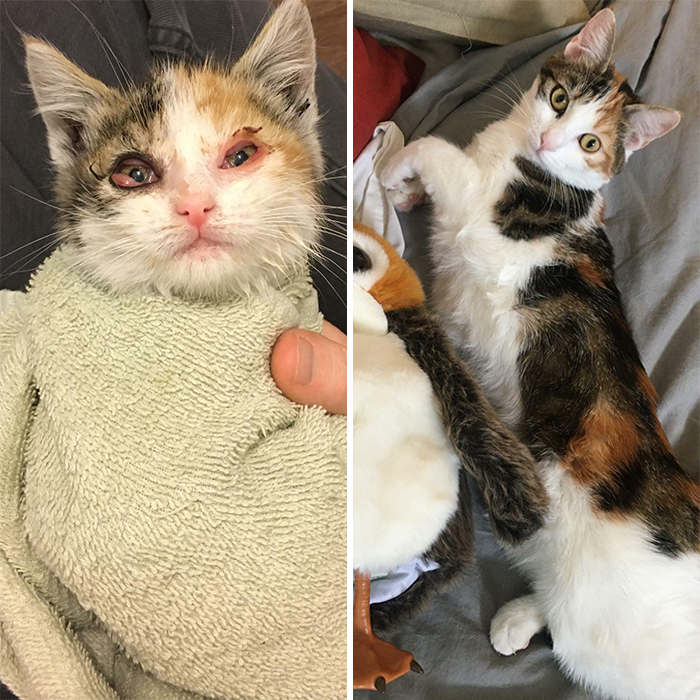 #14 Two Months Of Love Changed Mr. Biscuits
#15 Found This Girl In November 2019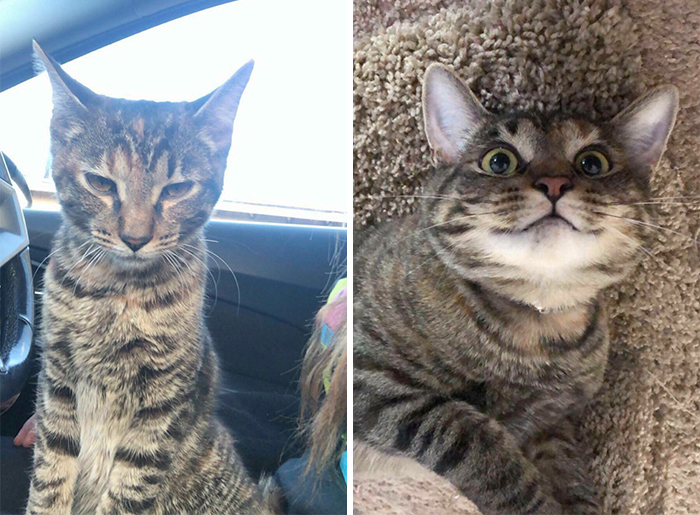 #16 From Being Found In Our Woodshed Two Years Ago With Wounds The Vet Believes Was From A Coyote , To Yesterday A Happy Healthy House Kitty. Meet Chip!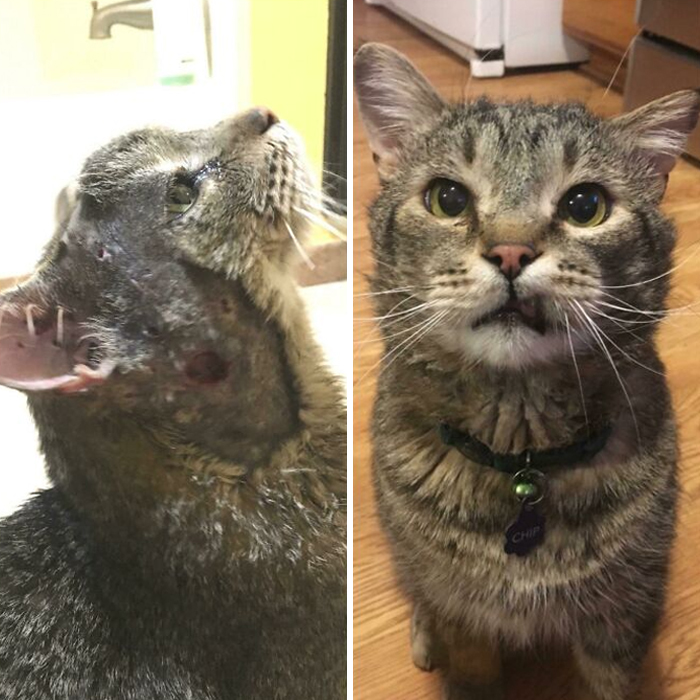 #17 I Found This Kitten Dumped In The Middle Of A Road Too Weak And Hungry To Get To Safety. The Photo On The Right Is What 6 Days Of Cuddles By The Fireplace, Lots Of Food And A Cosy Bed Can Do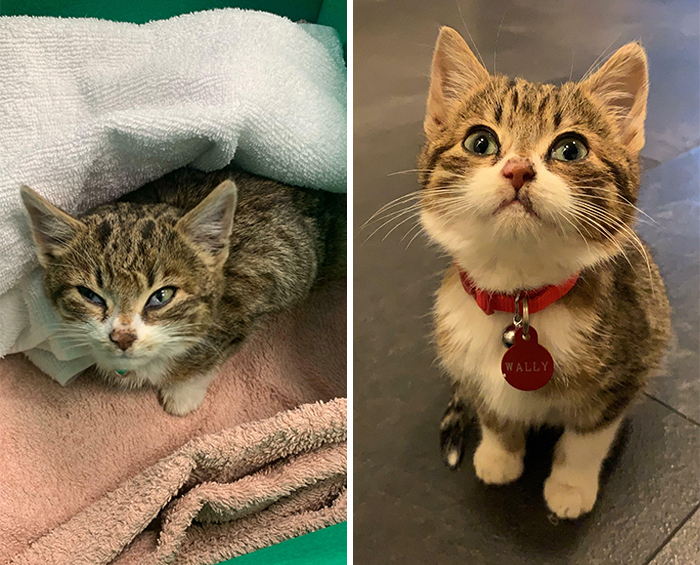 #18 When We Got Hilda She Was Very Underweight After Having Recently Given Birth; Somewhere In The Last 6 Months She Turned Into A Long Haired Beauty Queen!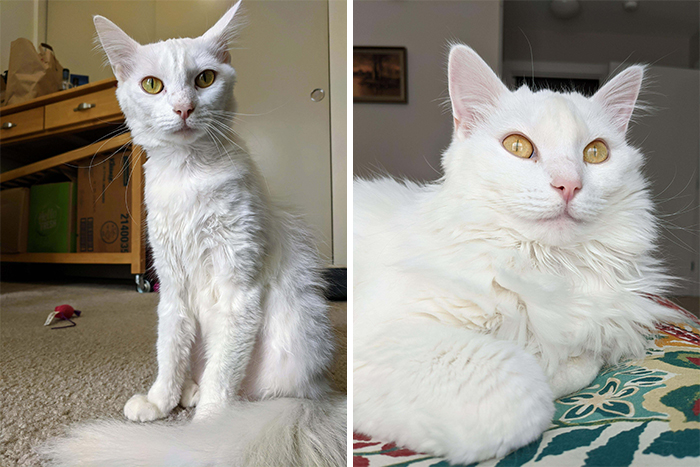 #19 Apollo Has Given Us Just As Much As We Have Been Able To Give Him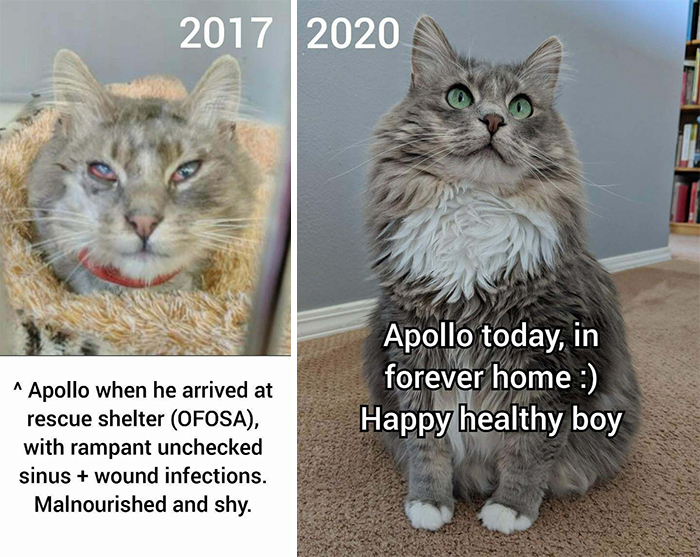 #20 After 6 Months Spent In A Shelter, They Thought He Would Never Get Adopted Due To Him Having Fiv. Now He's Been My Bud For Over A Year And Living His Best Life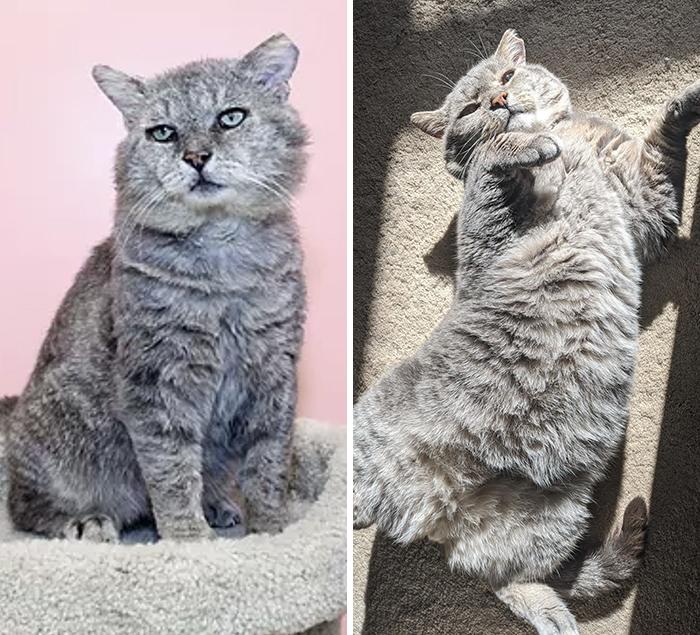 #21 2 Years Ago Today I Walked Into A Petsmart And Met A Cat Named Sonny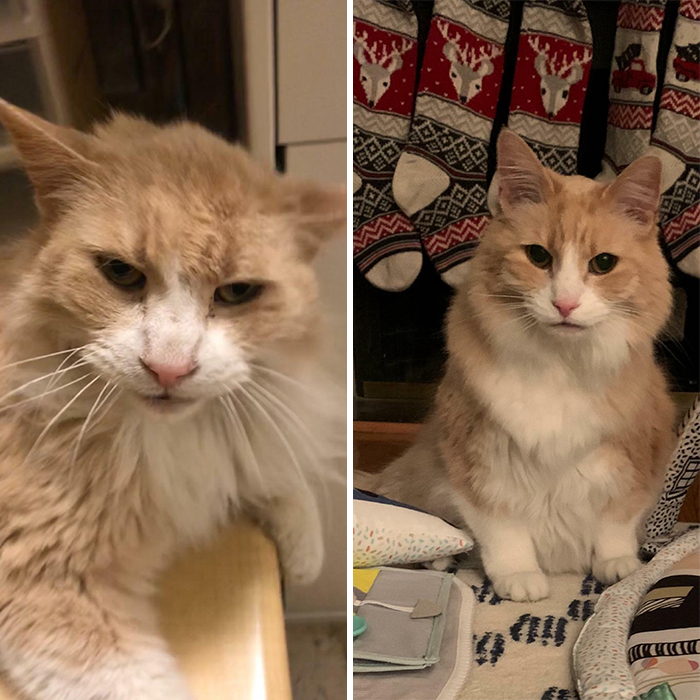 #22 So Much Healthier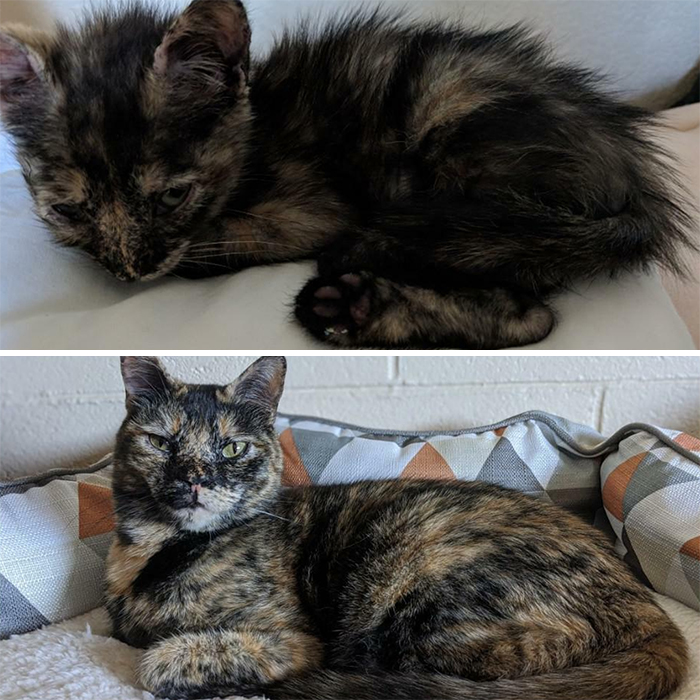 #23 This Is My Best Friend Lcdr Ryker. I Was Told You All Like These Kind Of Stories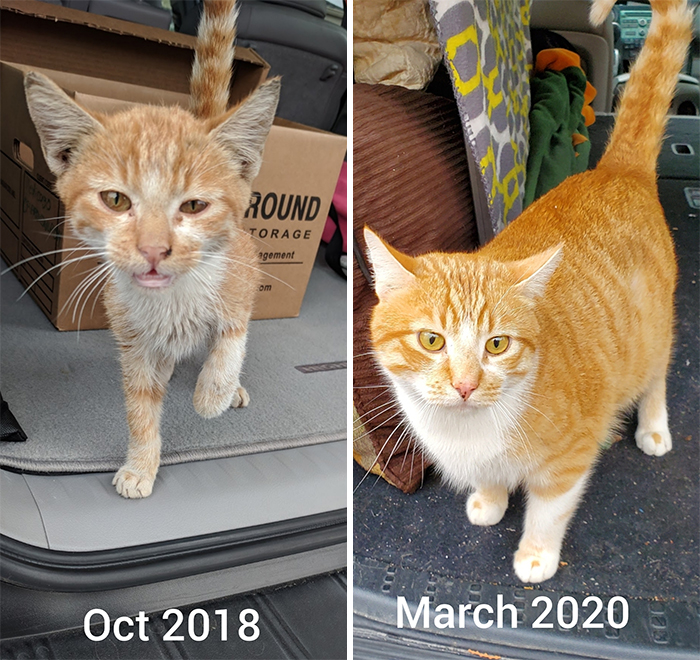 #24 Frank At A Couple Weeks vs. Almost A Year, Also Threw In The Christmas Photo With His Brother Teddy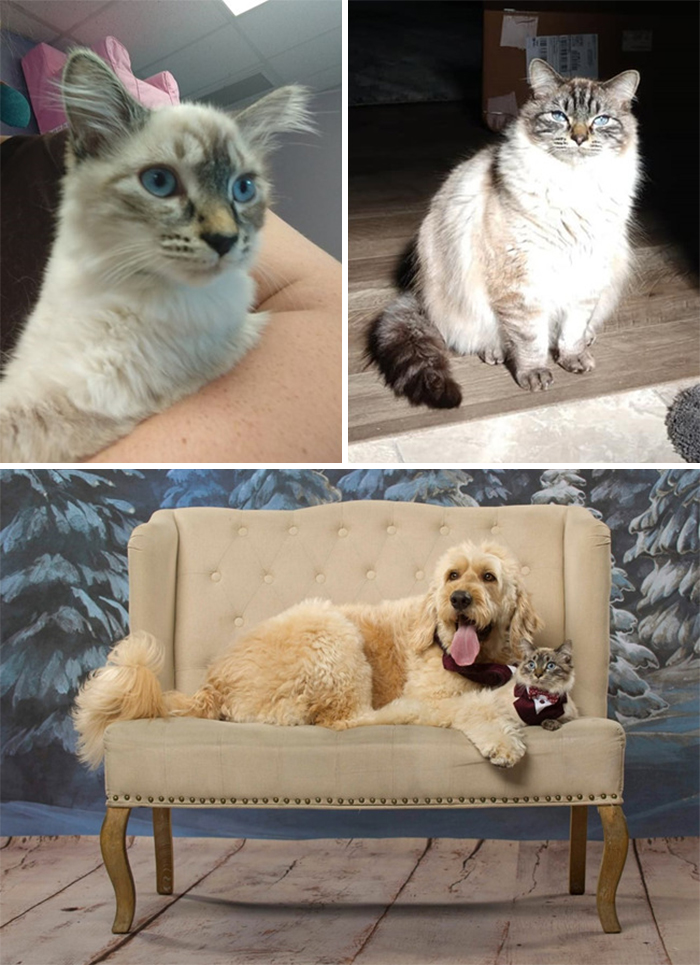 #25 Got My Feral Kittens At 4 Weeks Old And Now They're All Grown Up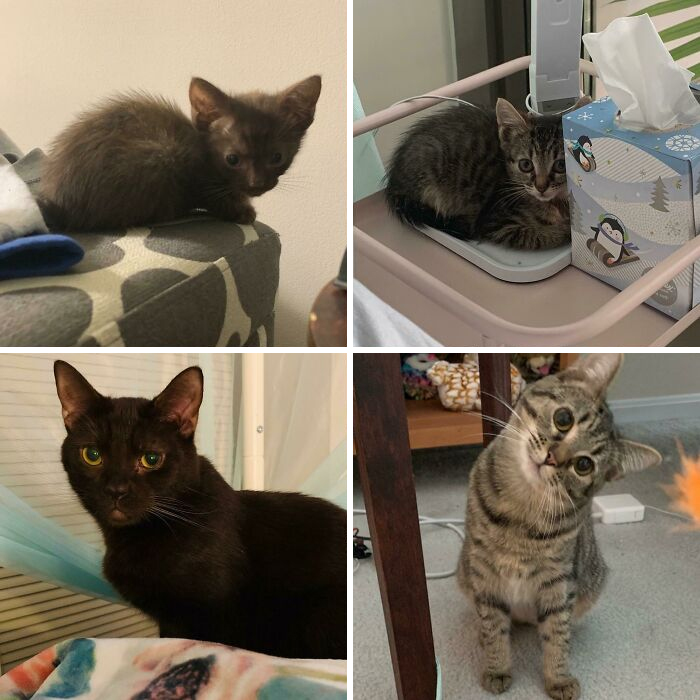 #26 My James Won't Ever Be Cold Again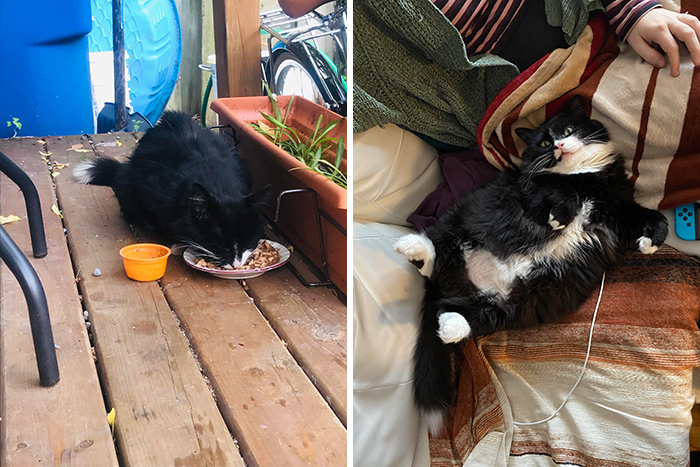 #27 Found This Girl In Need While In Greece, Now She Is Our Chunky Mischief Maker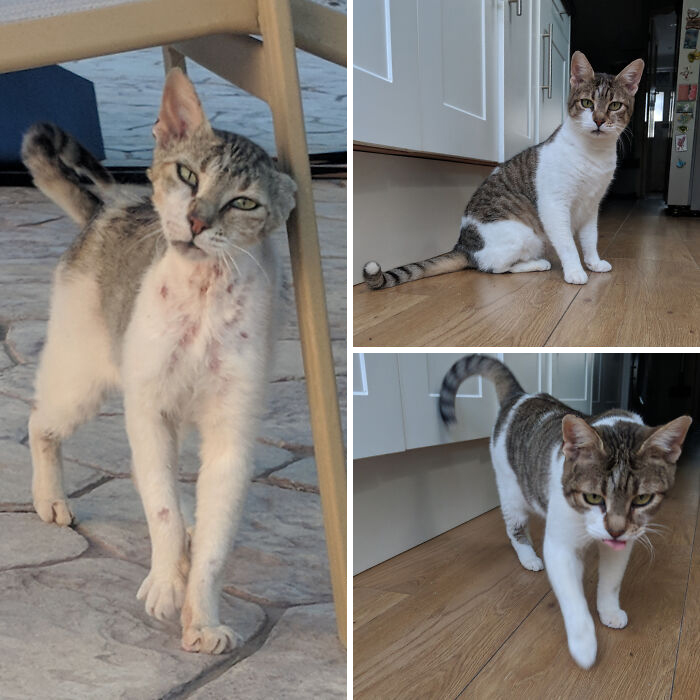 #28 The Week I Rescued Him And 4 Months Later. He's A Terrible Office Assistant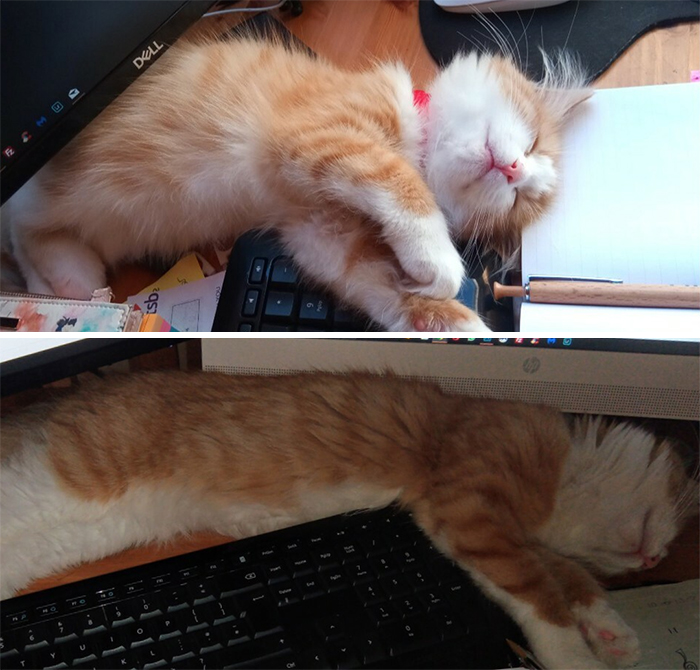 #29 Jerry, Found In A Box With His Siblings, Covered In Oil And Fleas At A Couple Of Weeks Old. Now, At 11 Weeks, Healthy And So Lazy. We Fostered All Four Siblings And Adopted Him Ourselves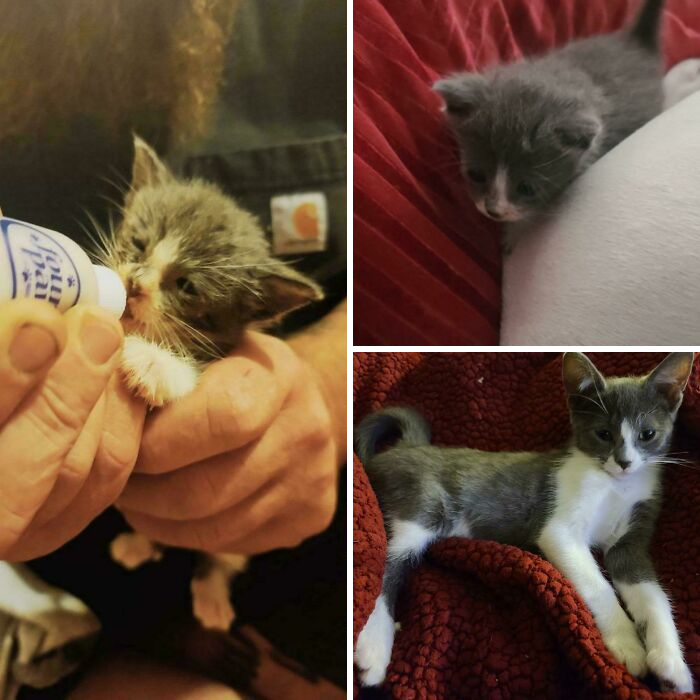 #30 Wally Update Pt.2. He Chonkin' Up Nicely