Don't we love parody celebrity outfits? Of course, we do. After all, they are funny, they are creative, and they are on point.
Here's a hilarious Russian blogger, Yuri Isterika, creating crazy celebrity parodies. This comedian and blogger have perfectly captured the essence of international celebrities. All I have to say is his work got him the attention he deserves. And now, everyone knows him.
Below are 29 of the best parodies. Scroll down to see the fine creative work coming straight from Russia!
Kim Kardashian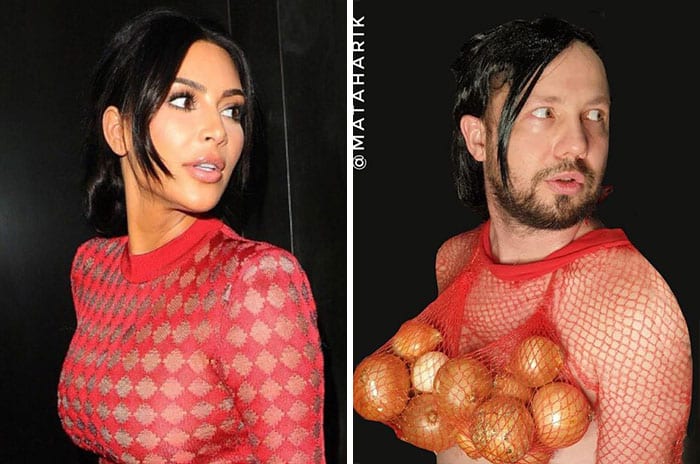 He said, "my friends and I often come up with various activities at home, so I asked my friend to make a parody of the celebrity."
Ariana Grande
Penelope Cruz
"You need to come up with what the image can consist of and then pose for hours until you get the perfect photo." The blogger admitted that after a photo shoot, he usually cannot feel his hands and feet.
There are also some other unpleasant things that Yuri has experienced while doing a photo shoot. "Once we were in India and for a parody I needed a large grape leaf. After some time, I started having a rash and convulsions. It turned out that the leaf was poisonous."
Billie Eilish
Melania Trump And Donald Trump
Gigi Hadid
Angelina Jolie
"Russian celebrities are constantly reacting to parodies. They like the images and write positive comments, sometimes even repost the picture on their page."
For the time being Yuri is working on parodies of clips. "So far I'm doing it of Russian celebrities, but soon I'll get to the clips of international stars."
Elton John
Taylor Swift

Angela Merkel
Madonna
Beyoncé
Beyoncé
Angelina Jolie
Celeste Barber
Vera Brezhneva
Rihanna
Anna Sedokova
Ekaterina Varnava
Kristina Orbakaitė

Cardi B
Irina Ponarovskaya
Lady Gaga
Lady Gaga
Cara Delevingne
Emilia Clarke
Olga Seryabkina
Vera Brezhneva
Olga Buzova