One company has come up with great work to show us all with their new and innovative pet beds. It's always good to decorate your room with furniture. Especially when you have great taste in decorating the living room practically.
The majority always prefers to keep up the color matching of the furniture to the walls or to the long curtains. But, after some time people tend to bend towards the convenient side of this. That is the legit way to choose furniture that is according to the comfortability of the body posture.
Why "share" a bed with your pet (we both know they hog it) if you can give them their own space?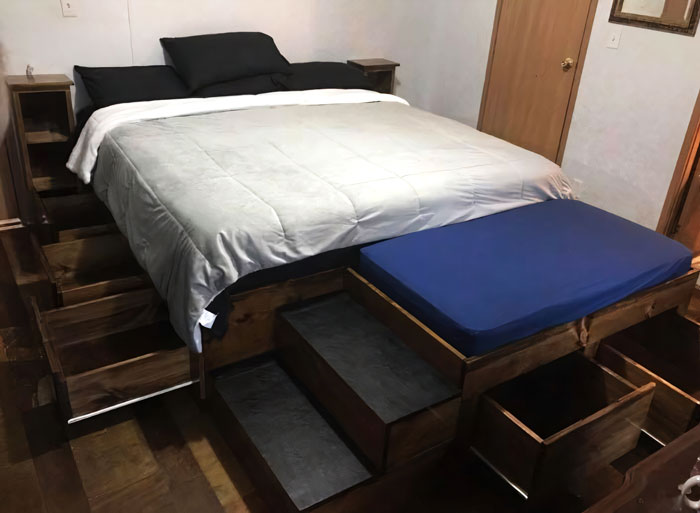 People with pets also imagine getting a bed for them. As most of them cuddled up to their owners during sleep. Quite funny isn't it. Just check out these king-sized beds with all of its storage real estate and with a smaller add-on of pretty much the same (except for your pets).
This Pennsylvania-based furniture builder designed a king-sized bed with an add-on for your pets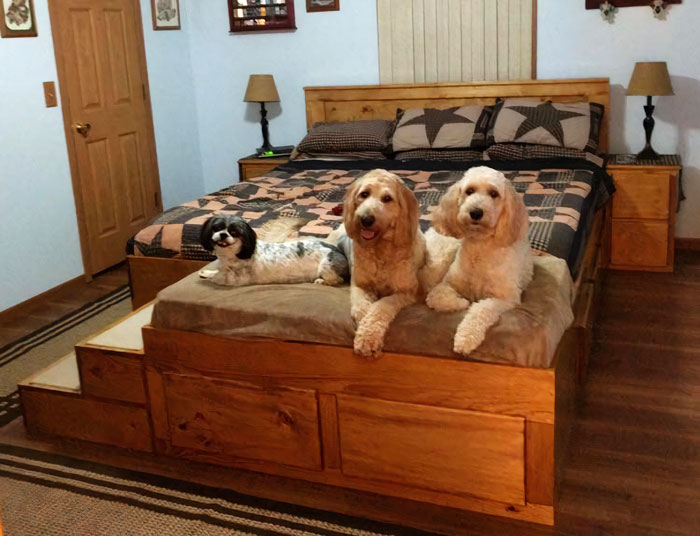 From Clintonville of Pennsylvania, The Country Creations Pine Furniture has designed and built a king-sized bed for all that will not just fit for you, but also fit for your pets as well. It can be a dog, or a cat, or a ferret, or any other animal companion(s) that wants to stay close to you while you sleep.
The toddler-sized pet bed comes with its own stairs and drawers for extra storage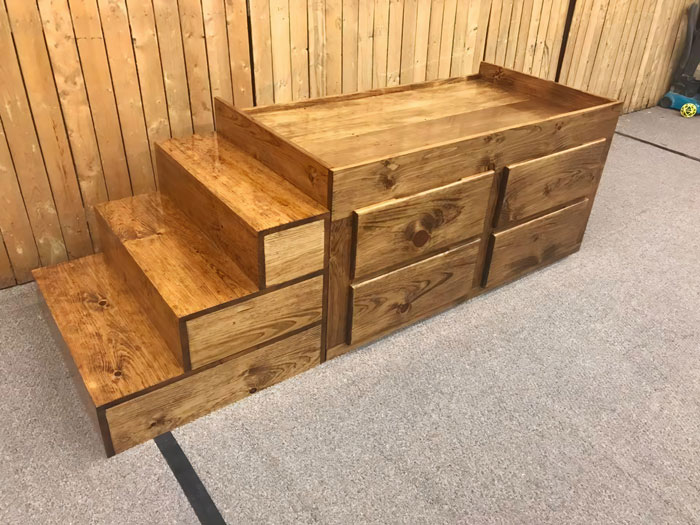 The pet beds are well equipped with 6 drawers for storage that is three on each side. This way of saving a bunch of space that would have otherwise been wasted. The drawers are neatly fitted in the bottom part of the bed frame. The bed frame is said to be made of pinewood with varying colors stain, featuring golden oak, classic gray, dark walnut, early American, and a bunch more of them.
Country Creations sell these as a set for $1,200, which is a king-sized bed frame with a toddler-sized dog bed, steps, and two-night stands. But these sets can also be customized to some extent. The frame (with storage only) would cost the customers about $800. And the dog bed and steps for you to add to your current bed would cost around $300, and the two nightstands separately would cost $100.
The bed itself also comes with ample opportunities for storing everything from clothes to unused stuff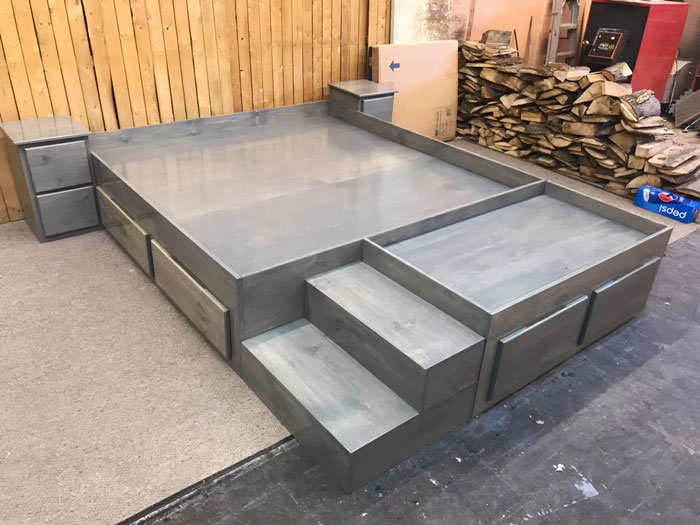 The bed measures at 80 by 110 inches, while the pet bed is at 80 by 28 inches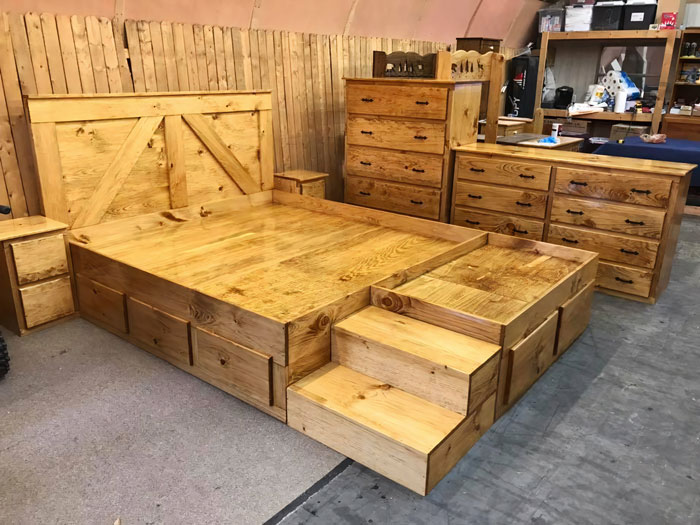 Here, the main attraction is the pet beds add-on. It too has a set of 2 to 4 drawers. Along with it, a flight of stairs is also joined to make it easier for the adorable pets to climb on.
While the actual bed is considered a king-size, measuring at 80 inches wide by 110 inches long (203.2×279.4 cms), the smaller add-on fits a toddler mattress and measures at 26 inches high by 80 inches wide by 28 inches deep (66.0×71.1×203.2 cms).
The entire set, i.e. the bed frame, nightstands, and the pet space will cost you around $1,200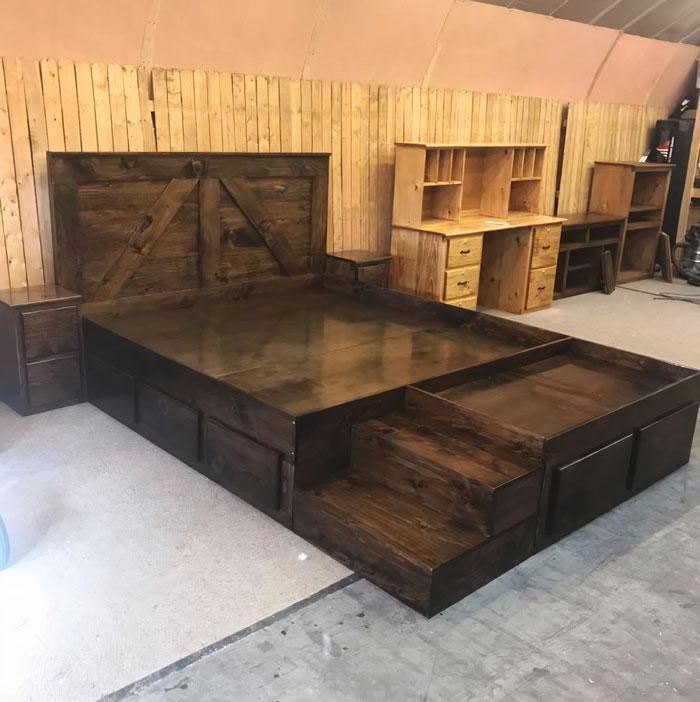 Orders are done online, but, unfortunately, you'd have to pick it up yourselves in their store in Clintonville, PA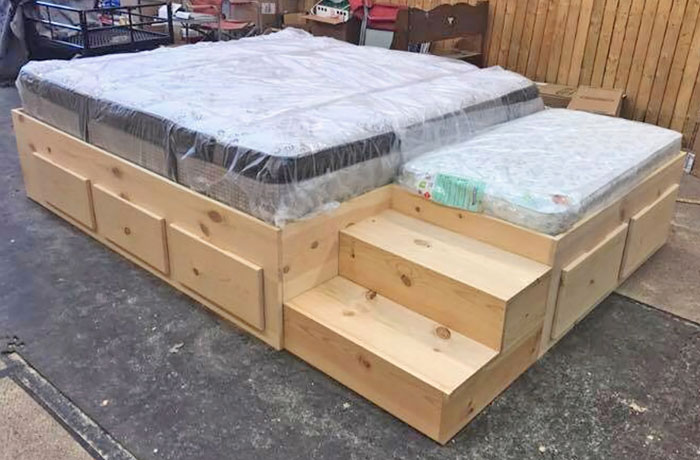 It's very innovative and new in a kind. So if all the pet lovers want to add these to old ones then you have to make a lot of effort for this. There is no delivery service provided by manufacturers. So, you yourself have to pick them up from 203 Park St, 16372 Clintonville, Pennsylvania, USA. Either that or you can organize your own shipping.
The majority of the people have given a thumbs up to this unique idea over the internet. Despite the fact, they could not afford such liked bed for their pets due to lack of space. But has ensured to buy if they relocate to a bigger and spacious one.
Check out a video briefly giving a more detailed look at the king-sized twin plus doggy bed mashup
"It is not just pine. It is pine, time, ingenuity, passion, space, equipment, general overhead, support of a small business, keeping money in the local economy, and not letting big business win." – One commented very accurately described this ingenious bed design.
Here's what the internet had to say about the king-size and doggy bed mashup