Even though you have attended loads of weddings till now, you must never have seen anything like this. A bride ditched the traditional flower bouquet and instead carried a bouquet of donuts down the aisle.
It's the most delicious custom we've ever seen!
Carrying a bouquet down the aisle has been a traditional custom that's honored by a bride. But now some of them are improvising these customs.
For her wedding day, Paige Kirk, from Sydney, Australia, decided to ditch the customary flower bouquet and opted for something tastier. She decided to go for a bouquet of donuts along with her bridesmaids.
Who needs one of these traditional bouquets when you have donuts?!
https://www.instagram.com/p/BY71KvBFjFB/?utm_source=ig_web_copy_link
Of course, there is nothing wrong with those traditional flower bouquet but how can you compare it with a bouquet of donuts? If we take a look at Paige holding the bouquet, we could have thought, "Wow! What a beautiful bouquet!" But when we take a closer look, we would think, "Wow! What a tasty bouquet!"
The donuts were decorated with white icing to match with the bride's dress.
Paige ordered her bouquet from Australian-based bakery, Dessert Boxes.
https://www.instagram.com/p/CB_wKb3Hd-P/?utm_source=ig_web_copy_link
The bride and her husband, Steven, explained that a donuts bouquet would be a fun twist on the wedding traditions. Paige ordered the bouquet from Dessert Boxes, an Australian dessert company.
The company specializes in unique desserts and donuts bouquet which just happen to be their signature items.
The bridesmaids also got matching bouquets of their own.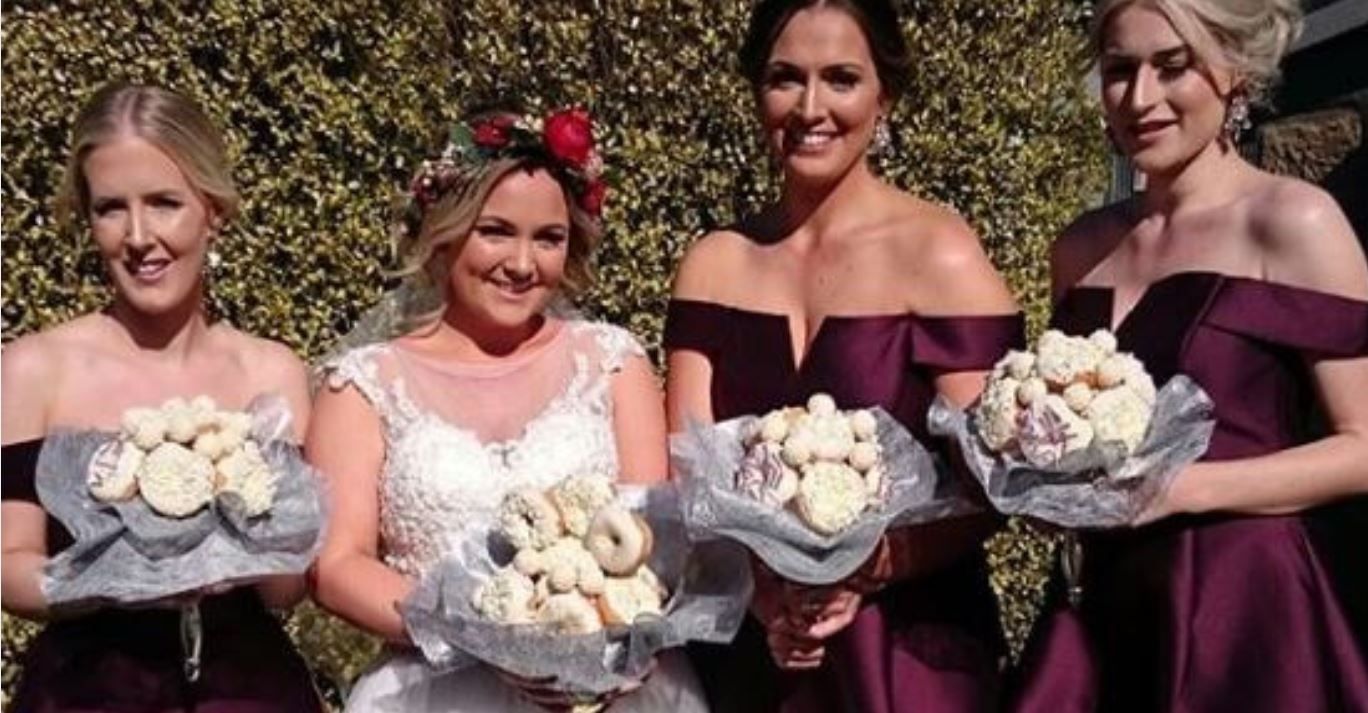 Even the bridesmaids were handed a donut bouquet. All the guests were thrilled over the idea. Though some of them couldn't believe such an event. But Paige and her husband like to live an unconventional life. They're free-spirited and don't believe much in the customs.
Would YOU go non-traditional for your wedding?
It's one's own choice. If you go for a traditional wedding, that doesn't mean you can't have fun.
Paige and her husband's sense of humor gave everyone a memorable wedding which they can never forget.
Having a donut bouquet is quite bizarre which shouldn't be done according to some people. But if it makes you happy then you don't have to think twice. Just go for it.