Halloween is not just any other holiday, it's a whole vibe and you gotta feel it. But to groove in the mood of this fun day, you have to put a lot of thought. You cannot simply go out dresses as Harley Quinn or a Superman or something else that is too common. Why not? Well, because Halloween comes once in a year and it's the only time to unleash the beast in you. 
Traditionally, people used to wear scary clothes so that ghosts won't cause any harm to them. But now, well, Halloween has become more of a fun celebration where people like to party and become someone else for a day. 
And if there is one thing that everyone simply loves about Halloween, it's the DIY costumes. Sometimes people really make a scary costume that scares the shit out of us. If you are also looking for any such funky and spooky Halloween costume ideas, you have come to the right place. 
Scroll down and take your Halloween party to a new level with this outfits.
#1 My Halloween Costume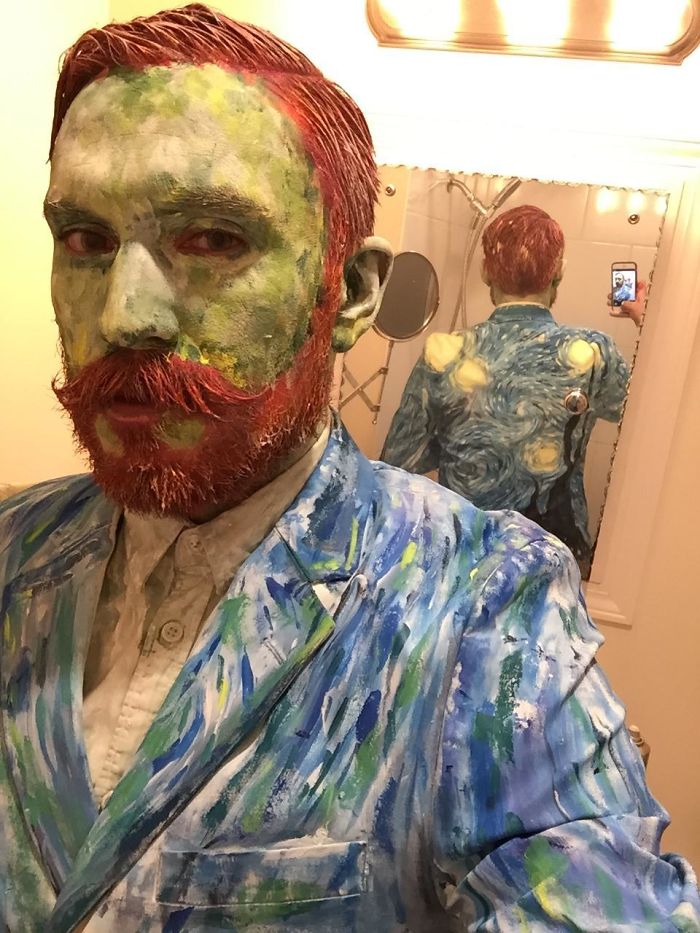 #2 For Halloween, I Caught Me A Ratatouille

#3 A Friend And I Decided To Go As Anglerfish For Halloween

#4 "Getting Deported By Trump" Halloween Costume

#5 This Guy Had The Best Halloween Party Costume, He Was The Fire

#6 My Brother Was Sad His Girlfriend Couldn't Come To Our Halloween Party, So He Came As Both Of Them

#7 You Know It's A Good Costume When Someone Cries Because Of It

#8 Princess Leia And R2D2 (My Grandpa's Costume)

#9 A Friend Nailed Halloween And 3D Printed His Own Face

#10 My Buddy Dressed Up As His Cat For Halloween. Look At The Cats Face

#11 My Brother-In-Law And His Friends Won Their Office Costume Contest

#12 Made My Son A Pikachu Costume For His Wheelchair

#13 Toddler Dresses Up As Her Grandmother On Halloween

#14 Awesome Family Costume

#15 Taco Belle

#16 Amazing X-Ray Costume

#17 My Sister-In-Law And Her Sisters This Halloween

#18 Harry Potter Character Costumes

#19 Stopping By The Apple Store In My Halloween Costume

#20 Mother Of Dragons

#21 Our Local Weatherman's Costume Today

#22 I'm 7 foot. For Halloween, I Went As A Normal Guy On Stilts

#23 Guy Dressed Up As A Stock Photo For Halloween

#24 Our Couples Costume

#25 Even Cancer Can't Stop Halloween – A Friend Getting Chemotherapy In Costume

#26 My Girlfriend And I Attempted Our First Couple's Costume This Halloween. I Think We Did A Pretty Good Job With It

#27 It's Him

#28 This Is Awesome!

#29 My Wife And I Made Daft Punk Halloween Costumes

#30 My Costume For Halloween

#31 Come And Play With Us, Danny

#32 The Snail Trail

#33 My Husband. So Hot Right Now

#34 Dress Up Like "Dominoes" They Said…

#35 Amputee Adventure Time Costume