Have you heard the popular saying "beggars can't be choosers"? It means, if you want anything, you gotta be humble and ask for it politely. But tell us one thing- how often does this happen? How often do people politely ask for things that they want? 
We are not sure that this happens a lot because the world's full of arrogant, privileged beggars who think they're royalty and throw a fit if someone can't meet their unfair expectations.
Some of the worst beggars get shamed on r/ChoosingBeggars, a community of nearly 2.2 million people who call out people who are way too picky when begging for things. 
Scroll down to have a look.
My Dad's A Photographer, This Is His Most Recent Client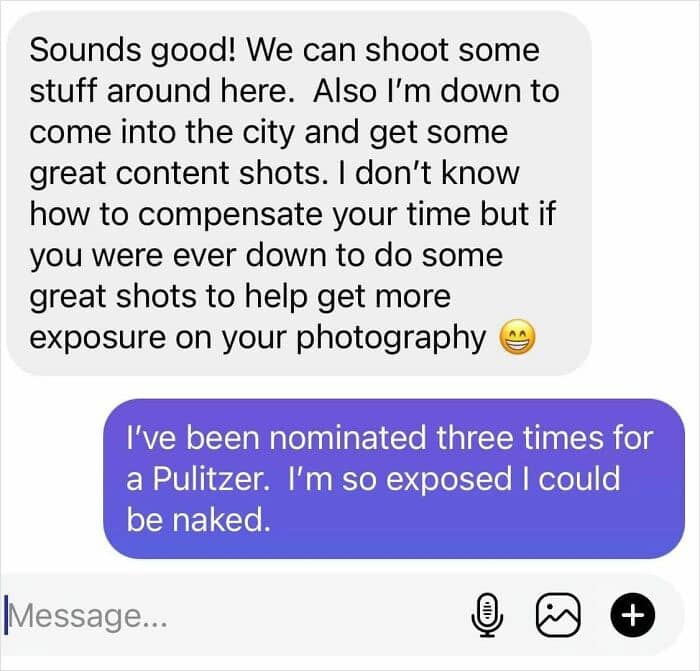 A Problem In Every Industry
Asking The Author Of The Book Where They Can Pirate It (I'm Not The Author, And The Book Is Not Coming From A Big-Time Publisher)
Local BBQ Place With Free Beer Calls Out Specific Yelper For Being A Cb. Love The Food And The Attitude At This Place
Cbs Push A Man Too Far

How Ironic…
This Guy Has Had It With Cbs
The Cheek Of Some People….
Potential Client Doesn't Think I Can Do Math Apparently
This Was On One Of My Mom Pages, I Couldn't Believe It Was Local And That These Kind Of People Actually Exist, It Makes Me Sick To Think About
Broke Boy
Op Is Nta At All
How Are My Kids Supposed To Live Without Juice?!
"Exposure Doesn't Pay The Bills, My Guy"
All These Teens Do Is Play Fortnite And Take Drugs! They Should Work For Me For Free!
Everyday Troubles Of Freelancers
Hey Can I Steal Your Art For 7 Bucks ?
Instagram Model Asks For Private Booth, 10 Free Guests And Bottle Service In Exchange For One Social Media Post
Owner Of Three Restaurants In The Suburbs Of Chicago Asks His Customers To Pay His Wait Staff A Better Wage
Let Me Not Ask For Permission To Have My Wedding Here (God's Plan)
My Favorite City To Visit Due By
How Many Likes For Free Shoes?
Looks Like My Artist Has Had Enough
This Gem From 2018 | Severely Lowballing A Wedding Caterer
This Happened To My Mother Today. She (Out Of The Goodness Of Her Heart) Offered Our House To An Acquaintance Of Hers So He Could Make A Short Film. The Man Went Overboard And Asked Us To Give Him Access To The Whole House (And Basically Move Out) For A Week
Removing Plastic Drops $200 Off. Seems Legit
Oh The Hypocrisy
This Is Not A Babysitting Job
Stranger Wants A Custom Order For Her Wedding, As A Gift
I've Officially Dropped Out Of The Bridal Party. I'm A Size 12 With No Plans On Dropping To A Size 8 By December
Anything Else To Add Onto The List?
Male Seeking New Housemates For Free But Makes It Up With 'Fun Cool Vibes'
My Mom Has A Little Free Library In Her Yard. Someone Left Her This Note The Other Day With A Crossed Out Smiley Face
Actual Quote From An Influencer Who Wanted Me To Address 250 Wedding Invites And Save The Date Cards. If It's "Just Writing" Surely You Can Do It Yourself