Life is not just black and white, it's full of colors. It has colors of happiness, excitement, and joy. But sometimes these color comes wrapped in a sheet of sadness, longing, sometimes even regret. 
To know about such a bitter-sweet incident, BlaasianCowboyPanda posted a question on the platform, asking: "People of Reddit, what is the most bittersweet situation you've experienced?" Here are a few of those situations.
1.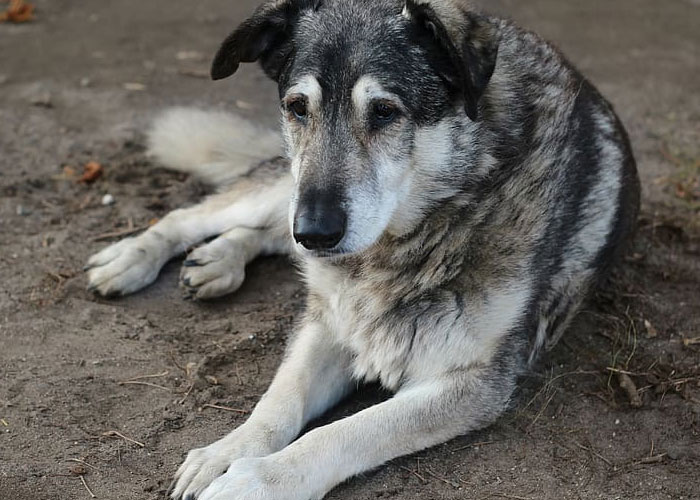 Adopting a decrepit senior dog with one hot mess of a body. He was cherished and adored by myself and daughter. My daughter was his main squeeze. He had health problems galore but he always persevered, and for a brief moment he got to BE a dog.
One year ago we helped him cross the rainbow bridge. My daughter made the decision that she would be there, she held his snout in her hands and kissed him the entire time. She was so brave, because of him.
2.
Sitting in the hospital room, mom was about ready to pass away from cancer, everything was shutting down internally. The date was my parents' 40th wedding anniversary. The last thing dad said to her was 'Thank you for 40 wonderful years.'
3.
Recently had one last sleepover with my childhood friend before he passed from leukemia. It was just like being kids again.
He couldn't do much at the point he'd reached, but we listened to music, watched Luca (which he hadn't yet seen), and just talked about life. And of course we stayed up way past bedtime haha
4.
Waking up from a suicide attempt.
Bitter because I woke up, sweet because I woke up.
5.
I always looked back so longingly on my first love. It was the summer we both turned 18 and it was my first time falling in love and everything seemed magic. She was a lifeguard and I still remember her long legs splayed over the lifeguard chair, her long blonde hair, her tan skin, her movie star sun glasses. On that lifeguard stand up high she was a shrine to everything summer. And I freaking loved summer. I had a manual labor job putting in swimming pools, damn that was so hot down there laying plaster with that Kansas City humidity.
We fell in love that summer and did everything together, every waking hour we could we spent together. In the day we would go down to the creek together and wade in the water and swim and lay on the shore, she always wanted to ride on my back across the creek to get to the other side, our side, where no one ever went but us. Sometimes we would climb on those oversized hay bales by my house and stare up into that cloudless summer sky and talk about what the future would be and going off to college and running track and the Olympics and how we would always love each other.
My favorite days though, God damnit I loved these days so much was when it rained. We both got off work when it rained so I would get an early call from my boss canceling my work and I would just lay there and smile and look at the ceiling and wait for my phone to ring, it was always her telling me to come over and we could spend the day together. Movies or the mall sometimes but usually we would climb over the gate to the swimming beach and go swim in the lake and feel the warm rain and dive under the water and come up over the dock. Best times of my life.
I've always looked back on them so longingly.I've been in love since and been married and divorced and dating but it seems my thoughts always came back to her. Even though we live in the same city it was 15 years since I had seen her. Back when I got married to someone else I had an outdoor wedding and even from the front I could hear her sobbing when I said the vows that I wanted to grow old with my wife, that was from a movie my first love and I used to watch together sometimes when it rained. She left right after the wedding and I hadn't seen her again for 15 years. I longed to see her, I even contacted her one time and suggested meeting up but she said she was happily married and would never meet up with me, even to just talk and reminisce. I longed to see her again just one more time.
Well it happened, I saw her again for the first time in 15 years. We were both at a U2 concert and we hugged and laughed and even danced when they played With or Without You. That night we all had a great time and we walked the women all the way to their car before going to ours. I realized when I saw her Honda minivan and sippy cups from her kids and saw her face that had gotten older that I didn't long for her. Don't get me wrong, she was still beautiful, incredibly beautiful. But she wasn't the girl on top of the lifeguard stand anymore. She had gone on with her life and had kids and drove a sensible minivan and wore sensible mom shoes. And then I realized I didn't long for her at all. What I had a longing for was me. When I was 18 and athletic and handsome, with my whole life ahead of me, that was what I longed for more than anything. A life before mortgages and bills and small backyards in the suburbs with fences, I longed for that part of me that was still back there with her at the creek. What it was like to fall in love and swim under the dock in the rain and laugh and hear the words I love you for the first time. I didn't miss her at all. I missed me. It was the most bittersweet realization of my life.
6.
About ten years ago just before she died of lung cancer, my mom called me by my childhood nickname, told me she loved me and then fell asleep. That was the last thing she ever said to me. I was 35 when she died and she hadn't called me that nickname in maybe 30 years. I still tear up thinking about it.
7.
My fiance's funeral. It was literally the first time I got to meet his mom. And she was such a sweet lady. When I tried to give her back my ring because it had belonged to her mother. She refused to take it, she told me "My son chose you to give it to. And it would be rude of me to take back his choice." She probably still has no idea how much it meant to me.
I literally have no pictures or anything of him. But I still have my memories and my ring I keep in my jewelry box.
8.
9.
Oh man. I'm always a sucker for the long love.
Amidst a loooong illness in hospice and dementia that meant he recognized no one my Grampie still lit up every day when my Grammie showed up. He would turn to whoever else was in the room and say "ah, I'm just the luckiest fella in the world to have the most beautiful woman in the world to love. I love you, Dolly."
She got to be there when he passed away and she died a few months later. I think she was just waiting for him to go first.
10.
My friend and his fiance wanted a baby and were doing IVF treatment and were down to their last chance. She got pregnant but my friend died three months in from a sudden heart attack.
So basically super bitter for six months but then his daughter was born and is healthy and beautiful.
11.
12.
Moving back to my own country after studying in the US for 3 years. I was sad to leave my friends, but happy to leave the country.
13.
14.
15.
16.
My first two pets were two parakeets (aka Budgies). Both passed about 5 months apart but they both said goodbye to me in a way I haven't gotten to experience with any other pet. They were never fully tame and mostly just liked to go out of their cage and spend time together on the curtains or somewhere else that they could perch.
The first to pass was eggbound and her passing was devastating but instead of being alone when she passed I was able to hold her and she rested her head on my finger and chirped once before her time came. The second lived for another 5 months and was never as bouncy as before but in the last month, for an unknown reason she became incredibly tame. Not only did she perch, she would run up to me and snuggle against me. She continued this until one evening she passed peacefully.
I still miss them to this day, but I will always appreciate the goodbyes they gave to me. Here's to you Sunny and Sky.
17.
Breaking up with my then girlfriend because her dream of moving abroad permanently was coming true. I was happy for her but sad to see her leave
18.
Well I may be getting deployed unexpectedly due to the current craziness in the world, so my wife and I decided to get married Saturday.
Happiest day of my life, but I'm nervous about possibly having to leave this week or next.
19.
20.
Holding my grandfather's hand as he passed away. It was incredibly sad to see him go, but also relieving to see that it was peaceful and that he had been released.
21.
Unintentional pregnancy the month after a miscarriage.
The pregnancy I'd lost had been planned, wanted, and tried for. The baby had a name and a place in the family I was building for myself. The miscarriage was physically traumatic, required surgical intervention, and had me seriously questioning if I ever wanted to be pregnant again if I risked that happening a second time. I had just decided that I couldn't face the thought of another pregnancy. And then I missed my period.
I got medical bills from my current pregnancy that said "prenatal care" and bills from my surgical procedure that said "incomplete abortion." I missed one of them somehow and got a call from a debt collector about it shortly after the second baby reached viability. (24 weeks of pregnancy, at which point the baby has 50/50 odds of surviving premature delivery.) My original due date passed and I was pregnant with someone else. And I couldn't get drunk about it, or even just lay in bed not eating or showering, because I was pregnant with someone else.
The second baby is a healthy toddler and is currently watching his big brother play video games. He is very loved. Carrying him scared the absolute s**t out of me.
22.
Watching my babies grow. Obviously I want them to grow well but if I could just pause time for a bit.
23.
At my grandmas viewing my little cousin (2)and her dad (my uncle) walked up to see her and to say their goodbyes. As they walked away my little cousin turned to her and waved goodbye
24.
25.26.
Getting the greatest job and worst boss at the same time.
27.
28.
The last conversation I had with my Grandad he was reminiscing about when he was a farmer, and started talking about his horses. I asked him how you took care of a horse back then (he stopped farming in the 1950s, the conversation was in 2004) and he spent a good 30 minutes explaining what they did and how much land you needed etc. A simple conversation about country life and animals, two of his favourite things.
I live in another country so when I said farewell I had a nasty feeling it'd be the final time I ever visited or saw that house. He died 10 months later. The next time I was able to get to England was in 2011 and I visited his grave instead.
29.
I finished University not that long ago. I was very excited because I literally went through four years of an engineering degree just for this moment and it finally happened. But the moment the graduation ceremony ended I just turned really sad. It's over. Everything good in University life is over. Plus I'm like, an adult now? What the f**k! I don't want that!
30.
Realizing there was a mutual love with a friend, but that it was platonic, and we absolutely wouldn't work as a couple
31.
32.

33.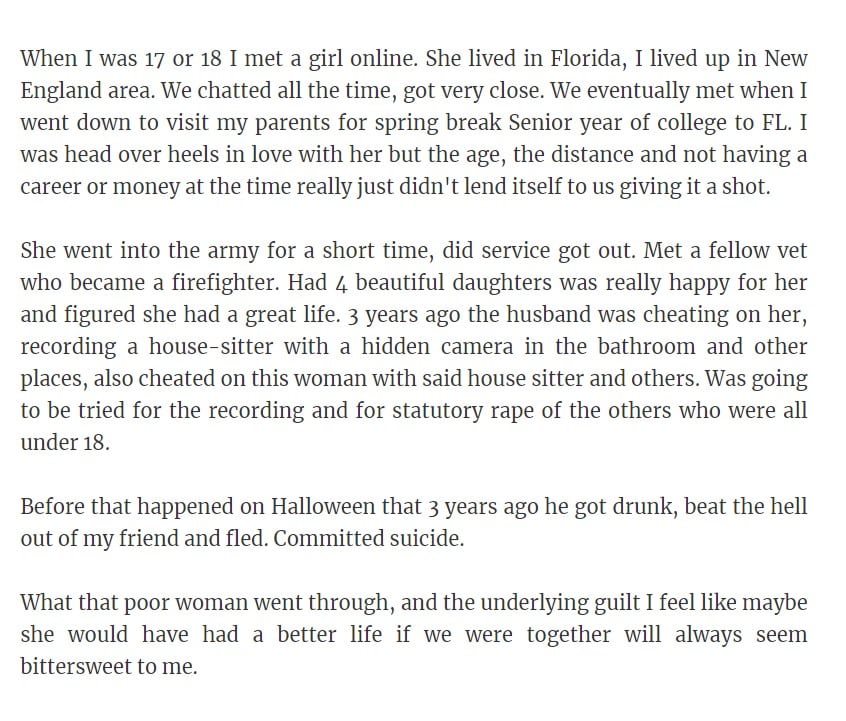 34.

35.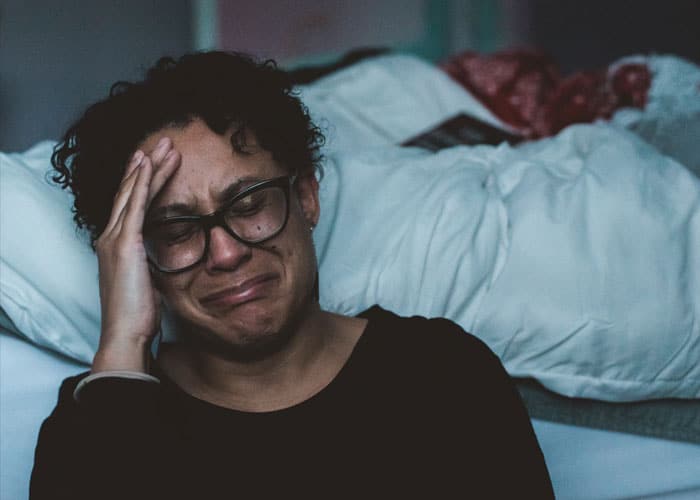 Finding out my housemates suicide attempt was just a cry for help