Everyone wants to look flawless. We want to have a perfect body and perfect skin. But scars and blemishes are something that truly defines us. 
Our birthmarks and scars make us "beautiful". And do you know what? You can transform them into a lovely canvas and fill them with colors of happiness. 
Here are some of the genius designs that coverup scars and birthmarks in the most stunning way.
The Most Meaningful Tattoo I've Ever Done. Scar Cover-Up For This Amazing Woman. I Have No Words To Describe This Process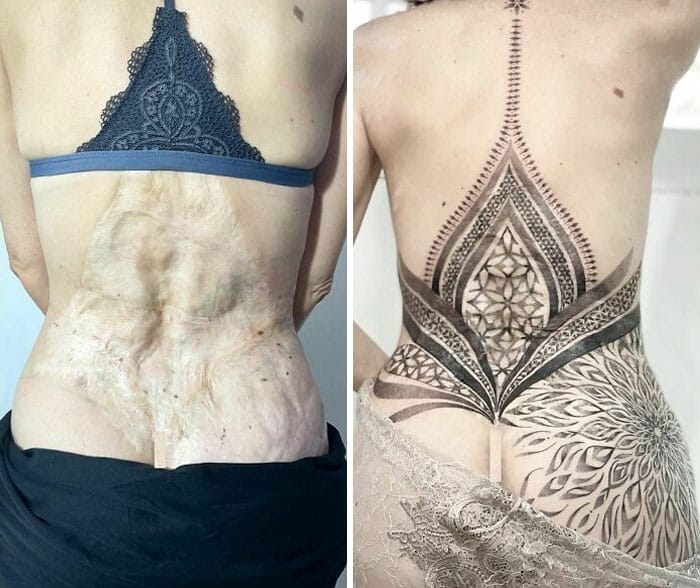 Check Out This Amazing Before And After Photo By Our Artist, Gustavo
Scar Tattoo
A Camouflage Of Childhood Domestic Burn
Lily On A Rock. Design Is Based On The Client's Birthmark
Make The Most Of What You've Got
Very Interesting Custom Project Around A Scar. I Guess I Could Call It "Scar Upcycling"
I Have No Words To Describe How Much I Was Looking Forward To Doing This Work And All That Are To Come
This Scar Cover-Up Tattoo
This Is Genius
Finally Done Something With My Scar
Turning Scar To Fishbone
Sometimes It Is Enough To Cleverly Integrate A Scar Instead Of Covering It
This Is A 40-Year-Old Scar And We Covered It With Some Cherry Blossoms And Butterflies
This Was Fun
My Nephew Finally Had His Burning Scars Covered With A Tattoo. I Am So Proud Of My Boy! Made Me Smile And Also Made Me Cry Of Happiness
Hooked
Got To Do This Rad Wine Glass To Work With A Birthmark Today
The Process Of Closing The Scars
We Continued A Project That I Really Enjoyed And Was Excited To Do. A Sleeve Of Snowflakes Between Birthmarks That Have Become Clouds
Covered Up Old Self-Harm Scars With My First Tattoo
Scars Are Tattoos With Better Stories
C-Section Tattoo Cover-Up
My Dog Running Across My Scar
Update On My Tattoo That Covers A Bad Nip, An Old Tattoo, And Some Top Surgery Scars
Simple Rainbow Concept
Scar Cover-Up
Paw Print Tattoo Around A Birthmark
After 6 Years, Many Laser Scar Removal Treatments, Scar Strips And So, I Decided To Get A Tattoo Over My Scars And Loving The Result
No Scars Are Impossible, They Just Need The Right Solution
Birthmark Transformed Into A Cherry
One Way To Work Around A Scar
Scar Butterfly
So My Sister Has Wanted Her Birth Mark Covered For A While Now And So She Wanted This
Something A Bit Different. Outlined A Good Friend's Of Mine Birthmark