Don't we love stories that restore our faith in selfless love, care, and humanity? Well, we have noticed a similar incident and you are going to love it. This story is of a sweet dad who decided to work on an icy road so his 38-years-old daughter does not slip. That's right! 
Elizabeth Bautista Boyd of Oklahoma is the lucky daughter who has received this sweetest gesture. Since the road was quite slippery, her father simply wanted to make sure that his daughter was safe. It doesn't matter to Boyd's dad that she is a 38-years-old woman because all he wanted to do was protect her.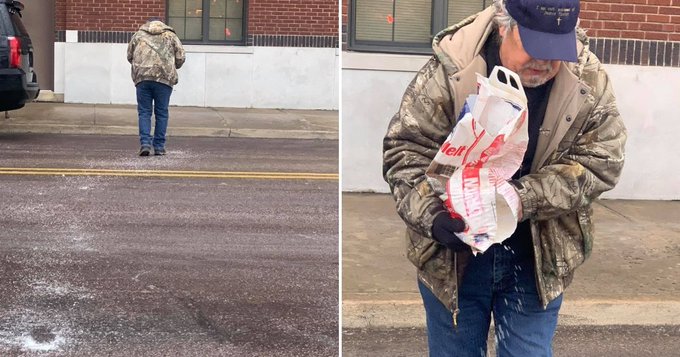 Elizabeth Bautista Boyd wrote on Facebook: You guys… THIS IS MY DAD. He drove to my workplace and waited on me to arrive so he could pour a trail of salt from my vehicle to the front door of my building so that I, his 38-year-old daughter, wouldn't slip and fall on the ice…My heart y'all… Love you daddy.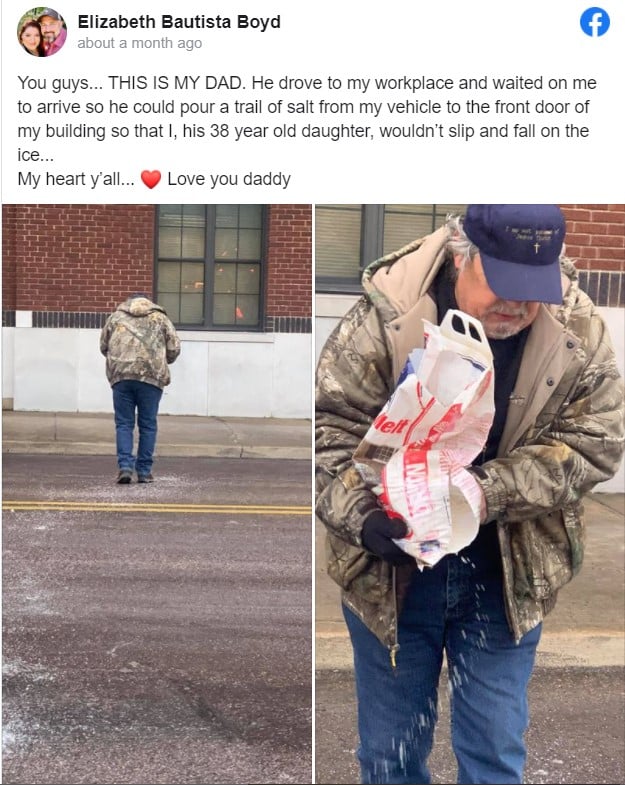 Kendra Christian Cosey joked: Where are y'all finding this kind of parents? Please let me know because I want one. I slipped and fell and my mom laughed. Crystal Cashion added: Too precious! My dad would've waited in the bushes nearby for me to bust my rump, so he could get it on camera. A few even remembered their late fathers. Teresa Burkhart shared: So Happy you still have your Dad mine has been gone 15 years I miss him every day. Qiana Michelle added: My dad Louis Raysor. RIP he was the best!!  ….funny thing he's still caring for me sending down blessings. This is awesome. Others were grateful for having similarly kind people in their lives. kerryceleste23 said: Both my husband and dad, on different occasions, have found my car in the parking lot at work to clear off the snow/scrape the windows after a snow storm. missmarcidarling shared: This is something my dad would do! I never got into a cold car in my teen years — he always warmed it up for me. 
View this post on Instagram
All daughters deserve a Daddy like this! We'd like to take it one step further saying everyone deserves someone like this in their lives.