The SpaceX Falcon 9 was launched successfully into the orbit on 7th October, Sunday. Falcon 9 rocket take off was one of the most significant breakthroughs for Elon Musk and his vision, 'to make humans travel into space and stepping into the spacefaring civilisation.' This technological marvel didn't just awe the space explorers and astronauts, and the booster looked like a beautiful feather of a bird in the Southern California night sky.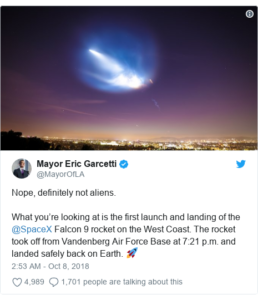 Eric Garcetti, the mayor of Los Angeles, told his citizens that they mustn't worry as this spectacular view isn't about the arrival of aliens but the launching of The Falcon 9. SpaceX successfully pulled off the launch and landing of their reusable Falcon 9 from, Vandenberg Air Force, California's West Coast at 7:21 pm. Eight minutes after the launch, the reusable booster of the Falcon 9 touched down on a concrete pad, marking the first West Coast Landing of SpaceX. The previous Falcon 9 launches were carried out from Cape Canaveral in Florida.
The Falcon 9 was launched to deliver the radar satellite for the Earth-observation, SAOCOM 1A satellite which was a complete success. But the view made by the rocket wowed the people across the region. This launch also prompted the awestruck Californians to post videos and photos of the rocket's comet-like light show on social media.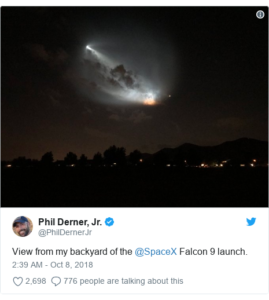 The day before the launch of Falcon 9, on Saturday, Musk warned the residents of Central and Southern California a warning which said there is a highly likely chance of a sonic boom and that won't be subtle.
The cargo which the Falcon 9 delivered SAOCOM 1A is the first of the two designs curated by Comision Nacional de Actividades Espaciales, the space agency of Argentina, created with an aim to observe the Earth. The high-resolution instruments carried out by the satellites can be utilised for land monitoring as well as during disasters.
Musk also celebrated the Falcon 9's success on Twitter that also includes an image of the touching down of the booster.
Source : BBC