While aboard a crab-fishing boat off the coast of Labrador, Canada, Mallory Harrigan, and her colleagues noticed something unusual. There, about 4 miles from shore, was a rather sizable mushroom-shaped iceberg — and it had an unwitting passenger stranded atop it.
"We thought it was a baby seal," Harrigan told The Dodo.
But then they got a closer look.
Turns out, the animal riding the iceberg was not exactly a seafaring species.
It was an Arctic fox — and he was in real trouble.
Read further to find out more about the intriguing account of their incredible discovery.
Three fishermen, Mallory Harrigan, Cliff Russell, and Alan Russell originally assumed that the small, gray creature they spotted floating on top of an iceberg was a young seal. They couldn't have been more wrong. Imagine their surprise when, upon closer inspection, they discovered that it was an adorable yet frightened arctic fox!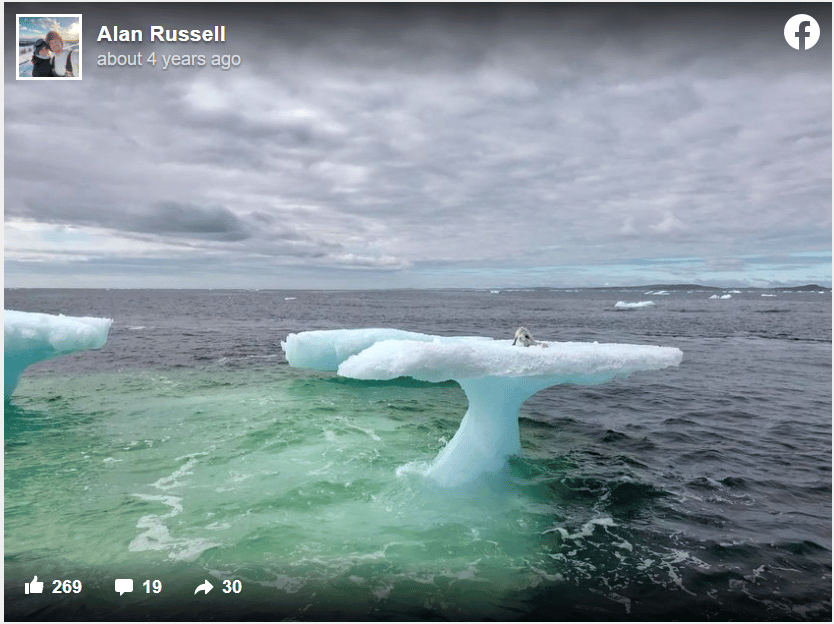 "We were able to get him aboard even though he fought it," Harrigan said. "We knew we were his only chance for survival, as the winds had changed and were driving all the ice farther out to sea."
Alan Russell of St. Lewis said his ship was about seven kilometers offshore when they spotted something on a nearby iceberg.
"We seen something on the ice. Wasn't sure what it was," Russell told CBC's Labrador Morning. "So we got up closer to it. It was a little fox, an Arctic fox. And he wasn't very big. He was soaking wet, and the gulls was trying to pick at him."
While the fox had good reason to have given up all hope, hope was now restored.
The crew tried to pull him from the mushroom-shaped iceberg tip, but the skittish fox wouldn't let them close. So they used the boat to knock the ice pan down and fished the fox from the water with a net.
"He was in pretty hard shape because it was so cold in the water," said Russell.
Then they began the journey back to dry land together.
The crew brought him to port in William's Harbour, where they have been fishing out of, and kept feeding him for a couple of days before letting him go.
"He wasn't aggressive at all," Russell said. "After a while, when he was coming around, he liked us more, because we were feeding him. And he didn't mind us after."
Russell said he has never seen an animal like that so far from shore. He figures the fox was probably looking for food on solid sea ice and then got caught when it broke up.
"He probably only had another day or so on the ice floe, or it would have foundered," he said. "And the way that the wind was, the ice was probably never going to go back into the land. He's a pretty lucky guy."
"We're glad to have saved an animal," Harrigan said, noting the fox seems to be doing well, and appears occasionally to remind his rescuers of the life they saved. "We can still see him from time to time!"
They dropped the fox off on an island with ponds and "lots of little critters and stuff" he can chase after.
The Arctic fox, given a second chance, was off to explore its new home.