Many people get nervous when boarding a flight. They get stressed and they get anxious. If you also feel the same thing when you are at an airport, there is good news for you. The San Francisco International Airport has a group of emotional support animals called Wag Brigade to improve everyone's mood. This group consists of 22 cute & fluffy animals and 1 adorable pet pig named LiLou. 
The airport has tied up with the San Francisco Society for the Prevention of Cruelty to Animals to boost everyone's mood. This group is always at passenger's service and are ready to melt everyone's stress with their cuteness. If you ever happen to pass through this airport and are a pure animal lover, you cannot ignore these cuties. When you are surrounded by Wag Brigade, you don't have to worry about anything because its members are certified by the Animal Assistance Therapy Program. 
Not to mention that the members of the Wag Brigade also have their Instagram accounts. So go on, check their adorable pictures, and make your day even better. Also, scroll down to read the interview with the SFSPCA and Jennifer Kazarian who is the manager of this cute emotional support animal group. 
Meet the Wag Brigade! It's made up of 22 dogs and 1 pig who help passengers relax at San Francisco International Airport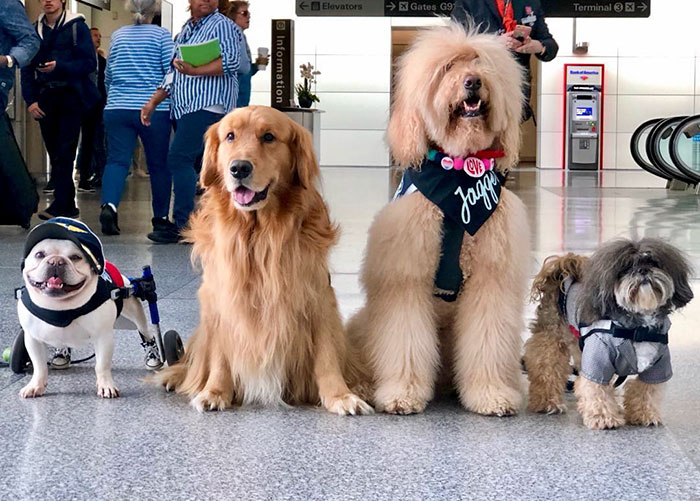 This is LiLou the therapy pig. She knows a whole bunch of tricks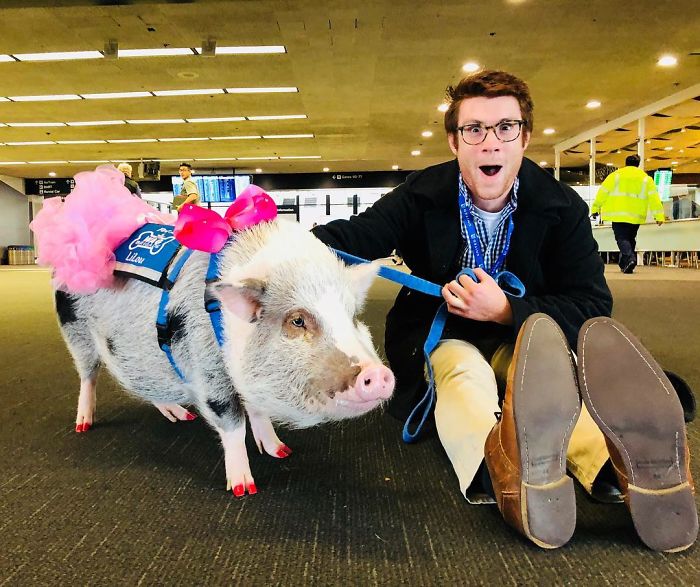 The animals are all certified therapy pets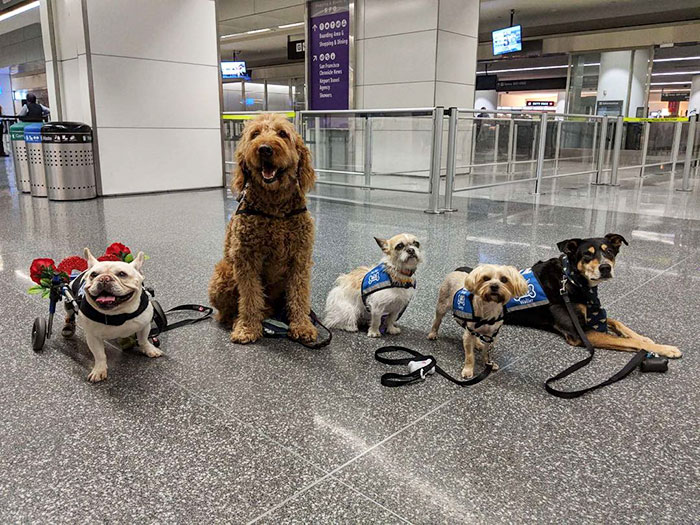 Talking a little about the Wag Brigade program, we came to know that it was started back in December 2013. From the time, the members of this group have been cheering up people. 
And the sweet LiLou the pig joined this amazing and cool group a couple of years ago. The best thing about her is that she is hypoallergenic and knows the amazing tricks that can make your day. She greets passengers with waves, performs with her toy piano, and stands on her back hooves. (That's so amazing)
Jennifer says that "she had noticed a trend with a few other Airports that had started similar programs and I was asked to take a look at those programs to see if I could create something fun and unique to SFO. The idea for mental health therapy dogs in Airports got started the day after 9/11 when an airport employee at SJC brought his therapy dog into work to ease passenger jitters and anxieties."
Every doggo has its own unique way of cheering up stressed-out passengers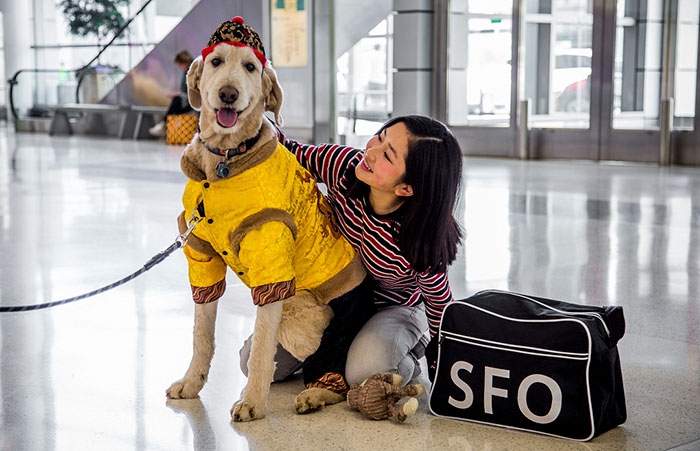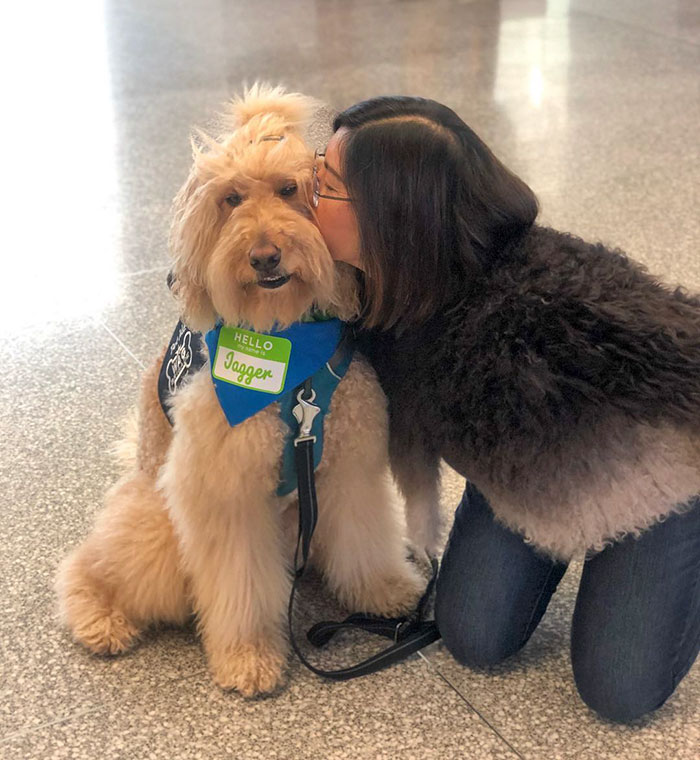 About this emotional support animal group, Jen says that "Scientific research shows that pets make us happier and healthier. Dogs love making people happy. It's been proven that petting a dog increases levels of oxytocin, the hormone responsible for making us happy; and decreases levels of cortisol, the hormone responsible for making us feel stressed and anxious."
We have also found what these cuties do when they are off duty. "All of the Wag Brigade animals are personal pets and when the animals are off-duty they accompany their human handlers as they go about their day-to-day routines. Most of the animals live in San Francisco and they enjoy fun dog activities like playing fetch at the beach or the park! Some of the smart dogs even pick-up additional volunteer shifts at local hospitals, nursing homes, colleges, and Puppy Dog Tales Reading (PDT) Programs."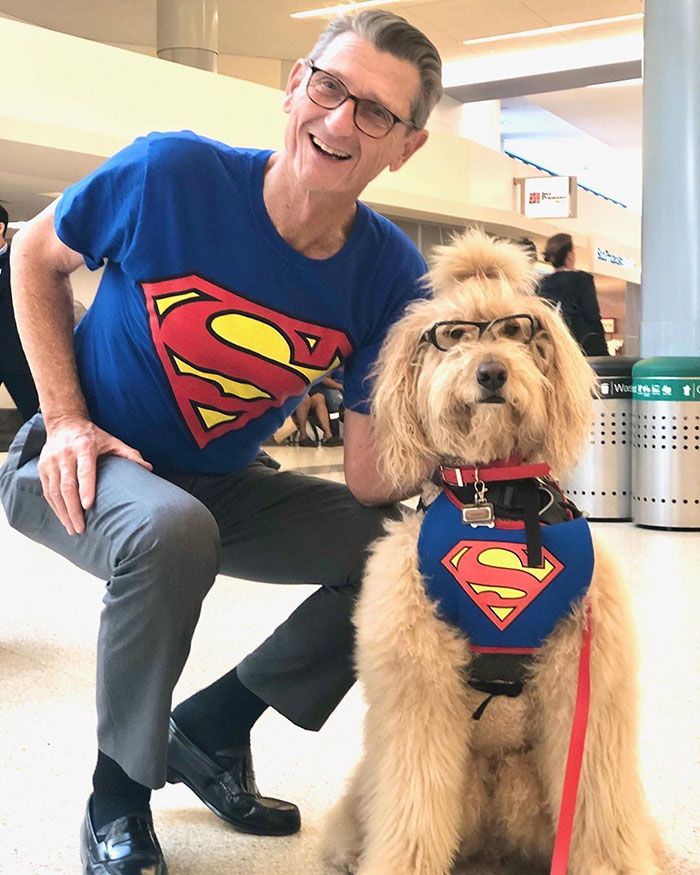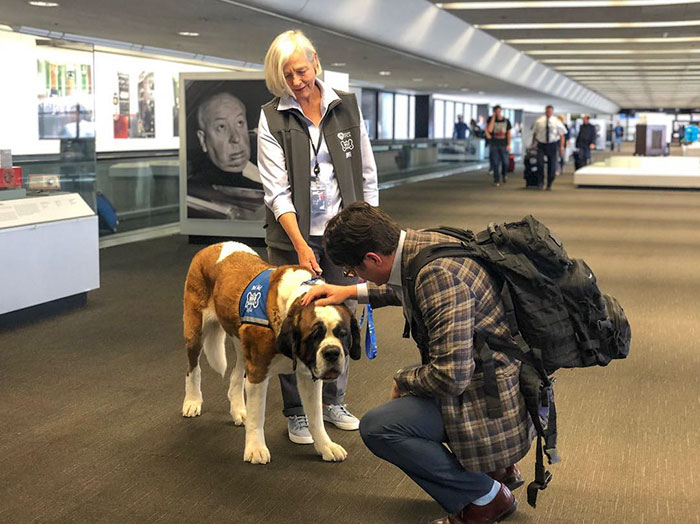 "Our main goal is to connect with our guests, bring people together, and to provide a memorable Airport experience," Jen added. "Our Wag Brigade dogs are required to pass a Canine Good Citizen Test (CGC), and all of the animals must graduate from the SF SPCA's Animal Assisted Interaction program; are required to have at least 6 months to a year of successful therapy experience working with other organizations prior to coming to the Airport to audition for the Wag Brigade." 
She also says that: "Potential Wag Brigade teams are evaluated for their temperament, as well as Airport suitability. It is especially important that animals are good with children. We look for animals with stable temperaments, friendly personalities, impeccable manners, and are very obedient. The animals are like Airport celebrities and they look forward to being loved and petted on here at SFO. It's a win-win for the animals and our Airport guests!"
LiLou is one of the most popular members of the Wag Brigade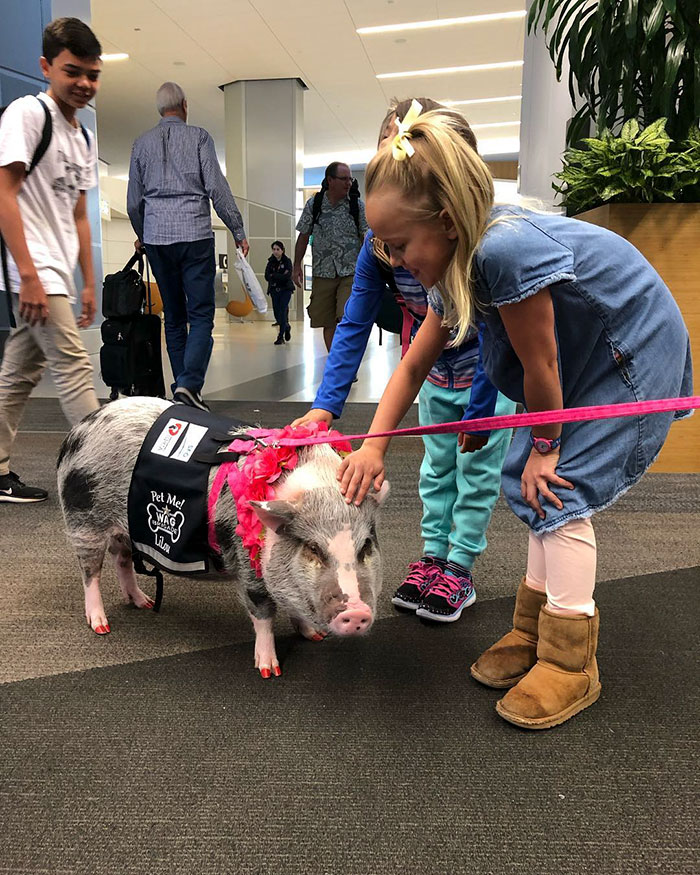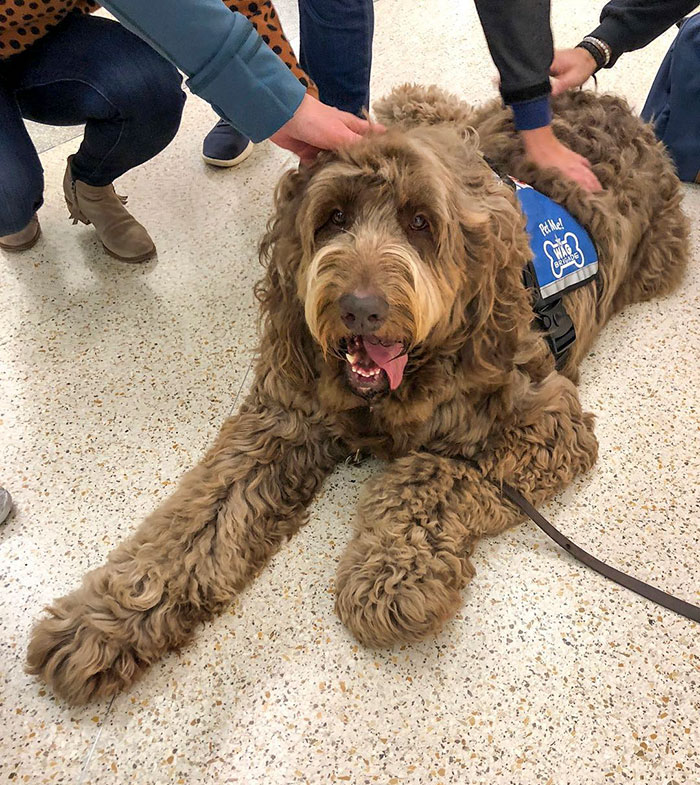 Besides Jen, Krista Maloney of SFSPCA says that SFO approached them when the program was launched in 2013 in December. "SFO had noticed other airports starting therapy programs and wanted to do something similar."
Maloney has also told us that the members of the Wag Brigade have helped people reduce stress. "Several studies have shown that interacting with animals can improve mood, decrease stress, lower blood pressure, and possibly increase cardiovascular health."
"All of the animals in the Wag Brigade are part of the SF SPCA's Animal Assisted Interactions Program. They are trained and certified therapy animals who are owned. At the end of their Wag Brigade shift, they go home with their guardians. You can learn more about our Animal Assisted Interactions program."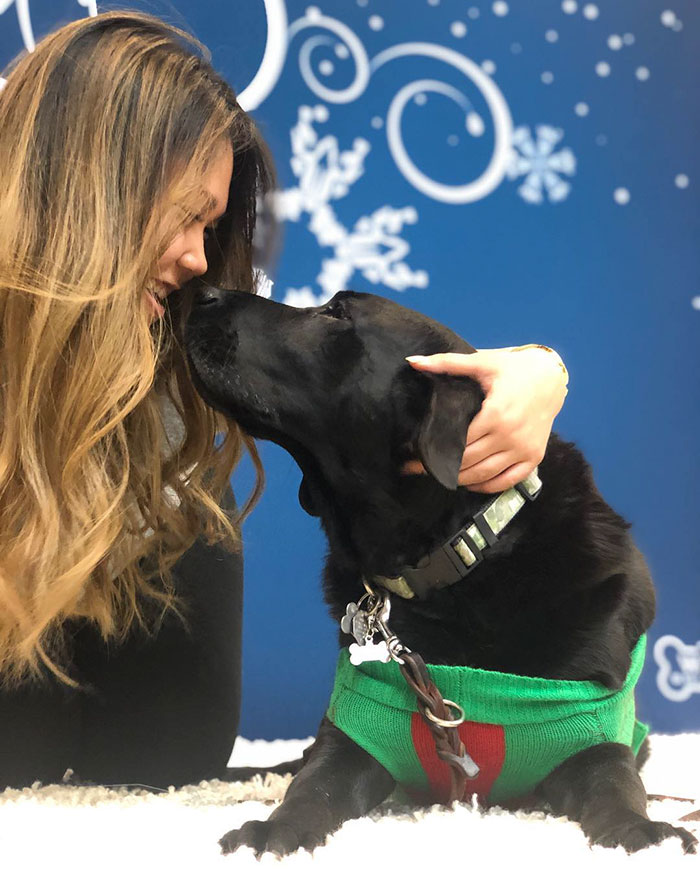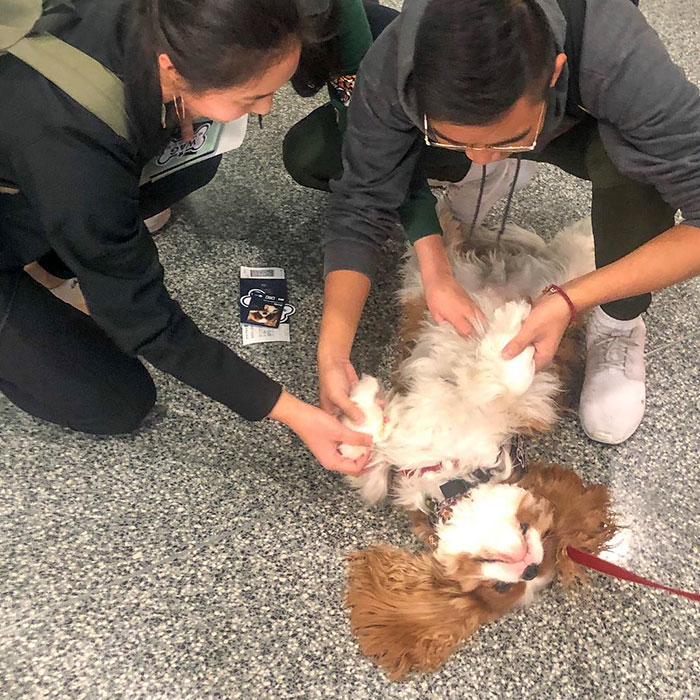 Jennifer Kazarian, the manager also told us "The reaction from our passengers is really positive." She also says that "When a Wag Brigade animal walks into the terminal, we see people look up from their devices, and they start to interact with each other and they start to interact with the dog, and it puts a smile on everyone's face."
Kazarian told that initially this group only had 6 members but over the years "the engagement was just amazing. So from then on, we were like okay—send more dogs!"
The best time the Wag Brigade group rescue people is when their flight is delayed or canceled. Each of the members of this amazing group has its own way of cheering people and they never fail. Like LiLou waves, Jagger loves to weave in and out and in again through people's legs, and Brixton rolls on his back.
Kazarian says "We often hear people say things like: 'I miss my dog more than my wife' or 'I just got back from a two-week vacation and this is the best part of my trip,'" when she told us about how much people love this rescue group.
The internet gushed and aww'd when it learned about the Wag Brigade










Don't forget to tell us how much you liked the Wag Brigade group in the comments section.