Samsung Galaxy S9 and Samsung Note 9 have been the two best flagship phones for Samsung in 2018. Honestly, if someone was looking the best android phones to buy last year, it had to either Samsung Galaxy S9 or Samsung Note 9.
Buying a smartphone itself is a task nowadays. Every day a new smartphone gets launched, and the previous ones are getting updated with more startling features.
Hence, we are here to give you the reasons why you should not invest your money in buying either Samsung Galaxy 9 or Galaxy Note 9 at the moment.
It's 2019, and many renowned smartphone manufacturing companies have some significant communiqués for the world. So, instead of wheeching we recommend you should wait for a month or two before squandering your money.
About Samsung Galaxy Note 9
Talking about Galaxy Note 9, Samsung had launched a power-house. With a long list of some eye-catching features and upgrades.
The Galaxy Note 9 comes with a brand new S-Pen Stylus, a substantial high-resolution display, a flagship SoC from Qualcomm, tons of storage and massive battery life.  Though Galaxy Note 9 wasn't a cheap phone, it's highly recommended if someone wanted to buy a smartphone for multiple uses and tends to run it for a long time.
About Samsung Galaxy S9
Samsung also brought another power-house named Samsung Galaxy S9. This phone came with some exciting and fresh upgrades and features along with cameras, we can say it is the best innovation of Samsung. It's cameras genuinely feels new and unique feature of Galaxy S9. It is powered with an octa-core Qualcomm Snapdragon 845 processor.
Why shouldn't you buy either Samsung Galaxy S9 or Galaxy Note 9 right now
There is not a slight doubt that Samsung did a great job with Samsung Galaxy S9 and Galaxy Note 9. These two are the best phones available in 2019 presently.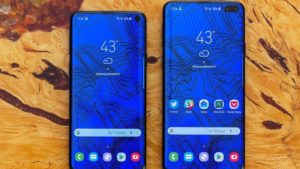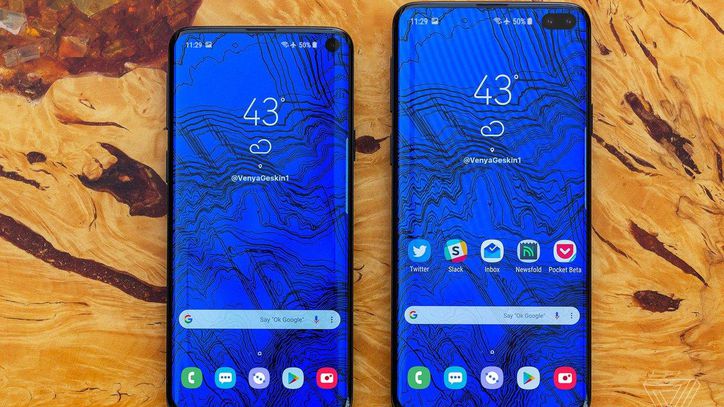 Now to beat these two powerhouses, Samsung is pumped to launch its newest iteration of S series which is SAMSUNG GALAXY S10. And it's not just Samsung, other big brands like OnePlus is all set to launch their OnePlus 7, Apple is going to launch there next iPhone etc.
Let's talk about the Samsung Galaxy S10!
Yes, Samsung is hot to trot to launch yet another masterpiece of theirs. Samsung Galaxy S10 will be available in February 2019. So just a couple of more days left for investing your money on the right device.
It is expected that Samsung revamped everything right along with Samsung Galaxy S9 & Note 9 designs and make it better. Although Galaxy S10 will still have curved edges on the right, left and back. However, the most significant difference might be the smaller bezels both above and below the screen.
We also expect that the Samsung Galaxy S10 body might BE SLIMMER than that of Samsung Galaxy S9 or Note 9.
Samsung will incorporate ultrasonic fingerprint sensor in the Galaxy S10. That means now to unlock your phone, open secure apps, or make payments, touch a specific area on the screen.
There is reportedly, a 12 MP camera with a wide-angle sensor and a telepot sensor for optical zoom and portrait mode photos, plus a 16MP camera with an ultra-wide-angle to capture even more details. Samsung has joined hands with Huawei to have triple lens cameras on two of it's three Galaxy S10 models.
This year Samsung will also feature next-gen 7nm chips in its Galaxy S10 and S10 plus that'll be more powerful and more efficient than all the previous Galaxy phones.
EndNote
Last but not least, Samsung Galaxy S10 will offer all that we didn't found in Samsung Galaxy S9 or Note 9. With all these features coming up in a Galaxy phone we staunchly believe the wait is worth it. Hence we strongly recommend all the smartphone users who are willing to buy a new smartphone right now not to buy a Samsung Galaxy S9 or NOTE 9 and wait for the new Samsung Galaxy S10.
To know more about Samsung Galaxy S10, you can watch this video:
Trust us; you won't regret your decision!
Samsung Galaxy S9 review
Samsung Galaxy Note 9 review