Salma Hayek- 53-year-old, Mexican and American film actress and a successful producer as well. Despite the fact that she is in her 50's it seems like her juvenile is gaining with time.
Hayek started her journey in Mexico with her debut in El Callejon de Los Milagros then slowly moved towards her Hollywood dream. She became famous from her film Desperado which was aired in the year 1995.
In this busy glamorous world, many are attempting to redress the balance and provide a much-needed dose of reality on social media. Similar to the Grombre movement. Which encourages people to embrace their grey hair and positivity in their body positivity.
https://www.instagram.com/p/CBgaLbuD1iU/?utm_source=ig_web_copy_link
Similarly, many celebrities are also trying to involve in being a more realistic representation of life. As opposed to a perfectly filtered part-reality that purports to be perfect.
Recently, actress Salma and captioned her post sharing with her fans a makeup-free, no-filter selfie – "#selfiesunday #nofilter #nature". And fans were stunned by her fresh-faced appearance.
Most Beautiful Woman on the planet
One enamored commenter wrote-
"The most beautiful woman ever," while another added, "No makeup needed ❤️❤️ you look so young." A third said, "Wow so beautiful without make up".
Another commenter exclaimed-
"Is it possible that she is even prettier without the makeup?!?!…"
To her recent selfie posted on Instagram, her followers are awestruck to her immortal looks. Even anyone can just stare her for hours.
Earlier also Salma Hayek has posted a stunning picture of her says- "#sundayvibes #grateful que tengan un lindo domingo" – which interprets "Have a nice Sunday".
https://www.instagram.com/p/B_cesGKJtWh/?utm_source=ig_web_copy_link
One of her fans has commented –
"After Keanu Reeves, she looks immortal."
Following this, another wrote
"Salma, please share your beauty tips with us? You look so youthful.😍😍"
The actress never dyes her hair. She enjoys being in the present. "It's my natural color, and it's my natural white hairs," she said to the interviewer.
The Oscar-nominated Hayek has crossed over 14 million followers on her Instagram account. Her upcoming work is going to release in the late 2020s. Her recent starter films -Tale of Tales (2015), The Hitman's Bodyguard (2017), and Like a Boss (2020).
We can easily predict that her body is flexible enough and age is just a number to her. Hayek's Instagram account is flooded with many stunning selfies. And each one of it depicts her ever glowing beauty and glace of her face as to how she embraces her age.
Salma Hayek has spoken candidly about her relationship with her body image in the past. In an interview with Harper's Bazaar way back in 2016, she confirms that –
"I am entering my fifties so your body confidence isn't that good. I think it depends on the day, for everybody, there's some days you say, 'This is it,' and you love it. Then there are days when you go, 'This can not be it! Is this really it?' So I think it's up and down all the time!"
https://www.instagram.com/p/B816k_zJ0Hr/?utm_source=ig_web_copy_link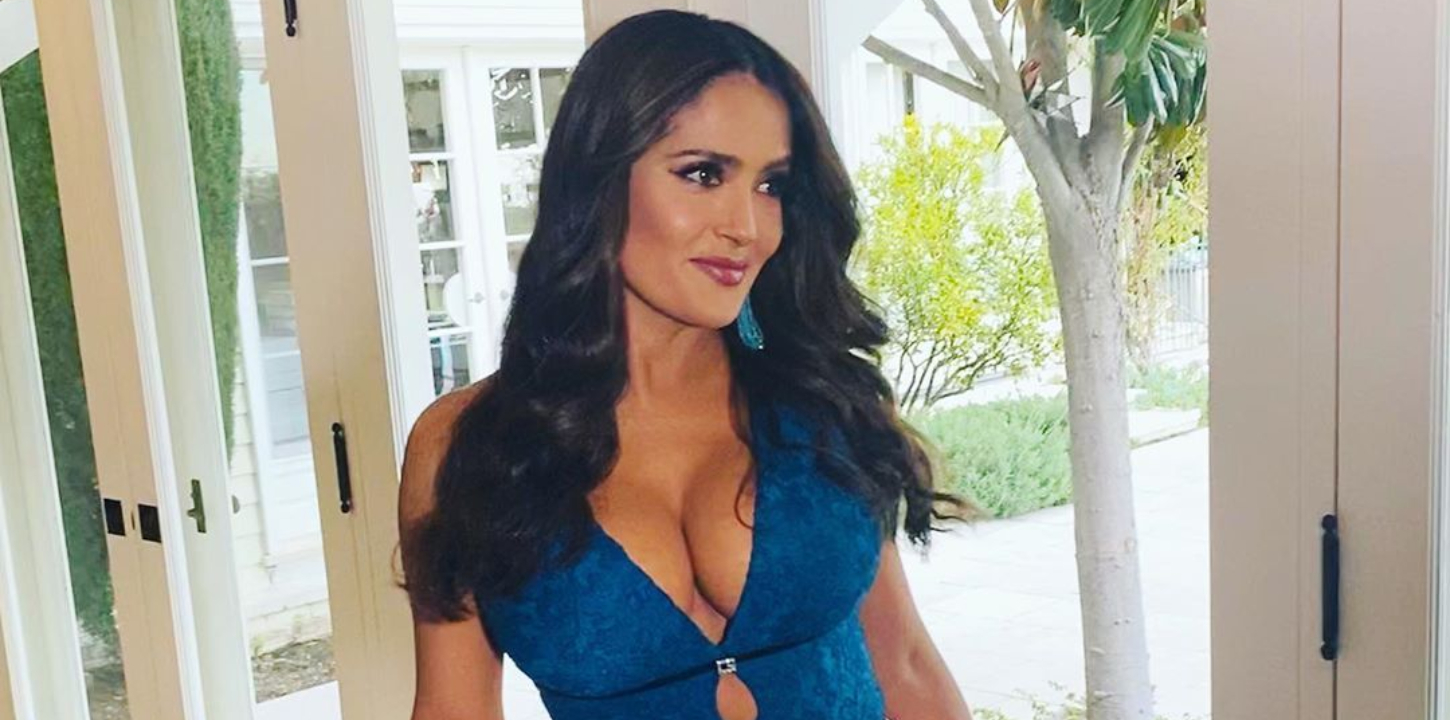 (via Instagram)