Expedition 57 Flight Engineers Oleg Kononenko and Sergey Prokopyev of Roscosmos are getting ready to wander outside the International Space Station for a walk in the space at around 11 a.m. EST on Tuesday, Dec. 11. NASA Television inclusion is presently in progress and accessible on the office's site.
Through the span of around six hours, the pair will utilize this walk in the space to look at an area of the outside body of Soyuz MS-09 shuttle right now docked to station, and if time grants, recover outer investigations.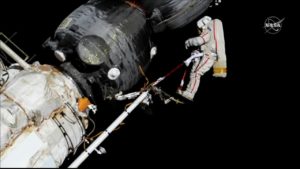 In late August, a weight spill happened from the space station that was followed to the Soyuz. Inside hours subsequent to finding the wellspring of the break, team individuals fixed the opening and the station has since kept up unfaltering weight.
The cosmonauts will take tests of any buildup found on the body and take advanced pictures of the territory before putting another warm cover over it. The examples and pictures will give extra data that will help the examination in the reason for the weight spill.
Source: NASA Blogs and Space.com