On Tuesday, Robert Irwin delighted fans by replicating a classic shot he took with his late father, Steve.
The 19-year-old conservationist posted an Instagram flashback photo of himself as a child sitting on his father's lap and clutching the wheel of his father's truck.
Robert Irwin then posted a photo of himself driving the ute.
'My dad's ute… it's a special car. From early memories when Dad would park and let me pretend to drive, to more recently when I took my drivers test in it (and somehow managed not to stall it).

'I remember my first solo drive in this car after I got my license – it was to the hospital to meet my niece for the first time, right after she was born. And now, the ute still comes on road trips to this day.'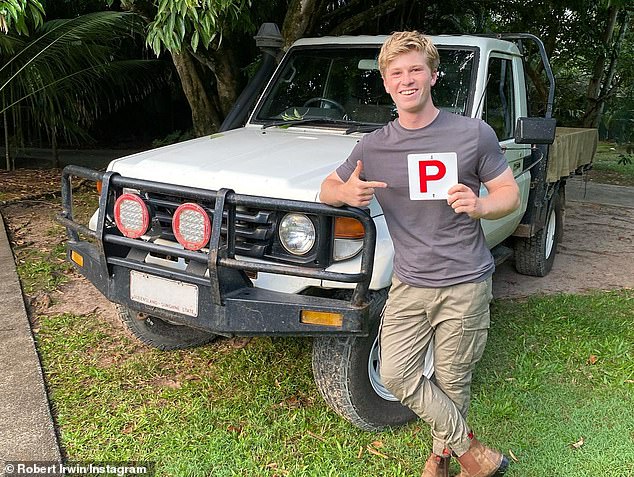 After learning to operate his late father's utility truck, Robert Irwin earned his driver's license.
Steve, aka The Crocodile Hunter, died on September 4, 2006, at the age of 44, after being punctured in the chest by a stingray barb while filming Ocean's Deadliest in Queensland.
The Irwins, especially Robert Irwin, his sister Bindi, and Terri, have kept Steve's memory alive at Australia Zoo through their conservation activities.
The Crocodile Hunter Lodge, a luxury cabin complex built within the zoo grounds, is the family's most recent memorial to Steve.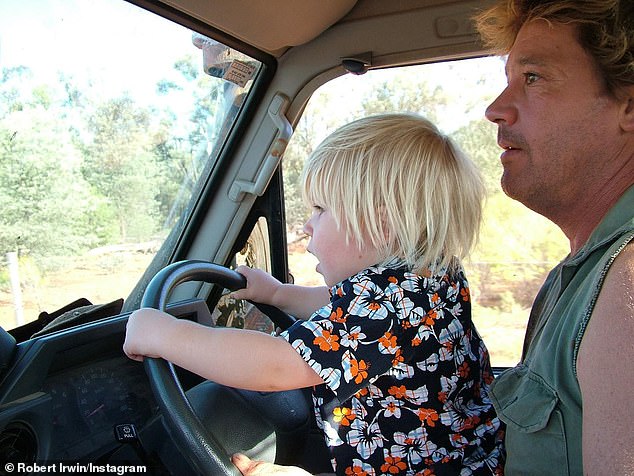 The elegant accommodations offer modern conveniences within the lovely gardens, while cottages that sleep four are listed on the website for $949 per night.
The property also includes a restaurant called 'Warrior,' named after Bindi's father, Terri's late husband, Steve, and his granddaughter, Grace Warrior.
In a recent Instagram Stories video, Robert Irwin revealed that some of the wood used in the buildings was repurposed from Steve's crocodile grandstands.
'So, a lot of the lodge is actually kind of in a way hand built by dad,' Robert Irwin said in the clip.
Robert Irwin

He went on to claim that the three trees in front were also "originally planted by Dad" and that the location was Steve's ideal.
Terri also participated in the film, noting that Steve had always wished for visitors to have an immersive experience.
'Steve had always hoped that one day guests would be able to stay overnight at Australia Zoo. 'Enjoy the immersive experience,' she advised.
'It was so important to us to make his dreams come true with beautiful luxury accommodation surrounded by our conservation work we are known for.'