Not every dog that's happy today had a great start. While some had troubled childhood, some were not fortunate enough to get the basic joy of life like playing in their own yard. But luckily, these cuties got super great hooman who walked a few extra miles for their furry friends. If not all, at least Bentley's owner did this thing. 
Since Bentley is a bloodhound and weighs almost 120 lbs, no one was ready to keep this cutie in their apartment. But his owner did not give up on him and bought her own place. 
Bentley's owner KaTarra and her boyfriend Nick worked hard to give this cutie a yard that he deserves. 
Say Hello to Bentley, the good doggo.

Here is KaTarra's Facebook Post.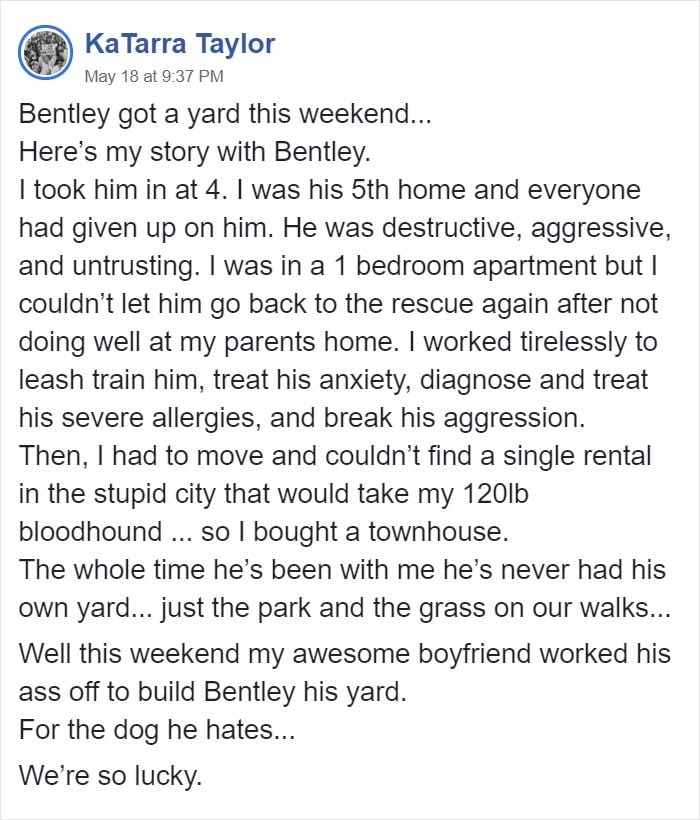 "I bought a townhouse in 2018 because no one would rent to me with a dog Bentley's size, He loves wherever we are because I'm there as well."
Before the beginning of the project lawn.

That's the finished look of the luscious green lawn.

Good things don't happen for free. You have to do a great deal of working to make them happen.

Nick is drilling into the concrete floor to make some space for a little lawn.

It's now time to get rid of all the mess.

All cleared out and ready for the next step.

How can we expect the grass to grow without any soil?

Voila! It's done for only $400. All in just one day.

"Bentley loves his little grassy area. We've even added a canvas shade for him. Nick really went above and beyond on this project."

He already has his spot picked out.

That's the sign of a happy doggo.

Any celebration is not complete without a family photo.

That's a memorable photo of Bentley and his new buddy.

We are so sorry to hear about your doggo.

Some positive affirmations from the people.





All dogs deserve to be treated in the best way possible.


He sure is one lucky doggo.