Heavy fire caught up in Butte County and the rain helped the fire fighters to set the fire down. Within few minutes of fire, arrival of fire engines was found to battles the fire which actually sparked on 8th November. Fire Department as well the captain Doug Ross has been working nearly for 12 days to put the fire off.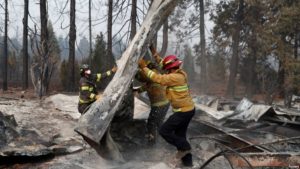 Definitely heavy work is been involved and rain is a real bliss and blessing. 3700 and more people are helping the fire team to set the fire off along with them California Conservation Corps also have joined. From the base camp almost 1300 fire fighters were sent to their homes and thanked them for their great service during the times of battling the wildfire.
The sources say that this work will be continued for some more weeks, because the focus the entire community's safety.
Source 1: www.news24.com
Source 2: www.apnews.com
I am an amateur content writer, who is currently pursuing a Masters in Finance from ICFAI Business School. In this highly volatile Business Market, I find no better way to keep myself updated than to write about it and reflect my own thoughts as words.