Get married, they said. It will be romantic, they said. But is it romantic?
Here are a few people who have shed some light on married life, so everyone knows what they are signing up for.
Look, I'm not saying married life is *all* bad, but I think we can agree it definitely has its ups and downs.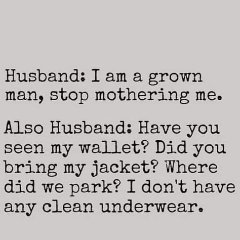 Then, of course, there's the passive aggression.
#Marriageis neither of you folding the laundry and just pulling out what you want to wear until you both die pic.twitter.com/lUZgaOlTCD

— Des 🔮🗡 (@MrsBioBB) March 1, 2017
Sometimes you have little moments where you get to sit back and enjoy the show.
View this post on Instagram
And then there are times where you just have to shake your head because no one told you (married) life was going to be this way.
Asked my husband to help me unload the dishwasher and he said it's the second time today he's unloaded the dishwasher so I need you guys to help me figure out the parade route and also if it's possible for him to be knighted.

— Marissa 💚🦃💛 (@michimama75) August 19, 2020
Facebook Notice for EU! You need to login to view and post FB Comments!