Don't you ever get a feeling that the world and we living in it are twisted? I mean we've constructed incredible cities, flown to the moon, and learned s many interesting things. But we have not gotten rid ourselves of all the insecurities, inequities, and injustices that plague our everyday life.
Luckily, there are libraries, places that are perfect for taking a break from all these nuisances. The idea that we ought to fill a building with books to borrow for whoever asks is just so beautiful in its simplicity. There is nothing but upsides to a calm, quiet area where everyone can hang out and read.
And a recent thread on Twitter illustrates this point wonderfully. It all started when one librarian from Atlanta recalled an experience they had with a confused woman.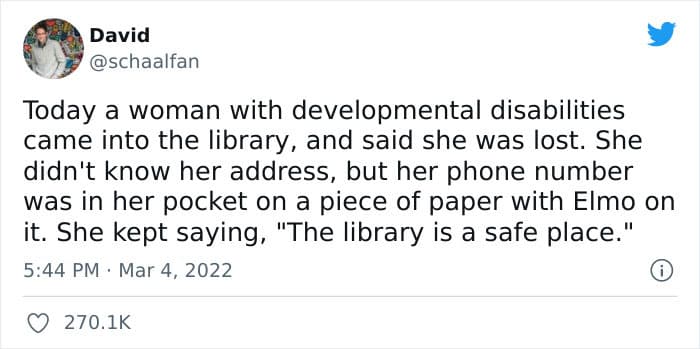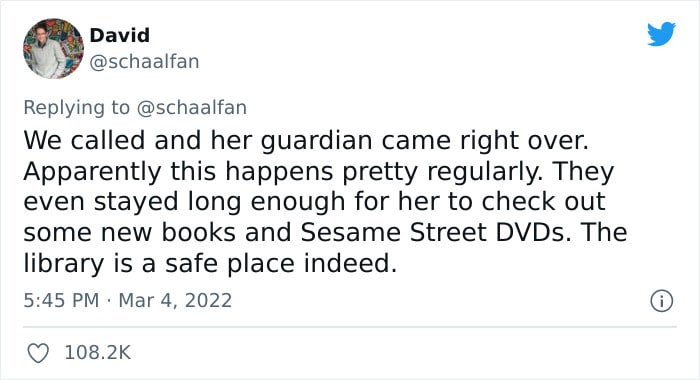 David's wholesome tweet instantly prompted others to share their own stories of libraries being safe places and has quickly evolved into a collective read that can warm even the coldest of hearts.
1.
According to the International Federation of Library Associations and Institutions (IFLA), libraries form an important part of the public service infrastructure, complementing other institutions such as schools, health centers, and cultural centers, as well as non-public actors such as NGOs.
They frequently have an explicit mission to serve all members of the community, in particular the vulnerable, and are associated with educational opportunities.
In fact, in many places, they are the only genuinely public indoor space. As such, there is both an opportunity and a duty to respond to the need for safe spaces.
2.
3.
4.
Information is a key driver of development; it is what allows us to take better decisions for ourselves and those around us, to innovate, and to create. Providing access to this information in a meaningful way is therefore essential to development, from the individual to the global level, and libraries play an integral part in delivering this.
While it has long been understood that a more literate and educated population is good for overall social and economic progress, some countries are increasingly underlining the direct role of libraries in reducing poverty, in promoting full and active citizenship, democracy, and free expression, and in supporting sustainability.
5.
6.
7.
The young, who are moving from a situation of dependence (being fed information directly by teachers or families) to independence, take on new responsibilities and must make big choices. As they collect new experiences and find out new things about themselves, the importance of being well-informed grows, as well as simply having a quiet place where they can be calm, and be themselves.
As each person discovers their identity, their information needs become more and more diverse. They often meet challenges – isolation, institutional problems, and literacy, amongst others (and often more than one at once) – that leave them particularly vulnerable. Rapid economic and social change can intensify these situations.
8.
9.
10.
11.
12.
"Libraries do see themselves as community hubs," Michael Lynn, Service Development Manager for the Northern Ireland Library Authority, explained. "We do try to offer that space that people need within communities if they want to come and browse books, if they want to engage in some of our activities, read a book, to study or use our computer facilities."
The organization oversees 96 physical libraries and Lynn said they're all different; each one has its own particular niche within the community. "Some of them are big bustling libraries, like city center libraries such as Lisburn and Belfast Central. But then you go into the smaller communities, not just rural communities, some of the smaller urban communities, and you find there is a real core of people who do use the libraries and depend on them and look forward to using them."
13.
14.
15.
Libraries offer plenty of different types of events, too.
"We've got events for children in terms of school class visits and storytimes … for moms and wee toddlers," Lynn said.
"We've got reading groups for adults, tea and newspaper clubs, Knit and Natter where groups can come together. We've got our digital offering as well, our Go On sessions that we run for people. They will cover all sorts of activities like scam awareness, using iPads, money-saving ideas, and tips, how to use WhatsApp and Zoom."
16.
17.
18.
19.
As Lynn said, it's not just about books anymore. Libraries are working to create something that meets the needs of everyone.
"It's also about bringing people together socially," he continued. "It's about trying to combat that social isolation that there is in urban and rural communities. It's giving people a sense of place, giving them somewhere they can come, they won't be bothered, and do whatever it is they need to do."
And judging from this Twitter thread, people definitely value these efforts.
20.
21.
22.
23.
One recent story from New Zealand perfectly describes the people who work at and visit libraries.
As the country celebrated a national holiday, one of its largest city libraries was closed, with staff and security giving the day off. However, an error with the automated door programming meant Tūranga's doors opened to the public as usual – and the unstaffed and unsecured library was happily used by the public, who browsed and checked out books for hours before someone realized what happened.
As well as its books, the library is also home to a wide variety of artworks and sculptures – but staff says nothing was stolen, and there were no serious incidents to report.
24.
25.
26.
A library staff member at Christchurch city council said 380 people came into the building that Sunday morning.
"Our self-issue machines automatically started up and 147 books were issued by customers. No book-theft alarms went off, and at this stage, nothing has been reported missing, nor have we spotted any damage."
"We're grateful for the honesty of the people who used the library during this time," Bruce Rendall, the head of facilities, property, and planning at Christchurch city council,l added
He said there had been an investigation and the door system failing was "very rare".
27.
28.
29.

30.
31.
32.
33.
34.
35.