People with disabilities have to deal with small things. Putting a pair of shoes on their feet or dressing up looks like an obstacle for them. Thus, to make things handy for them, Nike has come up with a slip-on shoe design that you can shop from their website of physical stores. So, let's discover what the GO FlyEasy by Nike is like.
Adaptive clothing has largely gone unexplored by major brands — until recently.
View this post on Instagram
Meet the GO FlyEase sneakers.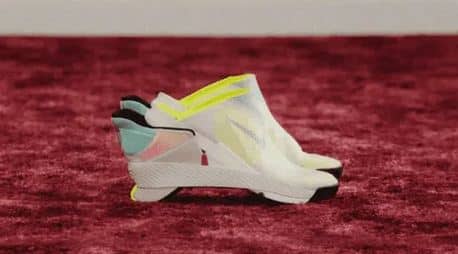 The FlyEase line was inspired by teen Matthew Walzer.
View this post on Instagram
The FlyEase shoes continued to evolve, culminating in the GO model.
View this post on Instagram
People absolutely love the design.
Disability design for the win!

In 2012, Matthew Walzer, a teen with cerebral palsy, wrote to Nike asking for athletic shoes for disabled people. Nike invited him to collaborate in the design of the original adaptive Nike FlyEase shoe. https://t.co/0S3cAUhCCY

— Jaipreet Virdi (@jaivirdi) February 1, 2021
They immediately recognized how great the shoes would be for people with disabilities.
How amazing is this?! For people with limited on no hand functioning, this could be the difference in having to have support with shoes and independence. Brilliant!! https://t.co/E9dAhulrBK

— Tara (@TaraH_OT) February 2, 2021
They're so well-designed that everyone wants a pair.
Yessss @Nike this Nurse is thrilled 💪🏽 https://t.co/Jreay9vuUW

— Kim (@fatmacsmom) February 2, 2021
It's seriously the perfect shoe.
As someone who works with kids and adults with disabilities, this is a MAJOR victory in the shoe world!! Love this for the disabled and elderly!! ❤️👟 https://t.co/cCQBfR5zWW

— Jonathan Will (@sjcchoops) February 2, 2021
Some people likened them to a certain iconic pair of pop culture shoes.
I'm signed up for the @Nike Go Flyease because it's the closest I'll get to owning power laces. 3/19.

— Christopher Majewski (@MagicWhiskey) February 6, 2021
People happily shared how much the shoes would change their lives.
@Nike Thank you for creating a the Nike GO FlyEase! My younger brother has cerebral palsy and for years we have difficulty finding shoes for him due to his feet "scrunching". The way the FlyEase opens, we hope to try them and see if it slips on better! Either way we thank you!❤️

— Chelly M.M. (@Chelly58861579) February 4, 2021
The shoes are already a success.
I have to say I am really excited by Nike's creation of a shoe meant for people with accessibility issues, like me. Bending down to put shoes on or tying laces with my arthritic hands are both extremely difficult. I can't wait to get a pair. https://t.co/ubtib68OqY

— Ali-Kat (@HublouAlicia) February 4, 2021
However, some people have pointed out that Nike's marketing has missed the mark.
This article touches on the difficulties of inclusive design. The message becomes entrenched in a "build for one extend to many" approach which can ultimately ignore the original intended audience … people with disabilities https://t.co/eiqoAcXfkg

— Ross Mullen (@MrRossMullen) February 6, 2021
They have been launched on February 15.
Nike is taking accessibility to the next level! 🙌

Today, The Swoosh unveiled the Nike Go FlyEase, the brand's first hands-free sneaker. pic.twitter.com/tYbdS2uxeI

— Nice Kicks (@nicekicks) February 1, 2021
Are you going to try and cop a pair?