The Toronto Raptors forward, OG Anunoby, might get traded to the Minnesota Timberwolves very soon. The Timberwolves are struggling with their team's combination right now. They signed Rudy Gobert to fix the shortcomings of their star, Karl Anthony Towns, but the duo failed to perform. Now, either of the two players is set to get traded, and since Karl will give more returns, he is more likely to leave.
The Indiana Hoosiers product Anunoby played 67 games for the Raptors last season and averaged 16.8 points, 2 assists, and 5 rebounds per game while shooting 38.7 percent from beyond the arc. The Timberwolves would be happy to get him along with a few assets in return for their star. Can they make it happen? Here is all the information you need about the trade between the Toronto Raptors and the Minnesota Timberwolves involving OG Anunoby.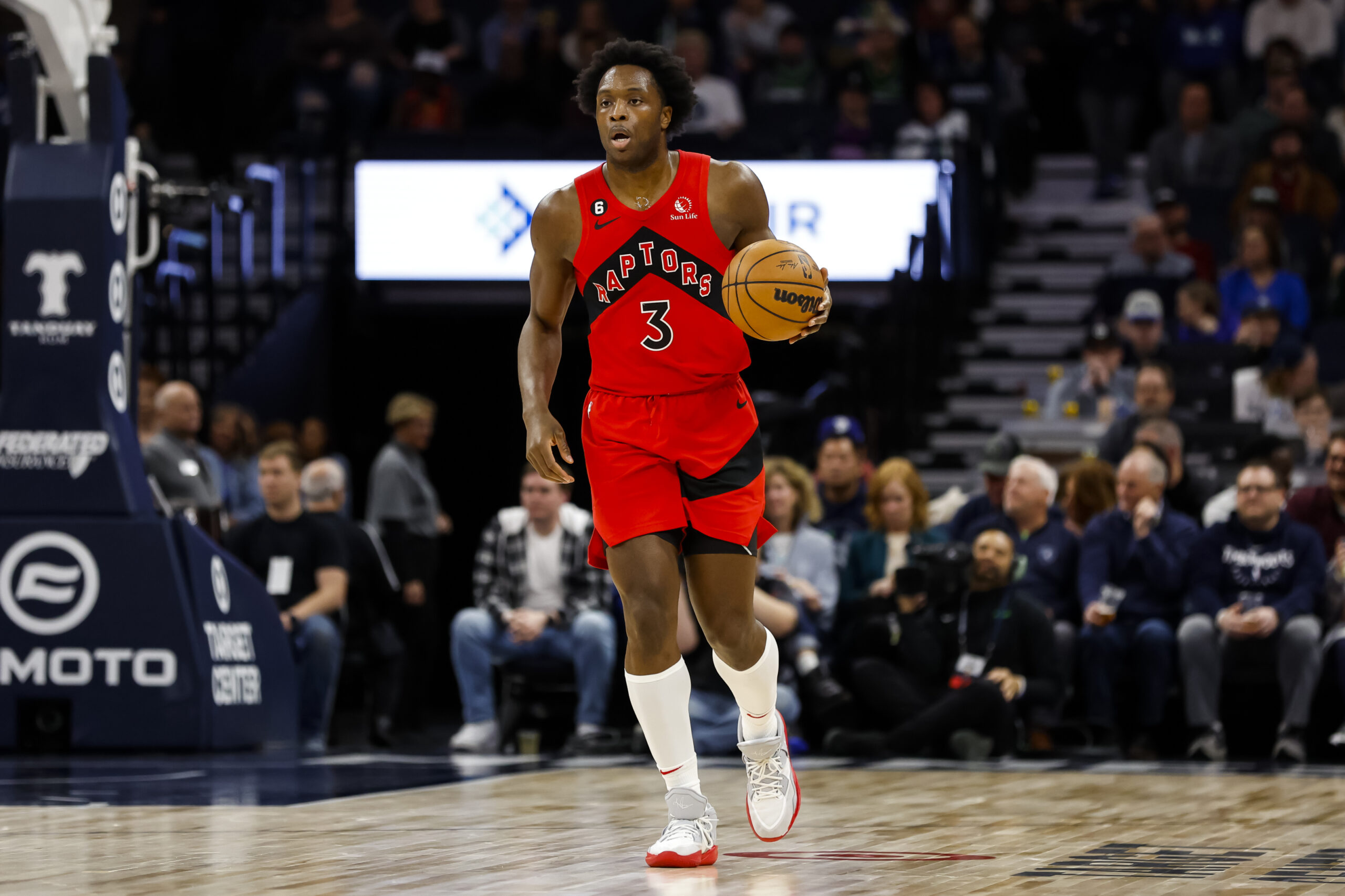 What would the Timberwolves offer for OG Anunoby?
The Timberwolves are expected to offer Karl Anthony Towns in exchange for the Raptors' #3, Gary Trent and a 2026 first-round pick. Karl is a player who would need a lot of changes to settle down in a team, while Anunoby does not; he can play the role of support cast to the star player of the team.
#Sources — Toronto has cooled off trade talks completely on both Pascal Siakam & OG Anunoby. Raptors will reassess throughout the regular season and into the upcoming trade deadline. #NBA

— NBATradeReport (@NBATradeReport) July 31, 2023
Why would the Timberwolves like to sign OG Anunoby?
Nothing has worked out for the Timberwolves lately and they are desperate for some changes. Now, they have found the player they are going to build around in Anthony Edwards. Signing Anunoby would give the Timberwolves a huge boost since he can take care of the defense with Rudy and Jaden McDaniels and Edwards can take charge of the offense.
Despite losing VanVleet, the Raptors believe they can still compete with the top teams in the East and do not want to trade OG Anunoby, Pascal Siakam, or Gary Trent Jr.

-via Brett Siegel pic.twitter.com/E36MRJuq6N

— . (@GTJGotNext) July 1, 2023
Why would the Raptors trade-off OG Anunoby?
The Raptors would land a star in this deal, and they probably have one of the best players who can complement Towns. Pairing Pascal Siakam with Towns might do the trick for the Raptors. Will they do it even if it means giving up on a draft pick?
Will Karl perform after the change in surroundings? How will Anunoby help the Timberwolves? We'll keep you updated.