A 6-year-old boy from Georgia born without leg bones and arms aims to become a detective. To achieve his dreams, he has got the best mentor who will lead him to learn things he should know to become a pro detective.
A veteran officer, Rolf Seiferheld from the Duluth Police Department meet the boy on downtown patrol. He instantly liked him and was happy to know about his passion. Since they've met, the two have created a bond like no other.
Officer Rolf Seiferheld met Harrison Humphries at the beginning of 2021. Soon they realised that both have the same values in life and they were destined to meet.
Harrison said he wants to work in law enforcement to "help people get better," reported 11 Alive.
Seiferheld enrolled to be an officer with a similar outlook: "Be kind, and treat people how you want to be treated. Show them the respect they deserve," he told Hiptoro.
In May this year, the duo was captured together by a bystander sharing a moment with each other. The Duluth Police Department shared the photo to their Facebook page, and it gained many likes and comments: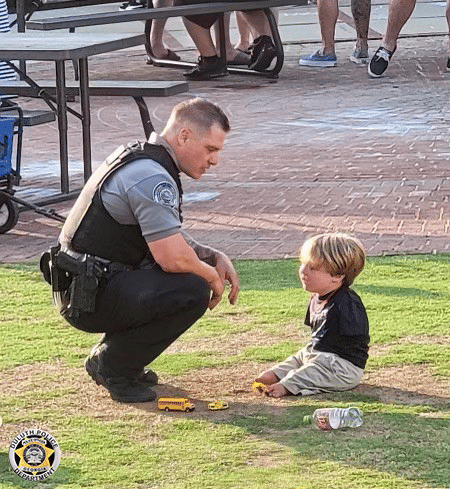 "Someone attending last week's Food Truck Friday event in Downtown Duluth witnessed our very own Officer Seiferheld taking a moment to speak to this little guy," they posted.
"He was super excited as they spoke about his toy trucks and wanted to see Officer Seiferheld's patrol car!"
The Police Department also stated that such moments show people the "true colors" of the local law enforcement.
Tara, Harrison's mother told us that, officer Seiferheld has been nothing but kind and encouraging toward her son and his brother. She added, that many people are scared of Harrison and would not prefer interacting with him.
"Harrison was born without arms and then also minimal bones in his legs, so he has the absence of his hips, fibulas, and femurs," Tara said. She further added that they were told by the doctor that he would never be able to have an ordinary life where he could feed and walk by himself.
But the courageous boy never gave up, and did manage to use his feet just like many others would do to perform daily activities. Tara is happy and proud of her son.
Harrison can comb his hair, brush his teeth, try to dress and undress unassisted, and be involved in playing games just like normal kids do.
According to Tara, his dream is "to be a detective or the head police in charge."
Harrison and Seiferheld have a fixed meetup on officer's Friday night downtown patrols, and they agree that they eagerly wait for the day because it is the best part of the week.
During their weekly meetings, Harrison and Seiferheld help each other out. While the officer can tell his protégé all about what life in law enforcement is like, the 6-year-old takes inventory of the officer's kit. He's the cutest little helper.
"I think this is a relationship that can continue to grow, a partnership, which is what a community should be," Tara told Hiptoro.
Isn't this story heartwarming? Let us know what you think about the duo in the comment section below.