The Miami Heat's current season has hit an unexpected hurdle with the sidelining of Tyler Herro, a pivotal figure in their offense. Herro, who sustained a Grade 2 sprain on his right ankle, faces a recovery period that could significantly impact the team's performance. The Heat, who have already been grappling with issues in offensive consistency, find themselves in a precarious situation, ranking among the bottom five teams in offensive rating.
Tyler Herro's injury occurred during a game against the Memphis Grizzlies, a situation he described as immediately alarming. "I felt it and I kind of knew mentally. I heard some crunches and cracks in my ankle," Herro recounted to Anthony Chiang of the Miami Herald.
The Search for Offensive Stability
The Heat, fresh off a three-game winning streak, now confront the challenge of maintaining momentum without one of their key players. While stars like Jimmy Butler and Bam Adebayo continue to contribute, the team's reliance on Herro's scoring prowess is undeniable. The absence of his average 22.9 points per game leaves a significant void.
Miami's search for consistent offensive support now turns to players like Kyle Lowry, Duncan Robinson, and Haywood Highsmith. However, without Herro, the team risks slipping further in offensive ratings, a situation Adebayo acknowledges but remains optimistic about. "We'll get him back when we get him back. The biggest thing for him is getting healthy," Adebayo stated post-game against Memphis.
#HEATWin final – Miami 111, Charlote 105

🔥 Butler: 32pts, 5asts & 4rebs
🔥 Adebayo: 21pts, 11rebs, 4asts & 3stls
🔥 Robinson: 18pts (4 3s), 8rebs & 5asts
🔥 Jaquez Jr.: 17pts & 5asts
🔥 Highsmith: 12pts, 5stls & 4rebs pic.twitter.com/M63WN52Pwb

— Miami HEAT (@MiamiHEAT) November 15, 2023
Herro's Ascendancy Amidst Uncertainty
Tyler Herro's journey this season has been a narrative of resilience and excellence. Amidst offseason trade rumors, Herro has not only secured his place with the Heat but has excelled, posting career-high numbers in points, rebounds, assists, and shooting percentages. His performances, including back-to-back 30-point games against the Bucks and Nets, underscore his importance to the Heat's lineup.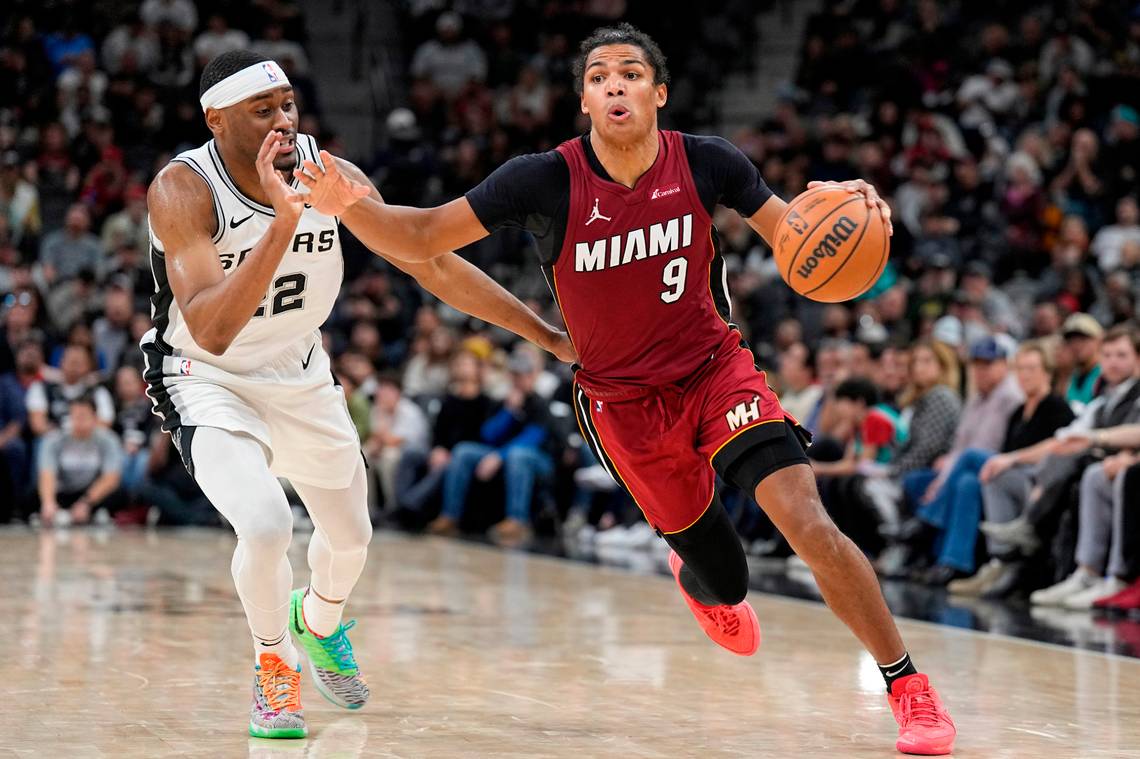 Looking Ahead: The Road Without Herro
As the Heat venture into their upcoming games, including a challenging matchup against the Brooklyn Nets, the focus will be on adapting their strategy in Herro's absence. With both teams facing key injuries, the game promises to be a test of depth and adaptability for Miami.
In conclusion, while Tyler Herro's injury is a setback for the Miami Heat, it presents an opportunity for other players to step up. The team's ability to adapt and find new sources of offensive production will be crucial in the coming weeks as they navigate this challenging period. Herro's eventual return will be a much-awaited boost, but for now, the Heat must find a way to keep the flame burning.