It's not every day that a world-renowned pop star decides to crash her mom's honeymoon. But then again, Miley Cyrus has always danced to the beat of her own drum.
Unexpected Company in Paradise
In a rather surprising turn of events, Miley Cyrus decided to join her mother, Tish Cyrus, and new stepdad, Dominic Purcel, on their honeymoon getaway to the picturesque landscapes of Hawaii. As per an exclusive photo acquired by PEOPLE, the "Wrecking Ball" singer seemed right at home as she accompanied the couple on a snorkeling adventure off the Big Island's shores.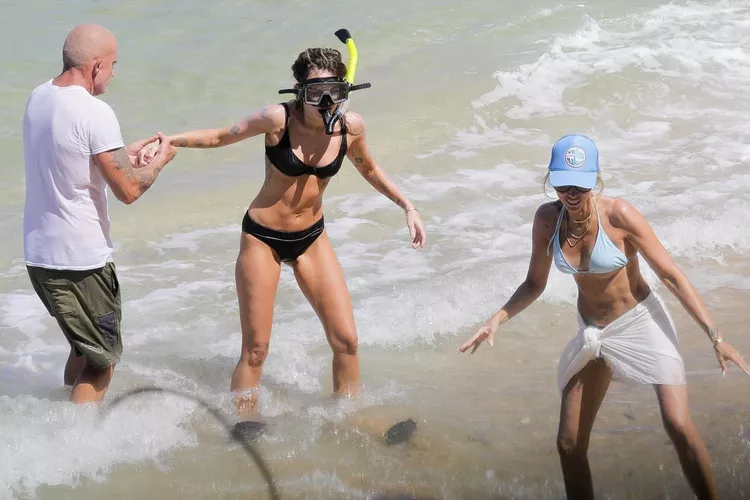 The candid shots display the Cyrus ladies, both Miley and Tish, suited up in snorkel gear, ready to explore the vibrant underwater world. And while Miley showcased her beach-ready look in a sleek black bikini, Tish opted for a radiant blue bikini ensemble, perfectly complemented with a matching baseball cap and a flowing white cover-up.
Fairy Tale Wedding Vibes
From the sounds of it, the wedding was nothing short of magical. Reflecting on the ceremony, Tish conveyed her overwhelming emotions to Vogue. "It was like I was in a fairy tale," the glowing bride remarked, adding, "The most romantic fairy tale you could ever imagine."
View this post on Instagram
Such heartwarming sentiments were further echoed in a subsequent Instagram story posted by the newlywed. Amid the delightful chaos of the honeymoon and unexpected family visits, Tish shared a serene moment showcasing her and Dominic in a cozy embrace by the pool. The post was later followed by an inspiring quote, perhaps summarizing the essence of their love story: "In God's perfect timing, everything will turn out right!"
In Conclusion
While most would expect a honeymoon to be an intimate affair, the Cyrus family has never been one for convention. As Tish and Dominic embark on this new chapter, their Hawaiian escapade with Miley only proves that love, family, and a sense of adventure make for the perfect blend. And as the saying goes, 'ohana means family, and family means no one gets left behind. Even on a honeymoon.
Source: People