One of the gyroscopes required to steer the Hubble Space Telescope failed, resulting in impaired functioning of the telescope.  Regarded as one of the most advanced and critical among scientific instruments that have been developed, the telescope has been put in safe mode, till the issue is resolved.
Launched in 1990, the telescope is presently working with four out of six gyroscopes, after one failed over the weekend. The telescope needs a minimum of three gyroscopes for optimum performance.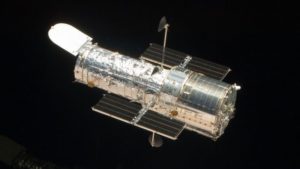 Scientists are now attempting to bring the failed gyroscope back on stream with flight controllers trying to get it online for replacing the failed gyroscope.
In the event that the malfunctioning gyroscope does not recover, the observatory will have to work on a single gyroscope, which will affect the functioning of the telescope while preserving the remaining gyros for a longer period.
Source :  slashdot.org
I am an amateur content writer, who is currently pursuing a Masters in Finance from ICFAI Business School. In this highly volatile Business Market, I find no better way to keep myself updated than to write about it and reflect my own thoughts as words.