Dow Jones plunges eight hundred points as the increasing prices spark fears. The volatile week has escalated the stock markets across the globe into a frenzied sell-off. The European stock markets are plunging to their lowest level in the last twenty months on Thursday.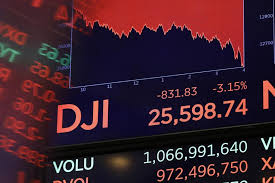 After Wall Street suffered the biggest drop in the eight months, FTSE 100 fell to a six month low and the Dow Jones loses more than eight hundred points. Closing at 25,605 points, it was the worst day for the index in the finance market since February. The lender of last resort, 'International Monetary Fund,' has warned that that world economic growth has been crimped by trade tensions and a tit for tat over tariffs. Faangs- the US technology giants, Facebook, Apple, Amazon, Netflix, and Google, were featuring the best-performing stocks over the past years. But now even they have also endured some great losses. Dow Jones and the S & P 500 lost more than three percent overnight and it is considered the worst declines since February.  
Source: NBC News
Pursuing a integrated degree of engineering and law, got into content writing as a hobby. Started my initial work on multiple pages on Facebook and after receiving experience shifted to writing articles.