Manny Pacquiao will next fight against Andrien Broner. The legend of the sport, Pacquiao is 39 years old almost at the end of his career. But the icon still holds a regular WBA title, which he won in Malaysia while stopping Lucas Matthysse.
The power of old were the hints in the fight and that can be a problem to Broner. The disputed American has been drifting between light-weight and welterweight. Broner has not won since 10 round split decision victory against Andrien Granados in February 2017. Later in the same year, Mikey Garcia moved up to outscore Broner. In 2018, Jessie Vargas is the one he drew his only fight with.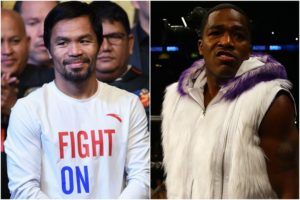 In next week, Broner and Pacquiao will be on a media tour in New York and Los Angeles, were they will announce the venue and date of the contest.
Surprisingly, Pacquiao left his promoters Top Rank and has joined with Al Haymon and the premier boxing champions.
Pacquiao's fight with Broner will be the first outing deal that can make him to rematch with his old opponent Floyd Mayweather .
Source 1: www.boxingnewsonline.net
Source 2: www.straitstimes.com
I am an amateur content writer, who is currently pursuing a Masters in Finance from ICFAI Business School. In this highly volatile Business Market, I find no better way to keep myself updated than to write about it and reflect my own thoughts as words.