Coronavirus caused a delay in filming the second half of the season but could be back on track soon
If reports are to be believed, the production of Lucifer season five begins later this month. The fans will get a better idea about when is the fantasy drama streaming on Netflix.
Back in March 2020, when the spread of COVID-19 was rapidly increasing across the globe, the show that features Tom Ellis as crime-solving devil Lucifer Morningstar was forced to be put on hold.
According to reports in TV Line, the show will commence production at the end of September which will finally let them finish the shoot of the season finale and begin with production to recently confirmed Lucifer season six.
Earlier in an interview, Ellis said that the season finale was shot 60 per cent and that it would take long enough to finish the final cut in ordinary times.
But however, the past few months have been very tough. And keeping the guideline of social distancing in mind is going to make the process "challenging".
So here is everything that we know about the show and when can we expect to stream on Netflix.
When is Lucifer season 5, part 2 released on Netflix?
There are no such confirmations by the production team on when the show will be streamed on Netflix, but what we know is that the production team in commencing the filing of the season finale on priority from the 24th September, published by TV Line.
Warner Bros were reached out by RadioTV.com on getting comments on getting a release date.
Earlier, Tom Ellis has to Collider in an interview that it would take "five or six days" to shoot the season five finale. Post that is is just the editing work and adding the clips to the already shot parts.
During an interview with Pilot Tv podcast, Ellis went on to speculate the release date by quoting" Hopefully that'll be ready to go, I would imagine, sort of Christmastime or early next year."
It is predicted that the fifth season of Lucifer will be streaming on Netflix somewhere around January 2021, which gives enough time to the production team to polish everything and present the final cut.
But there is no certainty about it looking at the number of rising cases in Los Angles. It is one of the cities in the United States which has been hit hard by the effect of coronavirus. Thousands of cases are reported in California each day making the situation worst.
How will coronavirus affect Lucifer?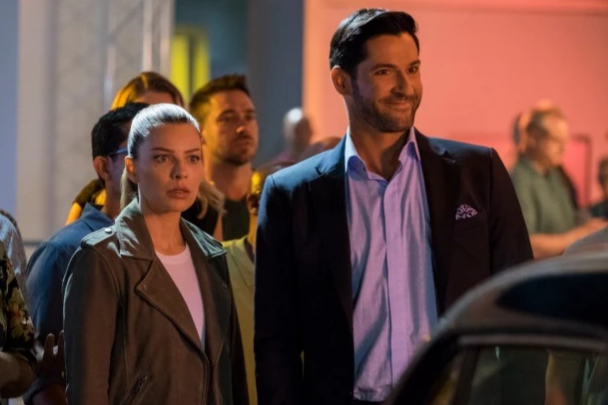 Although the team behind Lucifer will have to adapt many practices to function in the post-COVID-19 world, Tom Ellis said in an interview
Speaking to DA MAN Magzine in an interview he added when asked about returning back on sets "It's going to be challenging to say the least. We've had to find a way to stay safe whilst remaining productive.
"Film sets are usually a hive of activity with people constantly making adjustments and last-minute tweaks in small, confined spaces.
"Now, with the restrictions, everyone has to take their turn to do their job, so it's going to have a big knock-on effect to how much we can physically shoot in a day."
Most of the part of season five Lucifer has been already shot, there will be no such major differences in the production that the audience will be able to track in the final cut. However, in the season six production it is doubtful that scene will be shot with crowds or will be shot in more outdoor locations.
As discussed in an interview with Variety, the co-showrunner does not plan to incorporate coronavirus in their already planned Lucifer sage.
"Pandemic-wise, we might make some passing references to it, but we're not going to make a meal of that," he said. "We feel like that's hopefully something that will be gone by then."
To catch up the previous seasons, you can watch one-three on Amazon Prime Video and season four-five on Netflix.